Signs Your Company Should Consider Outsourcing Software Development
blog
Companies around the world are regularly forced to do more with less. Global competition is only increasing this challenge and if businesses want to remain competitive, they need to ensure they have access to the right people and resources for their projects and tasks. Of course, this global worldview also offers an upside. Now companies have access to talent and resources previously unavailable to them.
When considering outsourcing, it is important to understand what businesses are best suited to outsource, as well as the functions that should be outsourced. In addition, it is crucial to understand the benefits that accrue to a business by outsourcing.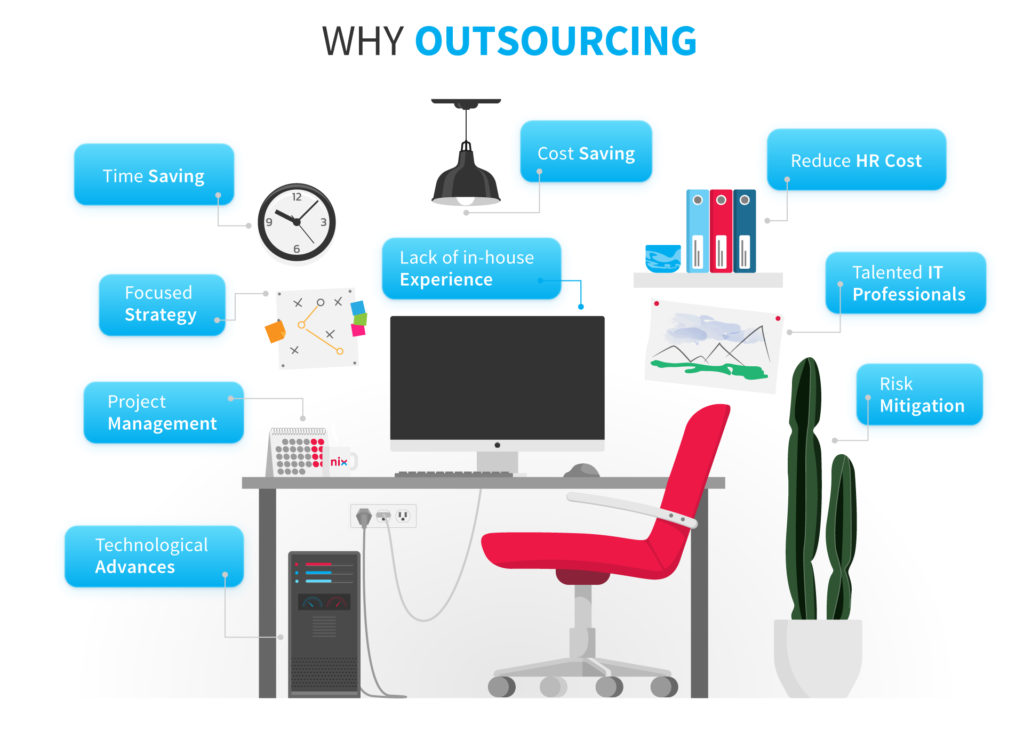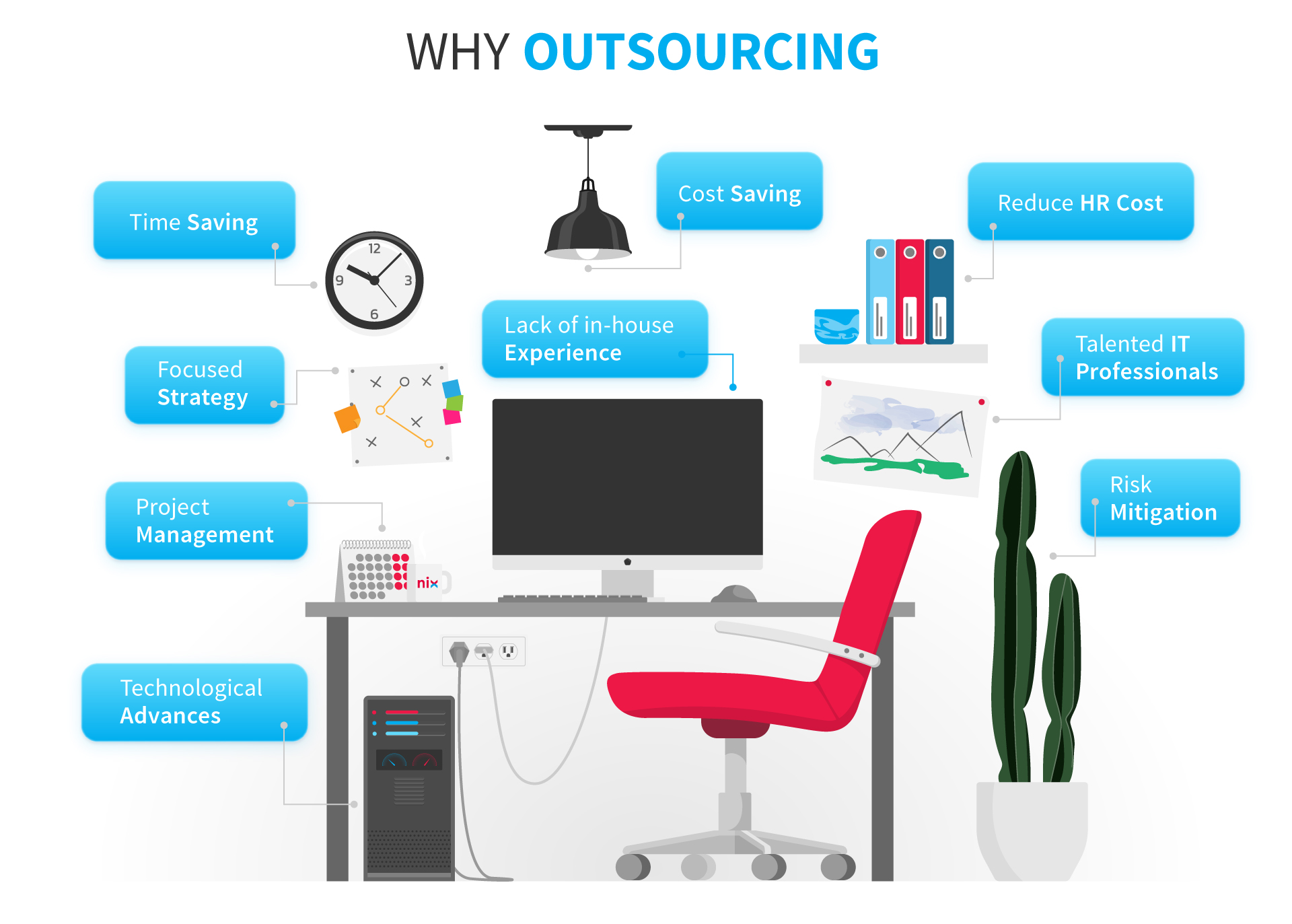 Why Do Businesses Outsource
There is a multitude of different reasons to consider outsourcing and they vary greatly based on the company and its clients. Some of the key reasons to consider outsourcing include:
Improved focus on core business
Reduce operational costs unrelated to core business offering
Access to expertise unavailable inhouse
Improve internal efficiencies and release resources for internal projects
Mitigate risks by utilizing external experts
The Companies That Outsource
Companies that outsource services run the gamut from manufacturing to technology. While there is no single common type of company, one factor does unify them and that is the realization that outsourcing services can be more cost-effective and provide an improved customer experience versus providing the services in-house.
Outsourcing companies themselves provide a mix of services. Some of the most common outsourcing companies worldwide are firms that offer access to manufacturing, technology, IT, QA, web design, and even financial. Technology companies specifically are ideally placed to take advantage of outsourcing organizations. Primarily this is due to a large number of languages and technologies currently available worldwide. Pairing this up with internal resources demonstrates a disconnect between what is known in an organization and what is needed.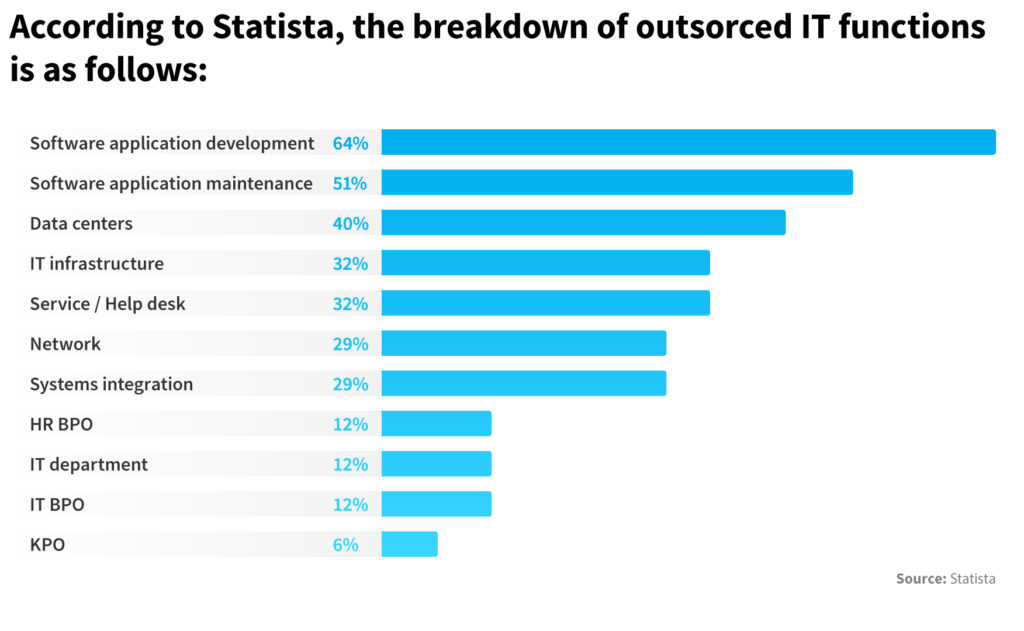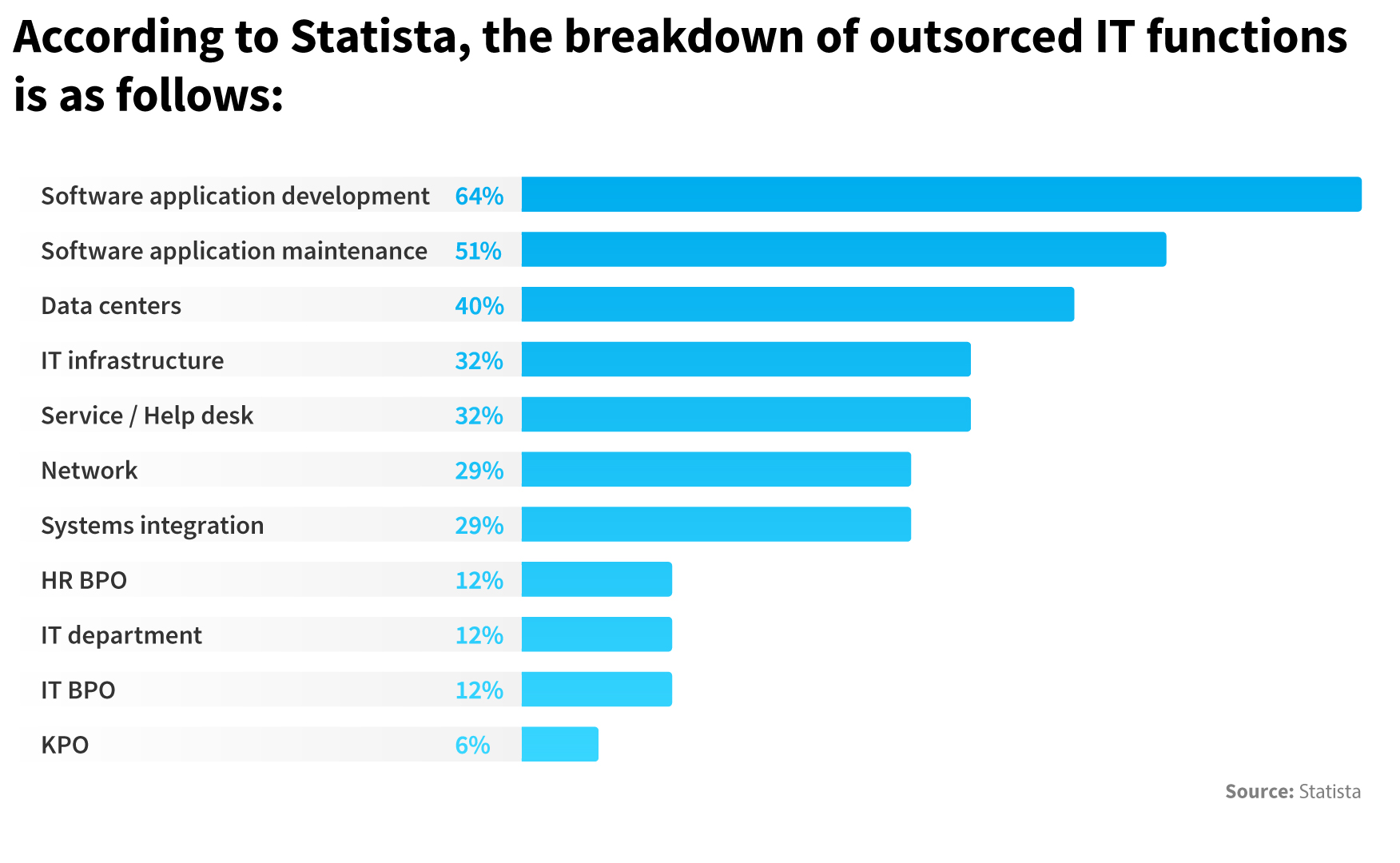 This is clearly demonstrated by the detail from Statista provided which shows that software development and application maintenance are the two most outsourced IT functions. With new technologies launching regularly having all of the skills required in-house is extremely expensive. Added to this is the fact that unless these skills are used regularly, they atrophy.
Mitigating the Risks of Outsourcing
Like any collaboration, outsourcing comes with some advantages and disadvantages. Some of these risks can be quite significant so it is important to understand them upfront and have a plan in place to mitigate any issues.
Outsourced providers have access to your customer information as well as all your internal company information based on the role they are providing. If you are only outsourcing customer support, they still know who your clients are and potentially have access to billing information which is a significant risk. If you've also outsourced software development or your entire IT function and data center, your outsourced partner has even greater control.
Data Confidentiality
Some ways to ensure that you are protected include the signing of an NDA (non-disclosure agreement) as well as an intellectual property (IP) protection agreement.
Hidden Costs
With hidden costs, try to understand how your partner is creating estimates and ensure that your project requirements are extremely clear. Understand that changes while the project is underway will have an impact on the final project cost.
Communication Issues
Communication is critical throughout the period you and your outsourcer have a relationship. Try to maintain a regular schedule of touchpoints – daily or weekly – to review open issues and project status. It is important to maintain this schedule at all stages of the project.
Understand Whether You Need Outsourcing Software Development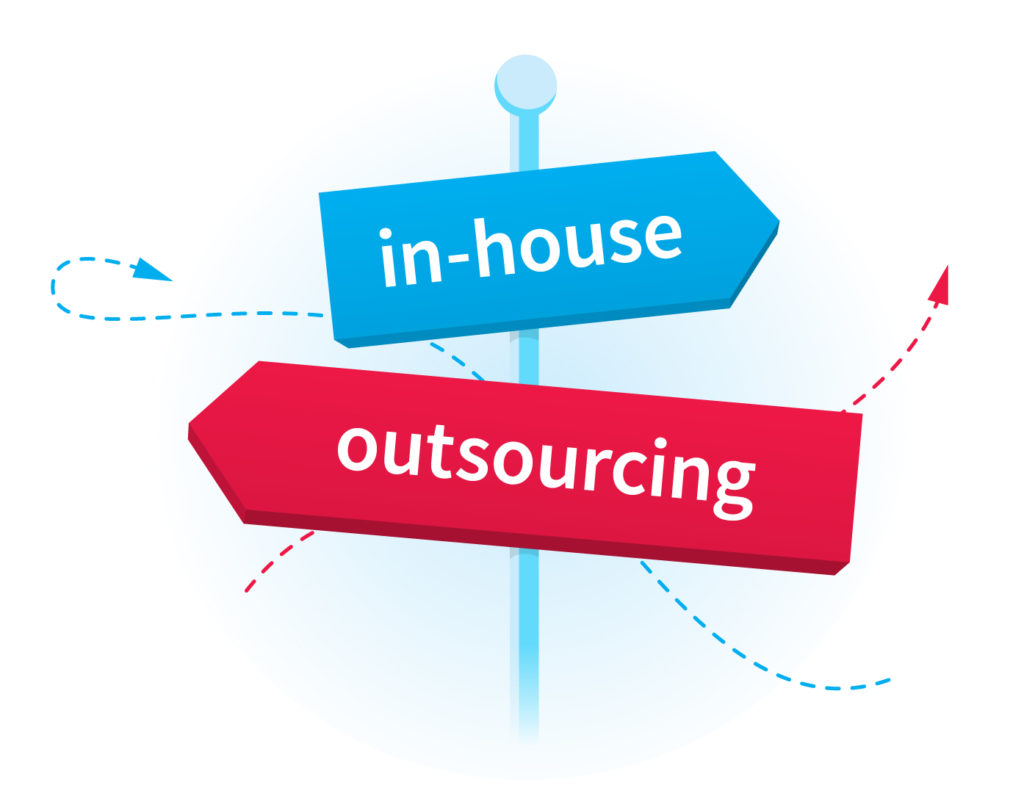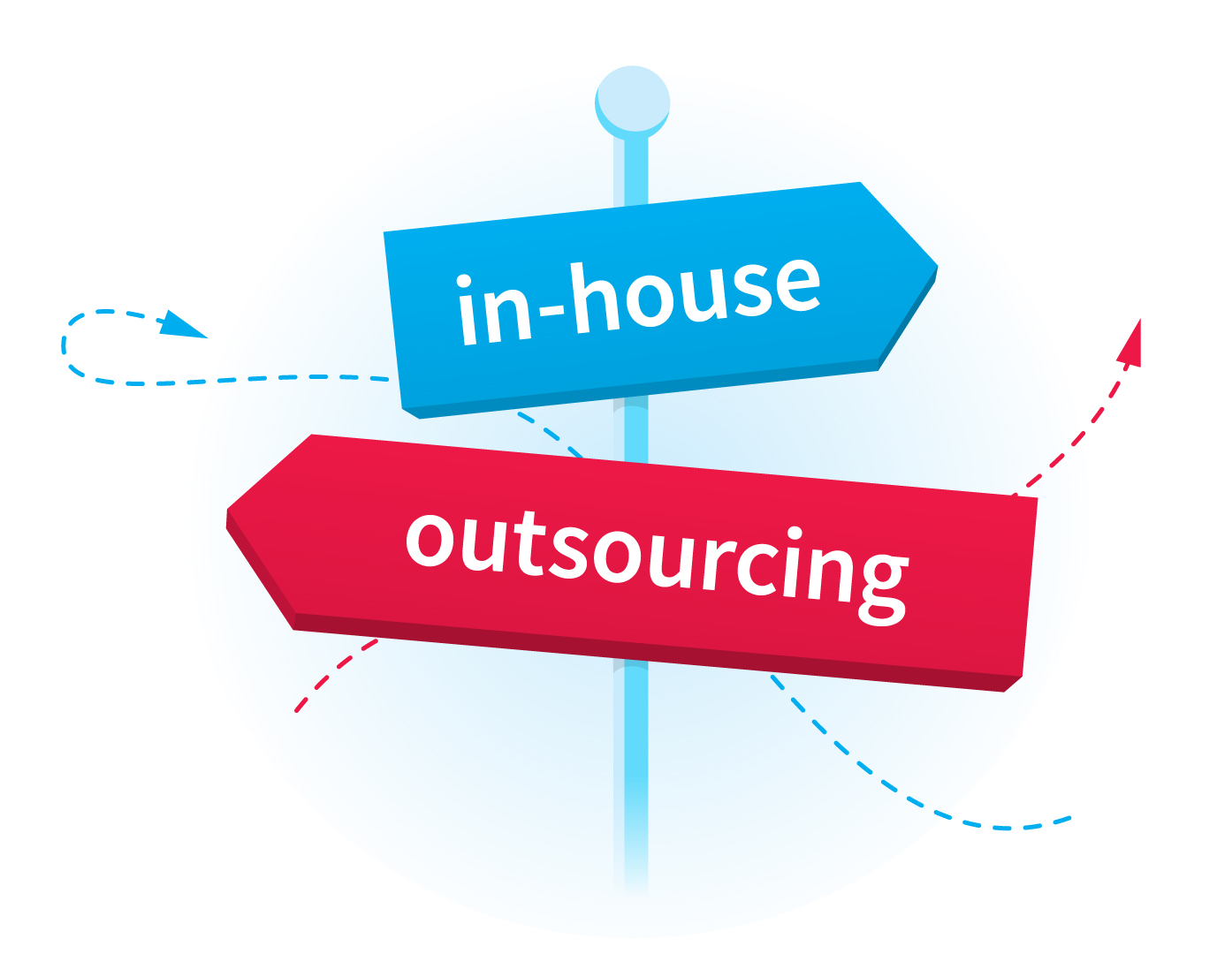 It is not always obvious to an organization that they need outsourced software development. There are however 4 key signs to look out for that might help make the decision clearer.
Speed is Critical
If time to market is a critical factor for you and your business, then you must consider outsourcing. Outsourced teams have access to a larger pool of resources and expertise and can provide you with access to resources you would not normally have. Sourcing, hiring, and training a resource to accomplish the task could cause significant delays in your project so outsourcing should always be considered when in-house skills are lacking. Another factor to consider in addition to the time is the cost – in-house resources are generally more expensive and if they are not being utilized all the time a complete waste.
By utilizing an outsourcing company, your team can focus on marketing and selling the product as well as the backend operations processes, you will need to support it, leaving the outsourcer to focus on the development.
Expertise is Niche
As a business it is critical that you realize that technology changes rapidly and having internal resources within your organization with all of the skills is difficult and expensive. At times, some projects require very unique and rare skills, ones that are not often needed in regular business practices – things like AI, ML, and VR/AR for example. Hiring those resources within the organization simply does not make sense.
However, by using an outsourced provider that offers those skills you can take advantage of high-quality developers that are active and current in the technology and industry. They will have had an opportunity to utilize their skills with other projects ensuring they are productive and able to perform.
Skills are Limited
If in-house skills are limited an outsourcer can be an ideal partner to scale up. This relationship better enables you to focus on your core competencies and gives you the time to upskill resources appropriately. Perhaps more importantly, it ensures that your clients and customers receive a high-quality product or service.
Using an outsourcer in this way allows you to hire and train resources over time while letting you scale up/down resources that are needed for a single project.
If you are not an IT Company
If IT is not your core business, then it is best to use an outsourcer to perform this function for you. They can use industry-standard best practices to ensure that services are working at peak efficiency. In addition, an outsourced partner can help improve project scalability and overall quality improving the experience for you and your customers.
Conclusion
Outsourcing provides businesses with many advantages. In today's global economy being able to provide a service in a timely manner at the right price is critical. Companies need to focus on multiple different development areas to ensure they are providing consumers with the right services. Simply having a desktop solution is no longer enough for business or consumers. With the continuing growth of smartphone usage globally, mobile development needs to be a strategy under consideration, which is where NIX comes into play. NIX has developed many mobile solutions for companies around the world and can use their skills to provide you with customized solutions that meet your needs and requirements.
By focusing on what you specialize in and streamlining your processes you can meet your customers where they need you to be. NIX has the skills and knowledge to help ensure your project is a success and can work with you to create a plan that not only meets your needs but also addresses market realities.