Understanding the IoT Ecosystem — Essential Components
blog
Could the definition of IoT in 2020 be unknown to anyone? It's hard to imagine, you would agree. According to Statista, the total installed base of devices connected to the IoT is projected to be 21.5 billion devices worldwide by 2025. Keeping in mind that IoT is built into pretty much everything, starting from children's toys, home appliances, and automated industrial equipment, it's obvious that the number will only continue to grow.
Talking about a brief market overview, McKinsey Global Institute estimates by 2025, the IoT could have an annual economic effect to $11.1 trillion.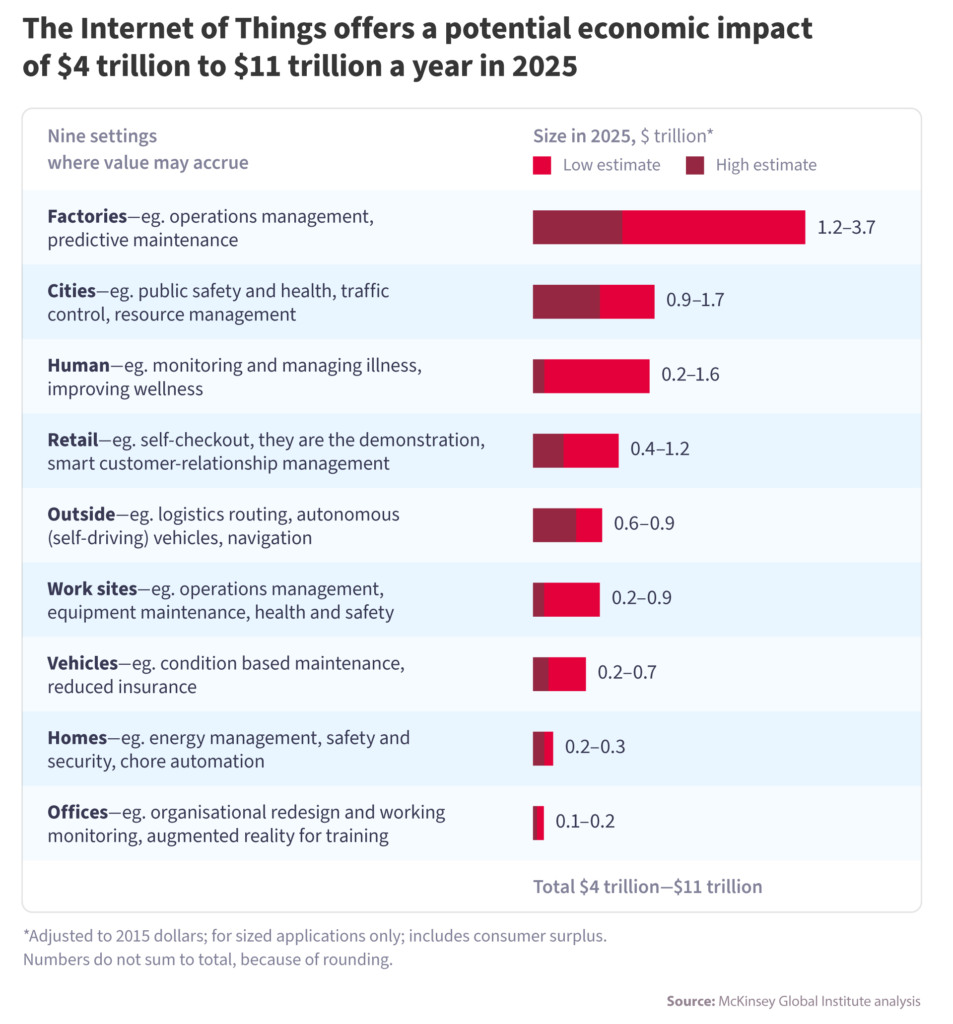 It is hard to dispute the fact electronic door locks, robotic vacuum cleaners, smart clocks and pet collars with GPS greatly increase the efficiency of products that are wide-used. Therefore, consumer demands are increasingly shifting in the plane of intelligent, connected products.
To form a complete system, IoT involves different components that should work coherently and together. The Internet of Things operates on a huge network, where devices do standalone actions on the basis of collected data on connected products. In this way, a complex ecosystem consists of many objects involved in the whole process.
So, could the definition of the IoT ecosystem still be unknown to someone? Probably, yes. In this article, we will cover what the IoT ecosystem is, which basic components of the IoT ecosystem are always stable and essential to your own IoT system success and how the Internet of Things operates. Check the article plan below and let's start:
1. What is IoT Ecosystem
A single sensor, like a bundle of sensors, is not an advantage in itself unless they are all connected to each other and to the platforms that aggregate the data for further usage.

The IoT ecosystem is a wide network of interrelated technologies and components such as sensors, actuators, clouds, devices, that tech specialists use to achieve a specific purpose.
The Internet of Things ecosystem is growing quickly as use cases rapidly increase, which in turn makes it difficult to clearly answer the question "What is the IoT ecosystem?". In addition to visible elements such as hardware or user interfaces, "invisible" components such as software or storage must be considered.
It's worth saying that no matter what your goal is — you can safely split the IoT system into two elements: the object you're going to make smart, and an embedded system that provides the connectivity for it. This may seem simple only at the first glance, because in fact, things get complicated quickly, especially when we talk about the second component. The interaction of all components is crucial for making objects intelligent, programmable and able to interact with each other and with people.
2. IoT Ecosystem Components
Starting from scratch, IoT ecosystem components — the very level of the ecosystem, which forms the basis of the entire IoT network.
Here, on the most basic level, we are talking about devices that feel things like temperature, motion — so-called sensors, and devices that act on things like switches or rotors — actuators.

Sensors
Sensors – or "transducers", detectors" – capture even the smallest changes in our environment. As a result, the sensors highlight important aspects that are necessary to improve. Although sensors may be small hardware, their benefits cannot be underestimated. The device can usually perform several functions, due to the fact that IoT devices collect a wide range of data using different types of sensors.

"…the aspect of reducing power consumption of the sensors is key to making them a useful component" says Markus Weinberger, Bosch, a major producer of sensors in a variety of fields.
For example, the smart acoustic type of sensors helps control the level of noise in a needed environment. Due to the ability to detect and deliver data for noise contamination avoidance, IoT systems with this type of sensor are getting popular in smart home solutions. Motion sensors are another example of the sensor groups used in smart home systems. Perhaps the most famous IoT system for everyone, but the most trivial motion sensor IoT application to imagine. As different applications strive to achieve different goals, each of them will use their own group of sensors.
Actuators
Bearing in mind the image above, consider actuators – or "movers" – as the opposite of sensors. Only the actuator should take the appropriate action after the sensor identifies changes in the surrounding environment.
For example, if you are thinking of managing a smart farm — growing plants is not just about measuring soil moisture, but also about ensuring proper watering, plant fertility and so on. Each use case will need its unique types of actuators.
Moreover, it is rare that a reasonable solution can cost only one type of IoT ecosystem components. There are lists of different types of either sensors or actuators for different purposes. If you hesitate, what is your particular solution, reliable expertise specialists always help you to find out which ones and how many components better to use in your particular case.
3. Connectivity Layer
Connectivity can be named the second level of the complex Internet of Things ecosystem after components. As we mentioned, all of the key components must work together and be interrelated to decrypt the data, and thus perform meaningful actions.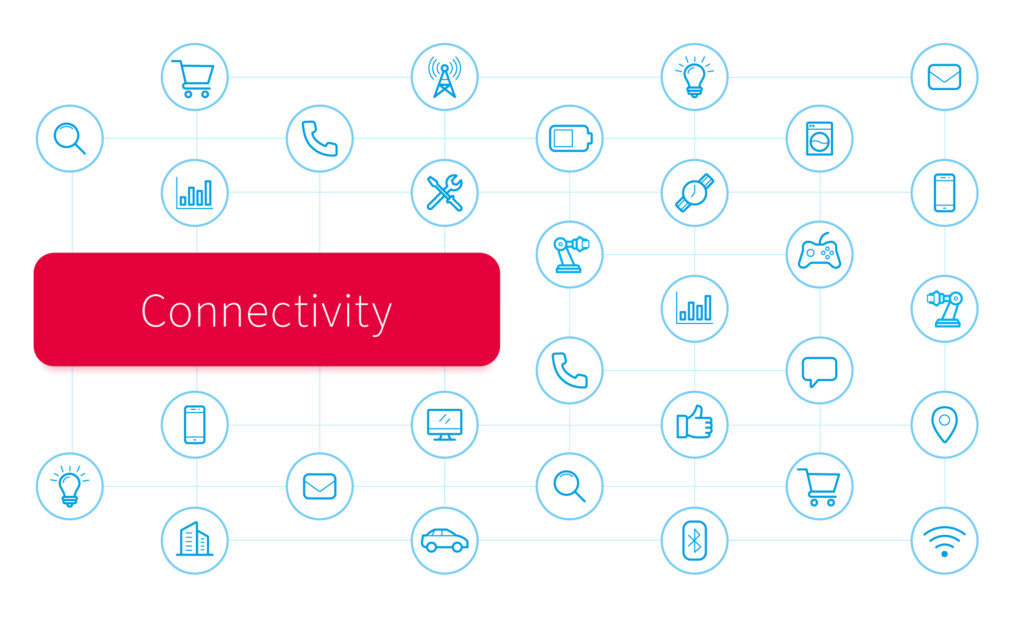 Let's break down the connectivity into the two following parts:
IoT Protocols
It's not a new thing in the IoT ecosystem, that sensors gather the data. Thus, between the sensors and the cloud, which we talked about further on, there has to be a channel of communication. IoT protocols are responsible for data transfer, and the one and the only way for such transmission is when two devices are securely connected.
Using a so-called "invisible" language, IoT protocols transmit data online between two connected devices. Network protocols should be chosen based on the following factors: energy consumption, overall effectiveness, data throughput, data transfer speed, security. The following popular options allow seamless and secure transmission of information to the next level for processing in the IoT ecosystem: LPWAN, Wi-Fi, Ethernet, Bluetooth, MQTT, DDS, cellular IoT, LoRaWAN and ZigBee.
IoT Gateways
To get to the cloud, the raw data from the sensor has to go through gateways. Remember that "invisible" language mentioned earlier? To provide smooth communication between all devices in a network, gateways "translate" and facilitate the necessary connection between devices or between devices and the network as a sort of relay for two.
Gateways protect the system from unknown access and harmful attacks, providing security by the latest encryption methods.
Before sending data to the cloud, gateways can preliminarily minimize the large amounts of data that are "felt" in the previous step. Moreover, so that the cloud receives only what is relevant, the new IoT Gateways even have the ability to analyze and minimize sensory information.
4. IoT Cloud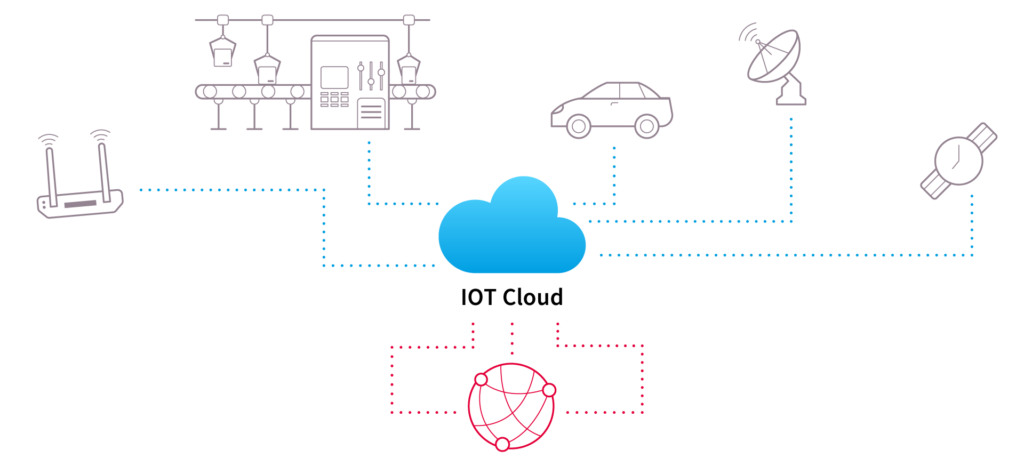 All the components of the IoT ecosystem connect, data is processed, data is stored, and decisions are made about making or canceling a transaction — all of this happens on the IoT cloud. Critical to the IoT is time, especially where there are real-time systems and latency cannot be discredited — for example, for healthcare or security.
Thanks to the vast computing power of the cloud, storage capabilities, networking options, analytics and other service components, all in all, information is efficiently available to consumers.
But you should remember, that the cloud is not always necessary for IoT – edge computing is also a viable option. The cloud is usually chosen because of its advantages in terms of simple scalability, high performance and cost-effectiveness.
5. IoT Analytics and Data Management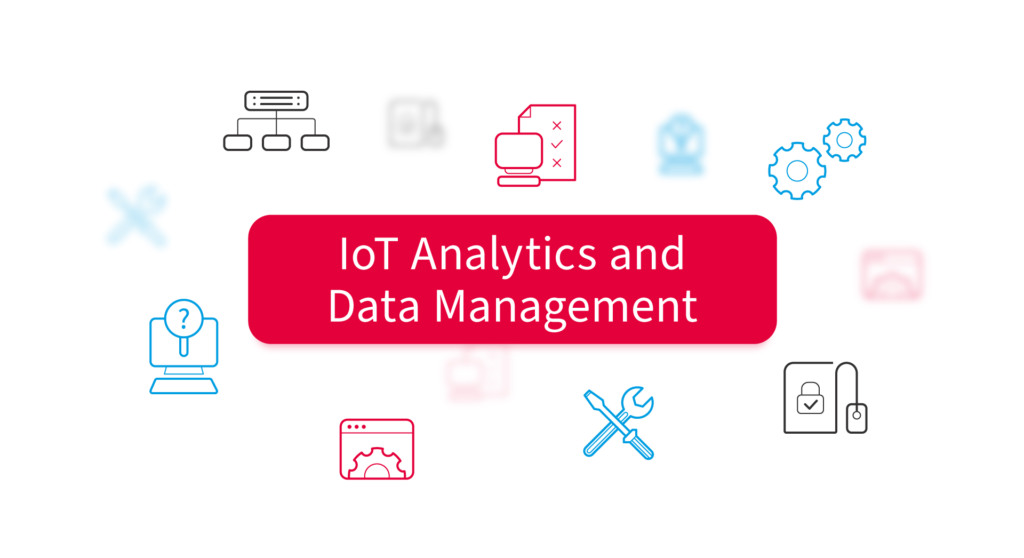 Data is the lifeblood of your IoT system. But without IoT Analytics you will not understand the huge amounts of analog data. Data management and analytics are mandatory, whether you want to refine the key performance indicators of a particular application or system or identify violations in real-time.
Data analysis helps identify vital business ideas, process the situation and formulate a solution based on it. From this data, many lessons can be gained for forecasting trends, planning ahead, and making profitable business decisions.
To analyze and manage data, you need a powerful memory and intelligent computing. But it's worth investing in because it helps you identify critical business ideas, predict trends and improve efficiency. Tasks related to analytics can also be placed in the cloud, depending on your IoT architecture.
6. End-User Devices and UI — NIX Expertise
UI is easily accessible and managed by the IoT user. Usually, users have several options: either interact with the device itself or do it remotely using other devices such as smartphones or tablets. Amazon Alexa, Google Home, and other smart home systems are a good example here, they allow users to easily interact with a variety of "things."
Design is a key — in today's world, a single IoT device can easily stand out from the competition thanks to its robust design. Although an attractive design is necessary, the UX should be convenient enough for the user to avoid any difficulties.
Look through NIX IoT success stories to find out more details on great and custom design as well:
Conclusion
It's fascinating to watch the Internet of Things' journey over the years. As mentioned, the definition of the IoT ecosystem is a developing area of study, as are its use cases.
We have covered the components that constantly remain the same, but the mechanisms can vary by vertical, use case and budget. The IoT ecosystem bridges vendors and companies and, in addition, makes processes easily accessible, inexpensive, secure and efficient.
If you look for a way to incorporate the IoT ecosystem to increase your production or hesitate whether IoT is a good solution for your initiative — NIX specialists, who have been listed as one of the top 30+ IoT development companies in 2020, are always ready to assist.