How AI can Improve Processes in HealthCare, Retail, and Banking
blog
Artificial Intelligence (AI) is transforming the way we live and work on an almost daily basis. This technology is primarily focused on the creation of smart machines, which can help us complete tasks and activities. Unlike other machines that require a human operator at the control, the goal of AI scientists is the creation of machines that can work autonomously without human intervention.
AI as a science is still in its infancy. While some advancements have already been seen, the eventual endpoint of AI is yet to be realized. One thing that is clear, however, is that improvements in machine learning (ML) have already created a paradigm shift in almost every area of technology.
Machine Learning and Artificial Intelligence
When talking about machine learning (ML), it's essential to understand that ML works because of AI. ML put more simply is the process through which machines "learn" by trial and error. This is remarkably similar to how we have learned; it's just that the brain behind this learning is the AI software and code.
AI, as such, is much more than ML. To function correctly, it needs to understand the natural language process (NLP), have a grasp on neural networks and computer vision. Also, as AI works very closely with other technologies like Big Data to help grow and scale businesses, it needs to have access to a host of different analytical tools.
AI Usage Around the World
AI is in use globally across a variety of different industries and sectors. While its usage is still growing, it is already being utilized by car companies looking to build autonomous vehicles, and delivery companies are using AI technology in drones.
Outside of the transport sector, AI has been seen in our homes in personal assistants like Siri and Alexa, and we each use AI daily in our online web searches. Added to these examples, AI is used in business to help fight spam and even prove complex mathematical equations.
As you can see, AI is not limited to any one sector or vertical but has applications everywhere.
AI in Healthcare
AI plays a critical role in healthcare, where it helps speed up the classification and diagnosis of patients and symptoms. Using AI tools, medical staff can automate many processes that previously required skilled professionals. This includes tasks like the evaluation of CT scans as well as the analysis of EKG results.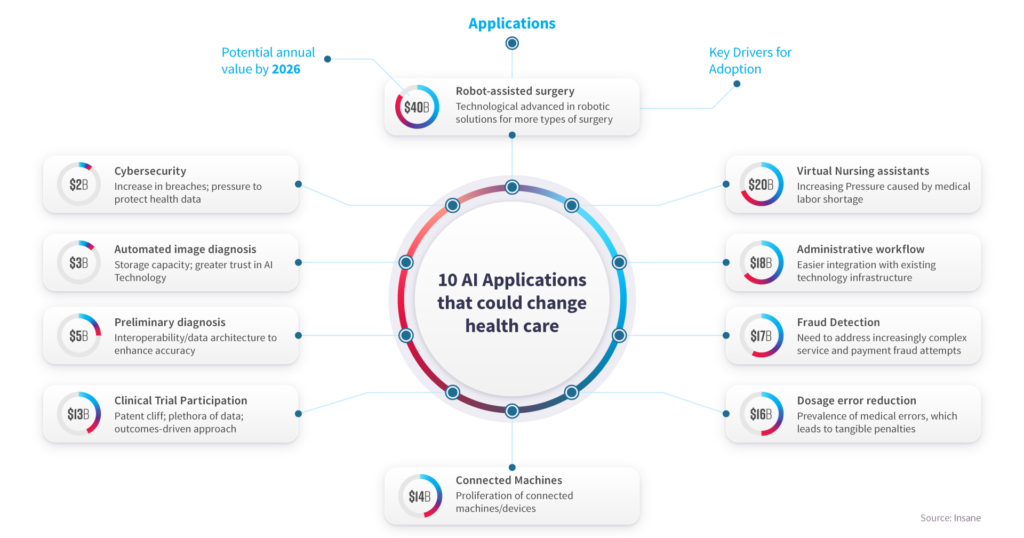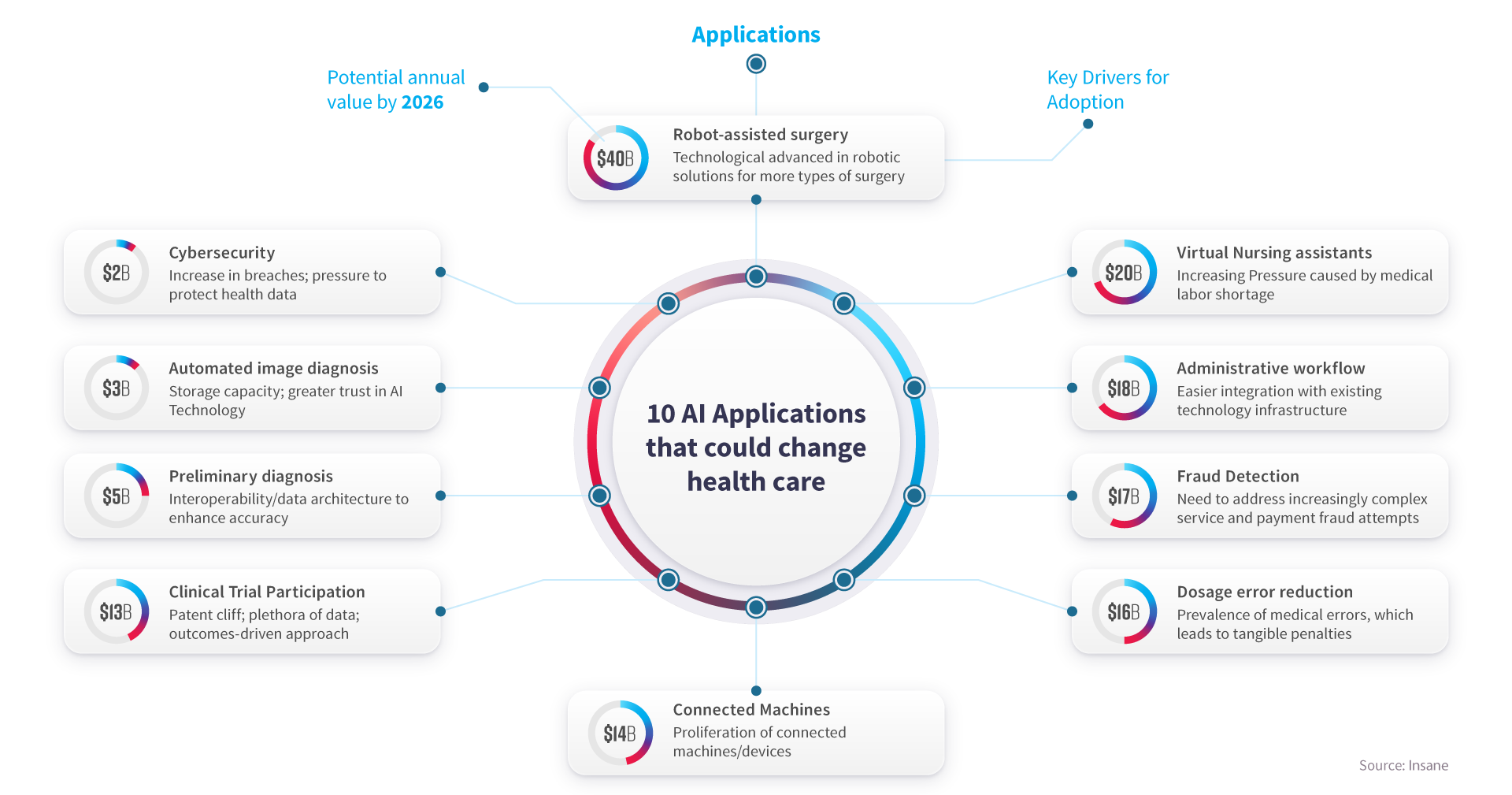 When talking about AI in healthcare, it is important to realize that the services provided through AI systems are only increasing as hospitals recognize even greater patient and financial benefit. It is expected that AI will drastically reduce medical costs with its improved ability to provide accurate diagnosis paired with enhanced treatment plans. In fact, one study suggests that AI can be applied to the problem of patient dosage scenarios with a potential annual saving of $16 billion.
Benefits of AI in Healthcare
AI in healthcare is not only limited to the analysis of patients, however. It can also be applied as a tool to benefit patients. The creation of devices like the Brain-Computer Interface (BCI), for example, can be of great use to patients suffering from spinal cord injuries or other impairments. BCIs can use AI systems to understand and decode neural activities helping these patients communicate.
AI investment runs the gamut of the medical profession, with many different departments working to realize the benefits. Some of these areas include:
· Radiology
· Imaging
· Disease Diagnosis
· Telehealth, and more.
In telehealth, for example, patients can describe their symptoms to a chatbot, which can then provide an initial diagnosis and suggested course of treatment. Another great example of AI in healthcare is its use in early cancer detection. Some medical institutions are utilizing AI when screen patients and through the analysis of blood tests. The expectation is that when this is fully developed, it will help detect cancer earlier helping to directly save lives.
This is only the start of AI in healthcare. AI applications that are still being investigated like AI-assisted surgeries are still in our future. These new technologies need to be investigated and prioritized to improve our health and that of future generations.
AI in Banking
Financial institutions are aware of the benefits of AI. An OpenText survey of banks shows that 75% of banks holding assets over $100 billion are already in the process of implementing AI solutions. This is compared to 46% for banks with less than $100 billion in assets.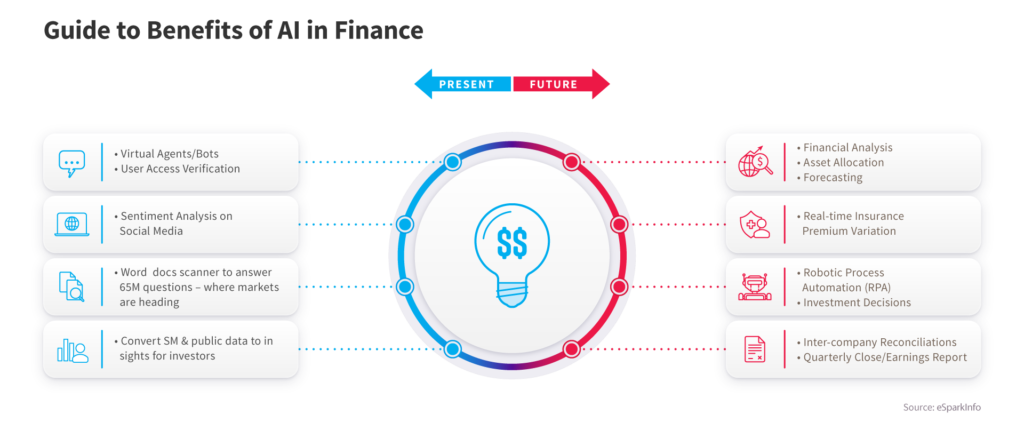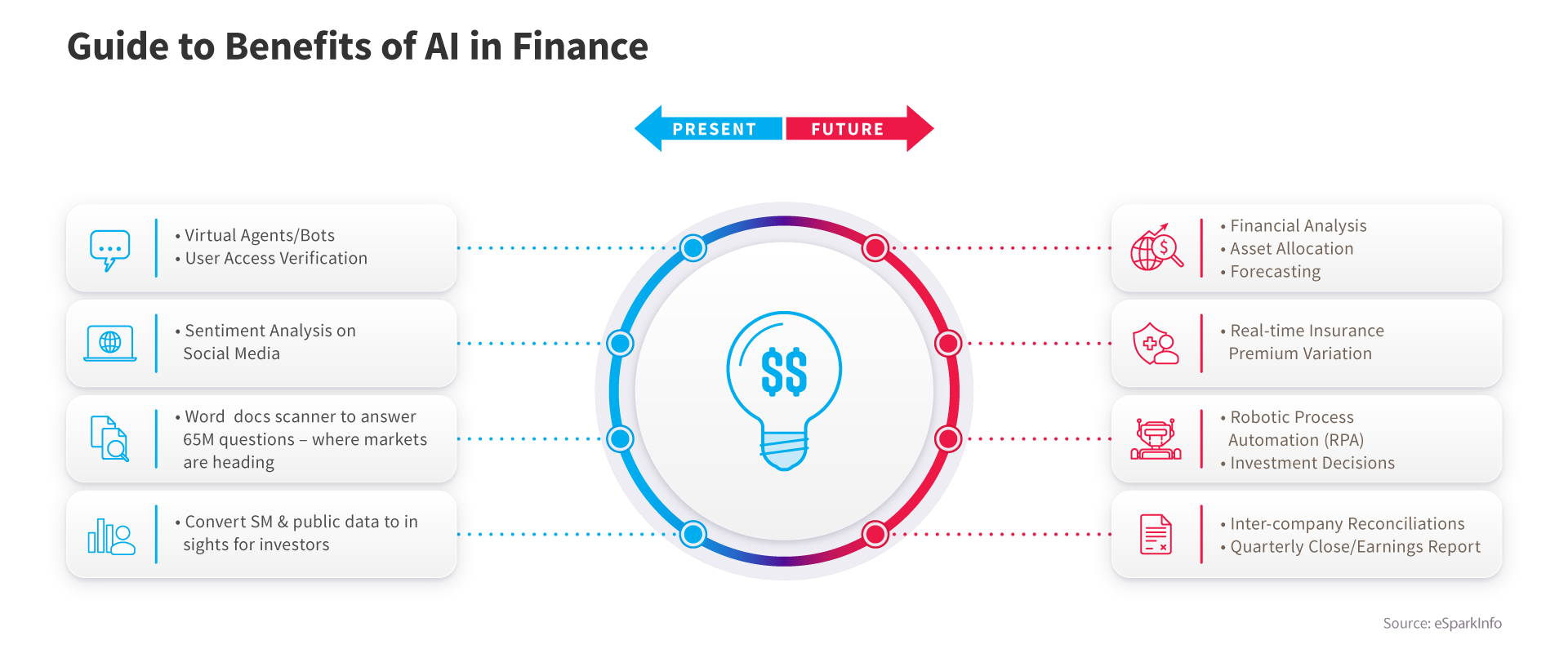 When discussing AI in banking it pays to remember that there are many different areas where banks can utilize AI systems to improve their services. Two of the most well-known include chatbots for the support and service teams and anti-payment fraud tools in the back office.
Benefits of AI for Banks
AI benefits to the banking sector include improving the overall customer experience. By understanding customer journeys and analyzing behaviors, patterns, and trends, AI is better able to predict specific questions and can preemptively provide answers to consumers.
From a larger corporate perspective, AI tools are instrumental in combating expense fraud and other similar problems which cost businesses millions annually.
As AI continues to advance in capability through improved cognitive process automation, it will be in a better position to predict broader socioeconomic trends and patterns also. As such AI in banking can help guide the bank itself in a new and more profitable direction.
AI in Retail
Digital transformation projects are well underway in retail and have only been increasing in scope and complexity over the years. These projects have helped retail businesses improve in speed and efficiency thanks to the advanced data and analytic systems now available to companies. AI is an essential requirement for retail organizations, with an estimated 85% of these businesses already using the technology.


Companies in this sector have realized a variety of different benefits from the implementation of AI. These include the ability to create a more exciting customer experience and also helping to keep customers captivated. The data that these companies generate on a daily basis can be better analyzed by AI, helping synchronize online and offline operations. Companies that fail to embrace the benefits of AI are at significant risk, and AI in retail is quickly becoming a requirement and not an option in the sector.
Here are some examples of AI in retail and a description of how they can benefit consumers:
Inventory Management
By having a better idea of buying patterns and demand, AI is helping organizations forecast and plan better. Also, AI can be used to predict future trends. This helps ensure businesses have the right resources in place to build products based on an anticipated demand instead of an actual one.
Portal and Homepage
Customers are looking for a personalized experience when they shop, and AI helps enable this. With the ability provided by AI in retail, organizations can customize mobile and digital portals based on searches, locations, previous purchases, and general shopping patterns.
Chat and Help
Interactive chat tools help ensure that customers gain quick and easy access to the answers they need. With a populated knowledge base to draw upon, these bots can dramatically improve customer service while minimizing costs. In addition to chat, support is further enhanced with natural language processing tools on phone lines. These tools help support understand a customer's mood and can be used to direct consumers to support when required.
Guided Browsing
Customers are, at times, faced with a plethora of choices and stuck making a decision. AI can help guide consumers to products they are predicted to like based on previous purchases and buying patterns.
Research and Development
With consumers now having access to a global marketplace, companies need to ensure they are continually innovating if they want to keep customers engaged. AI can be paired with Big Data to help plan out the creation of future products through the collection of customer feedback.
Conclusion
If you are considering AI for your organization, contact us. At NIX, we have a record of success when it comes to implementing AI and know the right questions to ask. We can help address any issues you might have and clear up any confusion on whether or not AI is right for you. Contact us to get some more information on our AI solutions and how we can help enhance your organization using Artificial Intelligence.