AI in Business: Think Big and Scale With Intention
blog
Big Data and AI are two of the much-discussed and perspective technologies today. It allows us to process millions of records and data, but Data Science provides the power to analyze them.
What is artificial intelligence? AI it's not about a single technology. Instead, it's a multidimensional sphere, including a range of various techniques and methods, each supporting and supported by the others.
It's a computer system that can:
Sense – perceive the world by acquiring and processing images, sounds, and speech.
Сomprehend – analyze and understand the information collected by meaning and insights.
Act – take action in the physical world based on comprehension and understanding.
Learn – improve performance (quality, consistency, and accuracy) based on real-world experiences.
What's Going On In The AI Market
As we can see – for now, the AI market has three main challenges. Firstly, it's a lack of specialists. The shortage of AI skills is a significant barrier to the pace of technology's adoption. For example, Element AI last year concluded that there were fewer than 10,000 people worldwide who have the required skills to create fully functioning ML systems.
The next main concern about using AI is data privacy, the insecurity of AI algorithms along with a high barrier of entry, and costly implementation. Though it has some risks, it's worthwhile to bear in mind that improvements in AI can build a more robust business. If realized responsibly, Artificial Intelligence has enormous and profitable potential.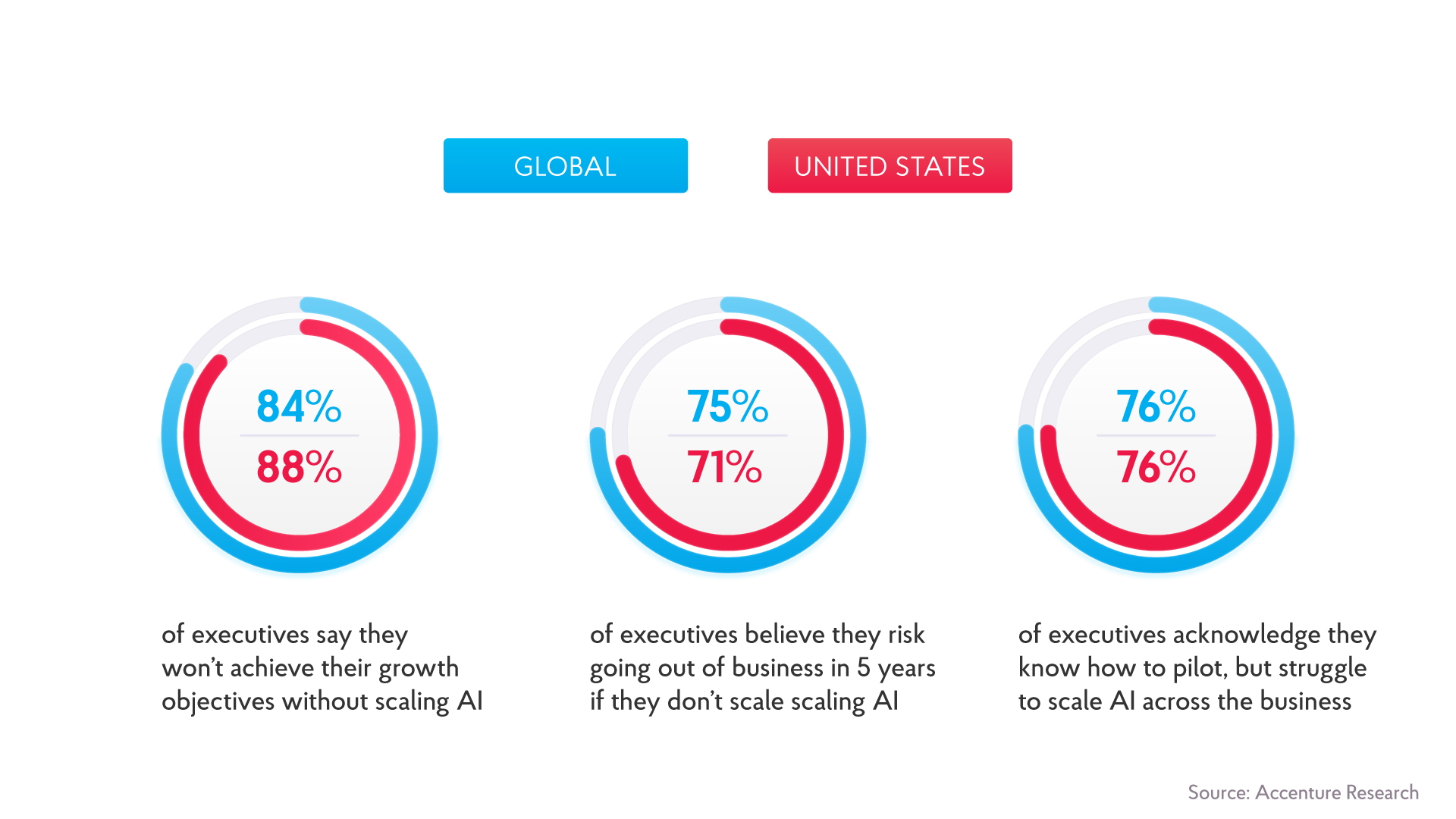 According to Statista, the AI global market estimated at USD 20.67 billion in 2018 and predicted to reach USD 202.57 billion by 2026, with a CAGR of 33.1%. As for the big data market – it's growing rapidly, with $42 B USD revenues in 2018 and a massive increase to an expected $1.89 B in 2019.
Besides, Big Data-as-a-Service (BDaaS) evaluated at USD 8.90 billion and foreseen to reach USD 31.75 billion by 2024 at a CAGR of 24.51%, according to Mordor research.
As for the highest BDaaS adoption rating – the US is leading with a vast number of vendors and users. Now about 46% of companies seeking to invest in Big Data and analytics, primarily from manufacturing, oil, and gas, aviation, consulting, and contracting.
Still, the field has an increasing number of open-source and ready solutions from various providers that include the bigs such as IBM, Oracle, Microsoft, Dell, Cloudera, Accenture and Teradata.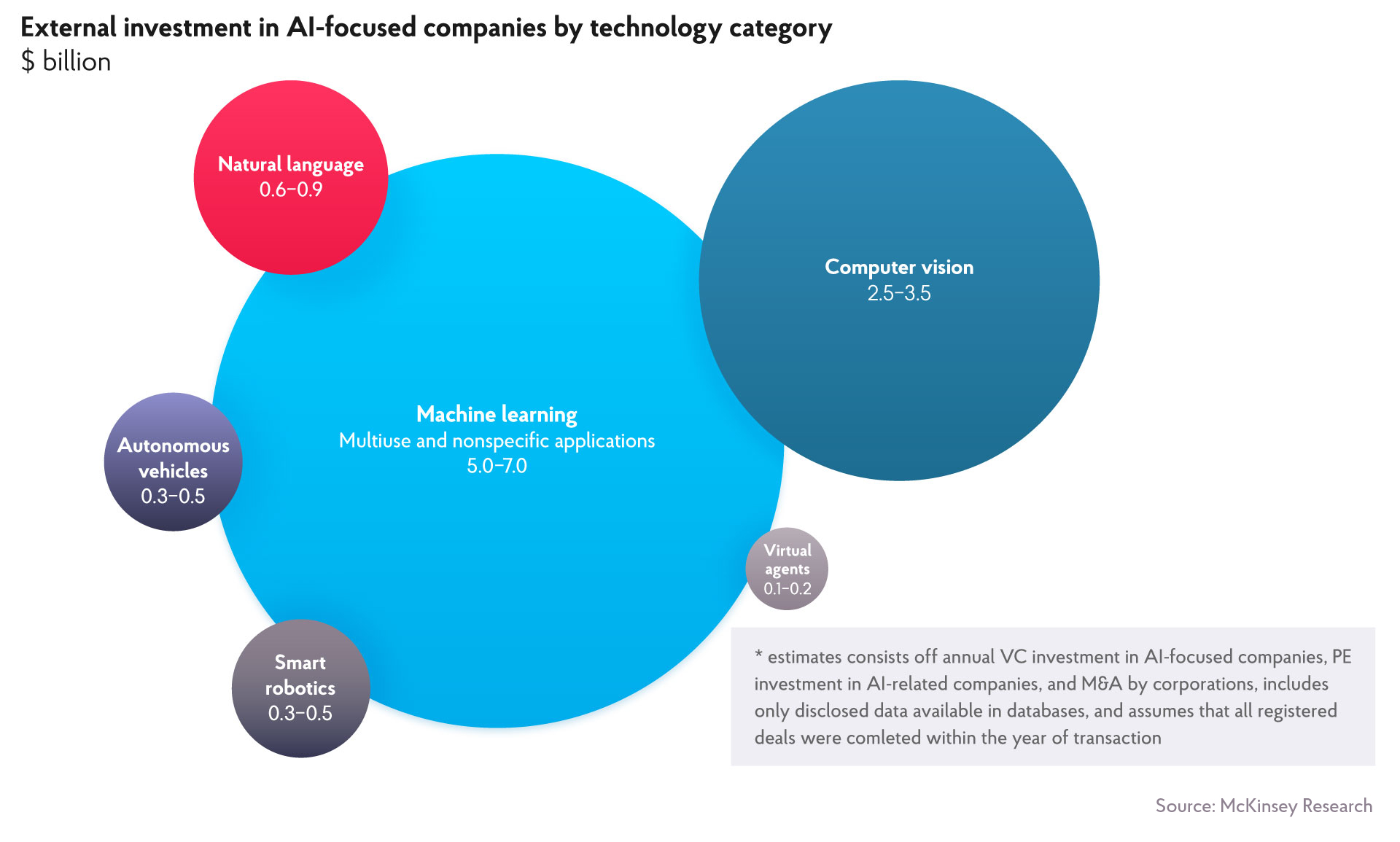 AI Perks In Business
Leading organizations realize that human + machine age will require them to break and restructure conventional concepts of jobs and ventures. As for new opportunities, we can see the following:
Prediction of future outcomes and trends
AI has the power to foretell future scenarios and predict trends by analyzing preceding behaviors. AI, with the help of Machine Learning, can identify suspicious data patterns among a massive amount of data undertaking fraud management.
Efficient decision-making
Rather than being explicitly programmed, cognitive systems learn and reason from their interactions with the data we provide and can return hypothesis or recommendations based on analysis of that data.
Classifying and monitoring Data
When it comes to dealing with Big Data, large businesses can reach a wealth of information by observing and organizing data. A consistent approach will identify best-suited trends that could provide interpretive insights about precise markets and industries.


Managing employee and client costs
Implementation of AI in business allows owners to easily track and record expenses. Starting from travel, food, or buying something from a client – it's all automated now.
Nowadays, customer relationship management (CRM) systems are fast implementing AI. CRMs gather consumer data from various channels and provide the sales department with a holistic ecosystem. It allows maintaining interactions with current and potential customers automating marketing and lead generation.
With a lot of AI, businesses can automatically receive insights from their consumer data. Thus making their marketing/sales teams more productive, and in return, customer satisfaction grows.
Enhanced customer experience
AI allows a better understanding of customers and their behavior based on past interactions. It enables businesses to improve products/services with customized features. Thereby increasing the client's engagement and establishing strong relationships with their consumers.
Moreover, with the help of AI, chatbots recognize the context and emotions in the text and respond to it most accurately, improving efficiency and saving the companies money.
Robotic automation of processes
AI analyzes and reinforces procedures by employing Robotic Process Automation (RPA), enabling automation of about 80% of repeated work processes. By virtue of this, qualified staff can allocate time to operations that require a high level of human intrusion.


Intelligent time-tracking software
Many business owners are now shifting to time tracking software powered by AI. Why it's better than the traditional one? Many business owners are now shifting to time tracking software powered by AI. Such solutions learn from the historical data (very often even sparse data) and predict the future time spend for departments, teams and even persons.
AI for small business and large organizations brings new possibilities and helps to boost performance: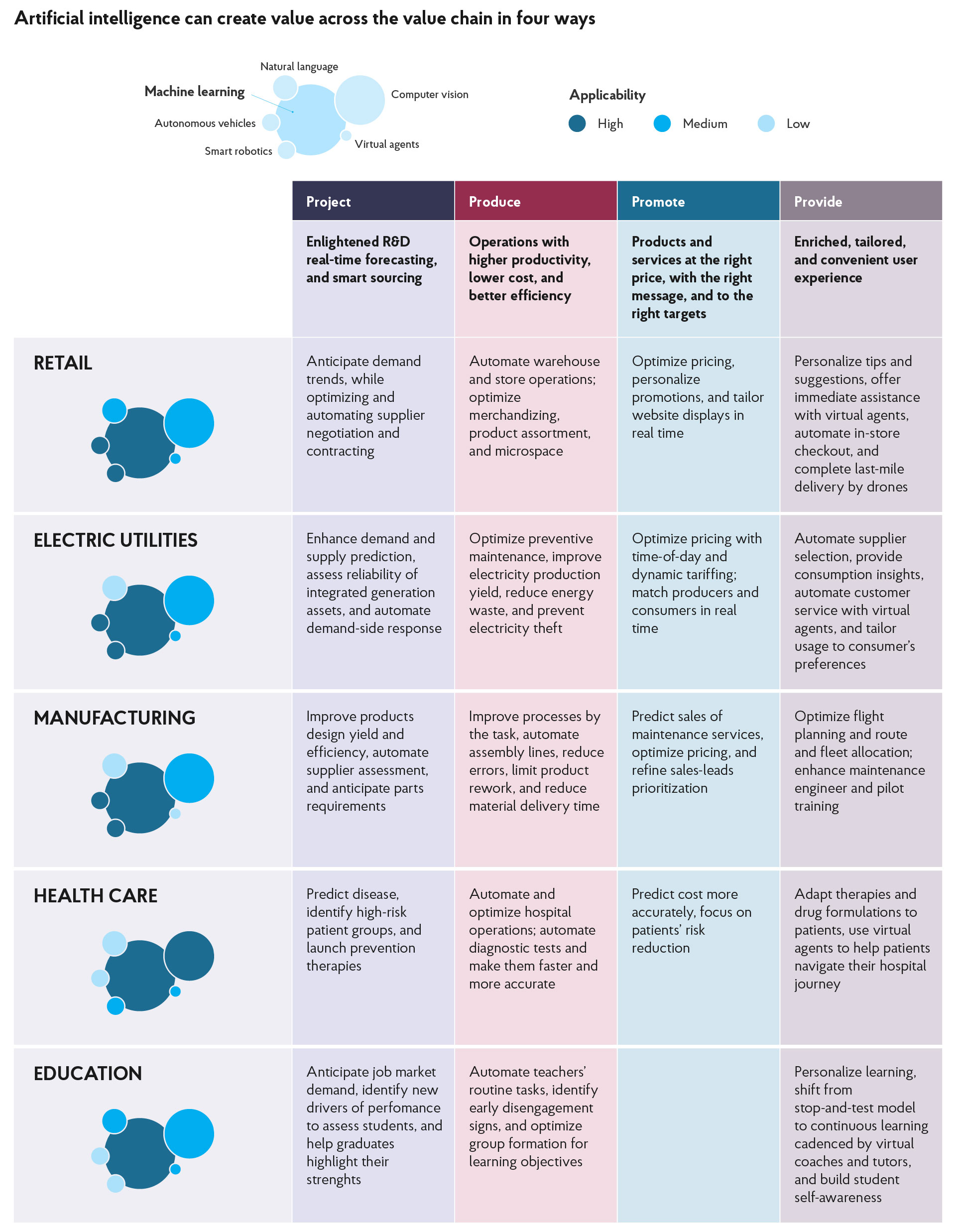 How Data And AI Empower Each Other In Business
Ninety percent of the data in the world was created in the past 10 years. One-hundred and seventy-five zettabytes of data will be created by 2025. Data has the potential to form wonderful new business approaches and solve some of the world's most critical challenges.
Data is the fuel that powers AI, and massive data sets, making it possible for ML apps to learn autonomously and fast. The information we gather enables AIs with the samples they need to distinguish differences, improve their model recognition abilities, and recognize the little details in the patterns. For example, AI is helping organizations create new insights from data that was earlier lost in emails, videos, and images.
AI-powered databases are becoming increasingly diverse and robust. Now they can connect data points and uncover connections that allow analyzing Data automatically and more efficiently.
NIX Expertise
At NIX, we've successfully launched numerous AI and Data Science projects over the last five years. During this time, our developers provided solutions in various business areas such as healthcare, business automation solutions, and e-Commerce.
We'd like to tell about one of the most compelling case studies in our experience, which is referred to while building a neural network and development AI web-based platform:
The client is a corporate learning software company that is disrupting the employee training market, by shifting the focus from formal learning on the job, in the flow of work coaching & content delivery.
The objective was to build a custom AI system that can automatically process events such as emails, calendars, messengers, social networks sand render a list of recommendations based on their relevance and content-specific events. It required a precise algorithm that will help employees in decision making and boost the performance of the entire workforce.
The NIX team's solution includes several steps:
Leveraging a Natural Language Processing network to extract additional data about the events from their text summaries.
Building a neural network to automatically assign every event to one of the predefined classes.
Creating a mechanism to enhance machine perception based on user feedback regarding machine-generated suggestions that appear to be false.
The AI web-based system gathers different events circulated in the corporate infrastructure such as emails, calendars, messengers, social networks. Also, it builds a dataset that improves employee results, such as training, seminars, masterclasses, etc for different roles in the organization.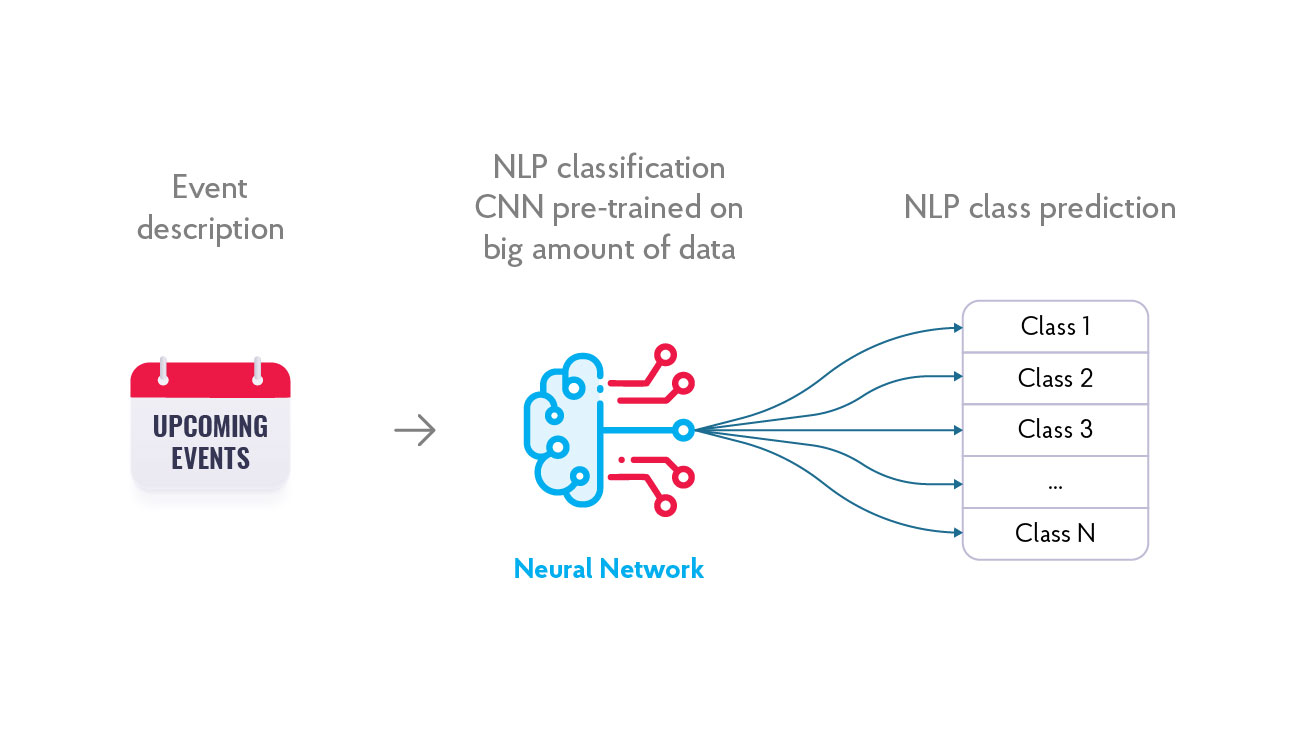 As a result, the client received an AI web-based system that classifies incoming information from workflow software and sends different kinds of training content to workers based on what they need – just in time. It allowed them to improve employee productivity and set up the learning process more efficiently.
Properly Scale Up
Each AI transformation road begins with data. The well-set-out data strategy brings value as much as AI does. It assures that you're curating the right data to deliver the desired outcome at speed and scale capturing its insights to fuel an AI strategy.
Once the data strategy is good-to-go, you should retrieve the data and adjust it to fit the AI system. Then it can be used to produce insights that help sharpen the organization's strategy and AI practices.
To maximize the impact of data insights, you need to accurately implement 'feedback parts' into business decisions in a well-structured way —for example, to fine-tune your business tactics and make required modifications to your AI forces simultaneously.
The results of the AI system's activities should be adopted and used, not only "present" and "discuss". Otherwise, all the work on strategy development and system development may remain useless, and there are quite a few who make this error on the last step.
Of course, it entails a new way of performance: an agile, iterative approach to decision-making and AI development with data at the core. And NIX is ready to be your rock on this road of cognitive reinforcement.