What is RPA and How Can Businesses Use it for Their Benefit?
blog
The RPA market is growing rapidly in many industries around the world. Over the past year alone, the market has grown by over 63%. The current market is over $800 million, but it is expected to exceed $1.3 billion by the end of 2019.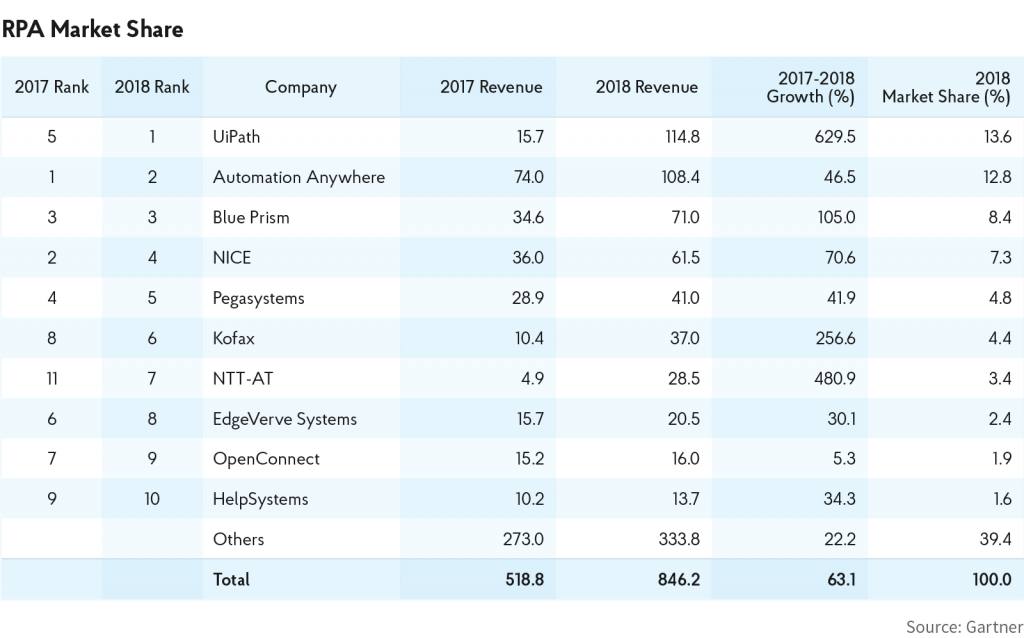 What is RPA and How Does it Benefit Businesses?
RPA (Robotic Process Automation) is a technology application. This application improves businesses by automating business processes and uses structured inputs and business logic to do so. RPA has a variety of tools businesses can use to
· Manipulate data
· Communicate with other digital systems
· Process transactions
· Capture applications
· Trigger responses
What Are the Benefits of RPA for Businesses?
There are a variety of benefits for businesses who choose to use RPA, including:
Cost savings – RPA increases the number of items being put through a process or system, also known as throughput, and reduces operating costs.
Significant process improvements – using RPA allows businesses to improve their processes by enabling them to get more work done in less time. With RPA, companies can add or change processes as needed.
Redeployment of resources to higher-value functions – employees can give a variety of tasks to robots, which provides employees with more time to focus on customers and other essential tasks at that time.
Improved productivity – as a business owner, you can guarantee that things will go wrong at some point in time. Having RPA on your side minimizes manual processes that are error-prone, which means there is less risk of human error. Using innovative RPA technology allows you to expand your virtual workforce effortlessly.
Improved quality – RPA improves quality by increasing compliance and audibility and increases consistency with standardized processes, which gives your business a highly recognized brand for high-quality services and products.
Improved customer service – your customers, are part of what makes your business great. You can improve your customer service by using RPA technology to eliminate human error. Reducing human error enhances customer satisfaction.
Improve compliance – the steps of RPA are recorded for later audibility. Unlike traditional IT integration, RPA does not have an invasive integration process. RPA automates apps against their existing interfaces and updates information in other apps.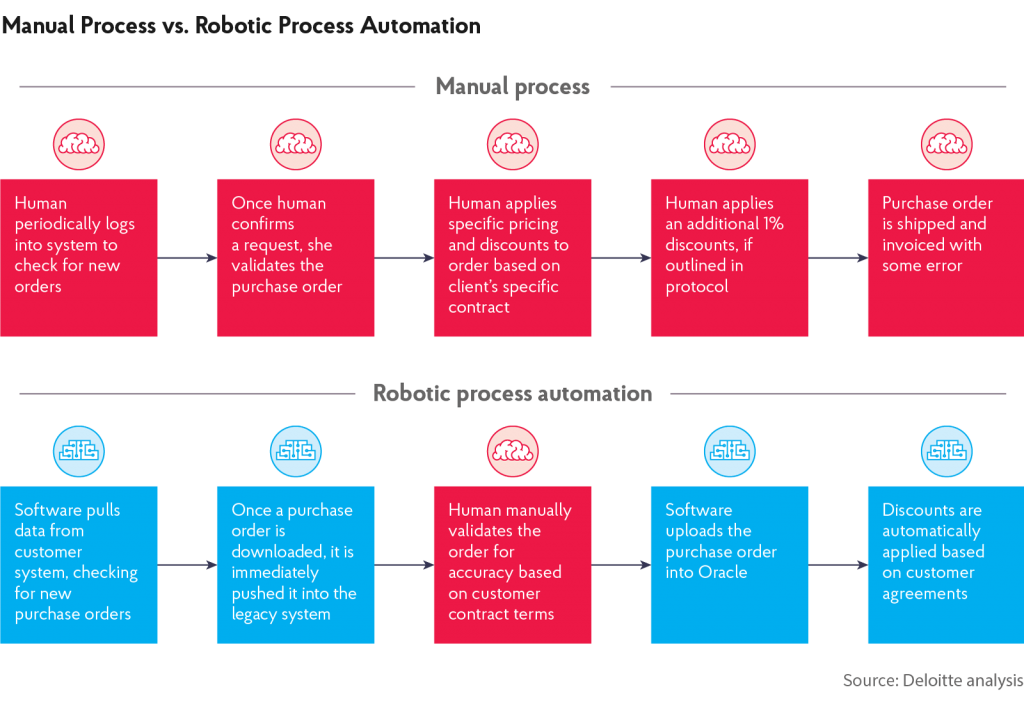 How to Set Up Effective Robotic Process Automation
1. Define Your Needs and Expectations period
When you're defining the needs of your business, you need to determine what functions you can improve and where you can remove certain tasks, such as equipment and services, to improve the flow of business. Your expectations need to be realistic. Setting goals too high can result in partial business failure. Use data to help you determine where you want your business to be within a reasonable timeframe and set steps that will help you achieve your goals.
2. Measure Business Impact
The impact of your business says a lot about your company regarding finances, legal, its reputation, and a variety of other factors. Measuring business impact helps you determine your business' risk of disaster and its chance of recovery. A business impact analysis should be performed at least once per month to assess your business' risk of hardships.
3. Engage Tech Specialists on the Early Stages
Inform your tech specialists about the early stages of making the transition from the traditional ways of business operation to the innovative techniques of using RPA. Allow your tech specialists to become familiar with the new technology and make improvements when and where necessary. The earlier you introduce RPA, the sooner adjustments can be made and incorporated in your business.
4. Don't Underestimate Design
Don't underestimate the power of design. If you're interested in incorporating new designs in your company, now would be the time to do, whether these are new designs for machines, other equipment, or your business as a whole.
5. Consider the Impact on People
What impact does your company have on people? Is the impact negative or positive? If your business' impact on customers and other people is positive, work hard to continue to provide exceptional service and improve where you may be lacking. If your influence is negative, find out through customer feedback where your company is going wrong and strive to make consistent improvements in your company until your impact on people begins to change for the better.
6. Control the Efficiency
Whether you have a successful business or trying to improve your business, there is no such thing as money to spare. Save money and materials when you can. Controlling efficiency also means preventative maintenance for equipment, especially the equipment you use daily to maintain business operations.
7. Integrate RPA Into Your Whole Development Lifecycle
Once you completed the previous steps, your business is ready to integrate innovative RPA technology into the entire development lifecycle of your company. It may take a few weeks for all the technology to reach every sector in your business, but it will happen, and when it does, you will notice how the flow of your business improves and how much time and money RPA saves your company.
NIX Experience
NIX has significant experience in developing RPA solutions for business. One of our clients is a large intelligent automation platform, which offers digital labor powered by RPA, AI, and Cloud Computing to automate clerical back-office processes that work exactly like a human. Throughout the duration of collaboration, NIX has delivered a refreshed user interface for end-user and administrative activities, augmented the AI Labs division with additional skills and capabilities, and supported a longer-term plan of a blended on-shore and near-shore software development team.
All these tasks were implemented in four automated products NIX created for the client:
is a web interface which allows to monitor the state of all system parts, check performance, and manage entities which directly influence the virtual workforce;

a web application for generating and storing keys as well as licenses for products;

a secure customizable web portal which allows organizations to initiate automation of a broad process range requiring manual initiation;

a playground where authorized users can find helpful tools for automation.
All products help to automate and simplify organizational and working processes on different levels and domains, reducing staffing costs and human error.
Conclusion
As a Microsoft Certified solution partner, NIX utilizes the latest tools and methodologies in all of our work. We offer services that include migration to the cloud, user experience, and UI design, DevOps implementation, and a variety of other beneficial business processes. RPA is the future of businesses and as new technologies like OCR and AI come into play to further complement RPA, it is only going to become more important. Let us help you build a solution that suits your business needs and facilitates your growth. Contact us and we will provide you with all the information.