2019 EdTech Funding Breakthrough – Great Investment or Not?
blog
The way people learn and how they are taught has been the same for centuries. However, the advent of the internet and technological innovations is changing this paradigm.
These innovations are actually big business. The EdTech industry is attracting investors all over the world. Companies are focusing on how they can best benefit from this untapped market. Fortunately, they are not the only benefactors as the benefits to students are also substantial.
At NIX, we understand the challenges involved in entering a new sector. We have been involved in the education sector for years. We know the right questions to ask and how companies can benefit through EdTech investment.
Education funding will rise to $8T by 2025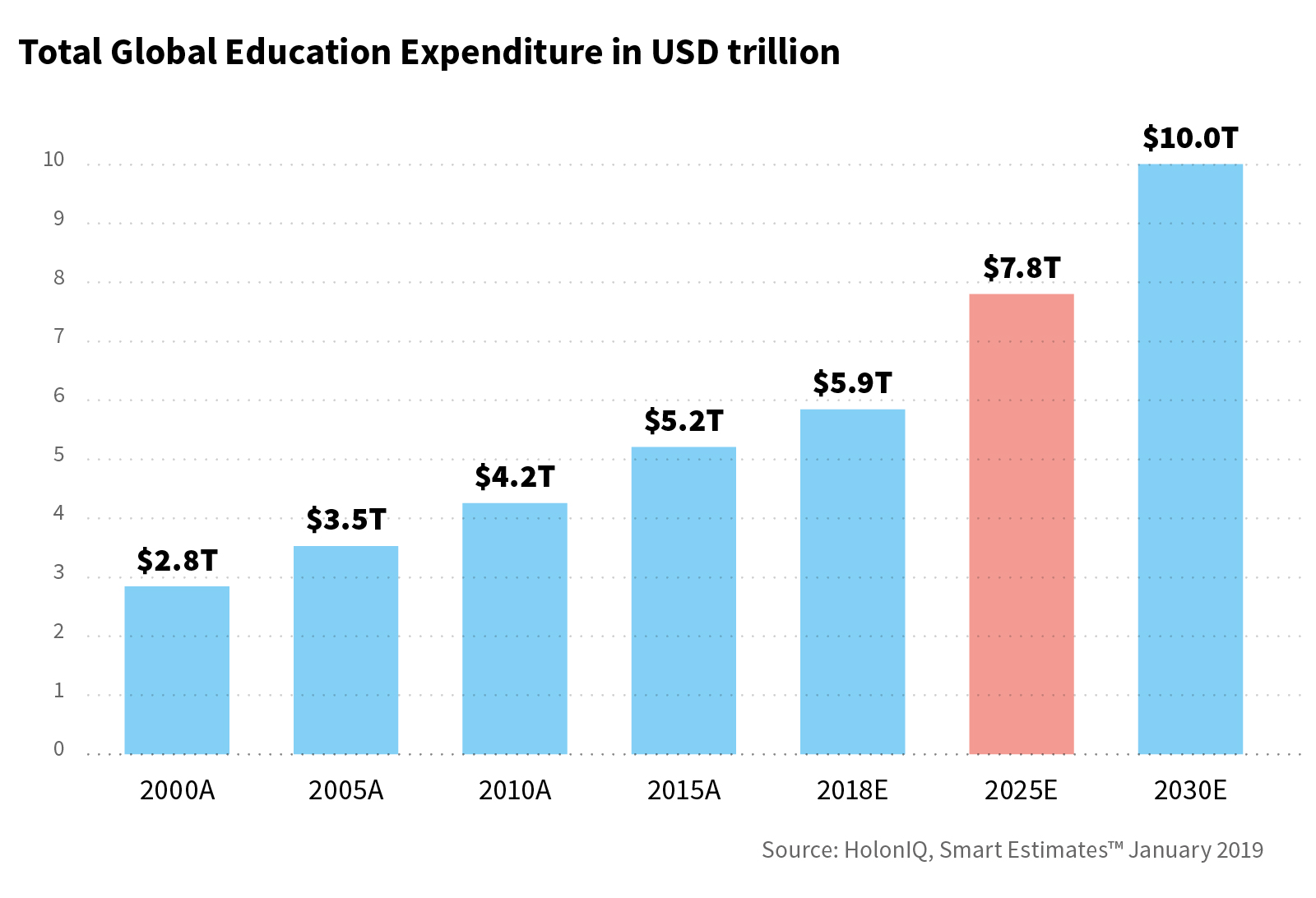 Investments in the education sector are ever increasing. Global efforts of governments around the world focused on increasing the literacy rates of their citizens are part of this. The growing middle class in many countries demonstrates the value of education to citizens. This simply acts as further reinforcement.
It is estimated that by 2025, investment in education and training will rise to $8T globally. This trend is not expected to slow down as the following 5 years will see a further $5T added to the expected spending. This is a trend that many EdTech venture capital firms are eyeing quite closely.
Lack of capital compared with other sectors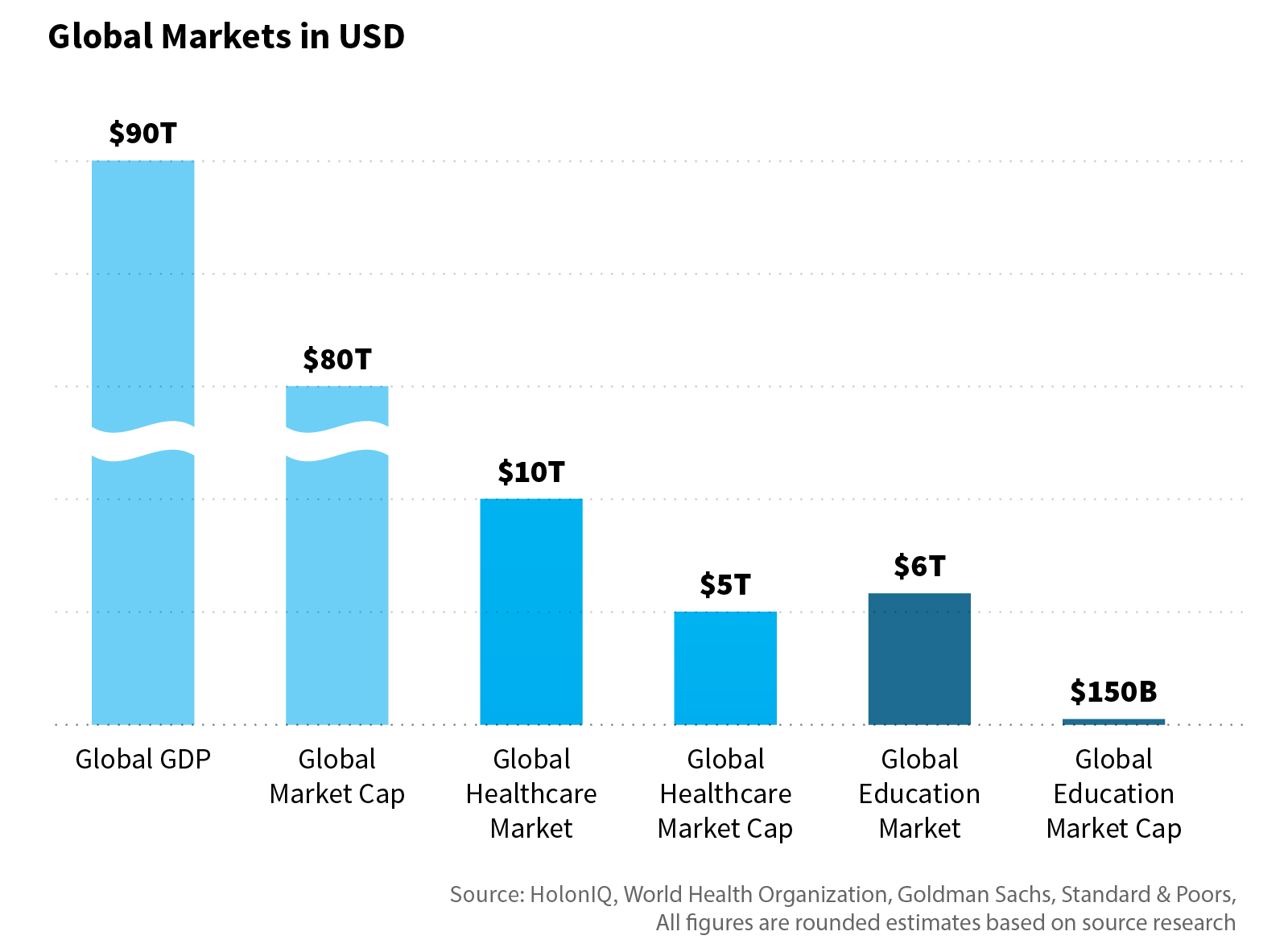 Innovation and advancement require investment. If this sector is going to continue to grow and develop new technology, it is going to need additional private funding. Currently, the EdTech market is not receiving the private capital it needs.
The current global education market is worth $6T. This is being serviced through a global education market cap of only $150B. This is a tiny fraction.
By contrast, the global healthcare market is worth $10T. Servicing this is a capital flow of close to $5T through the global healthcare market cap. There is significant room for growth for investors in education.
Digital spend is changing rapidly – will grow to $342b by 2025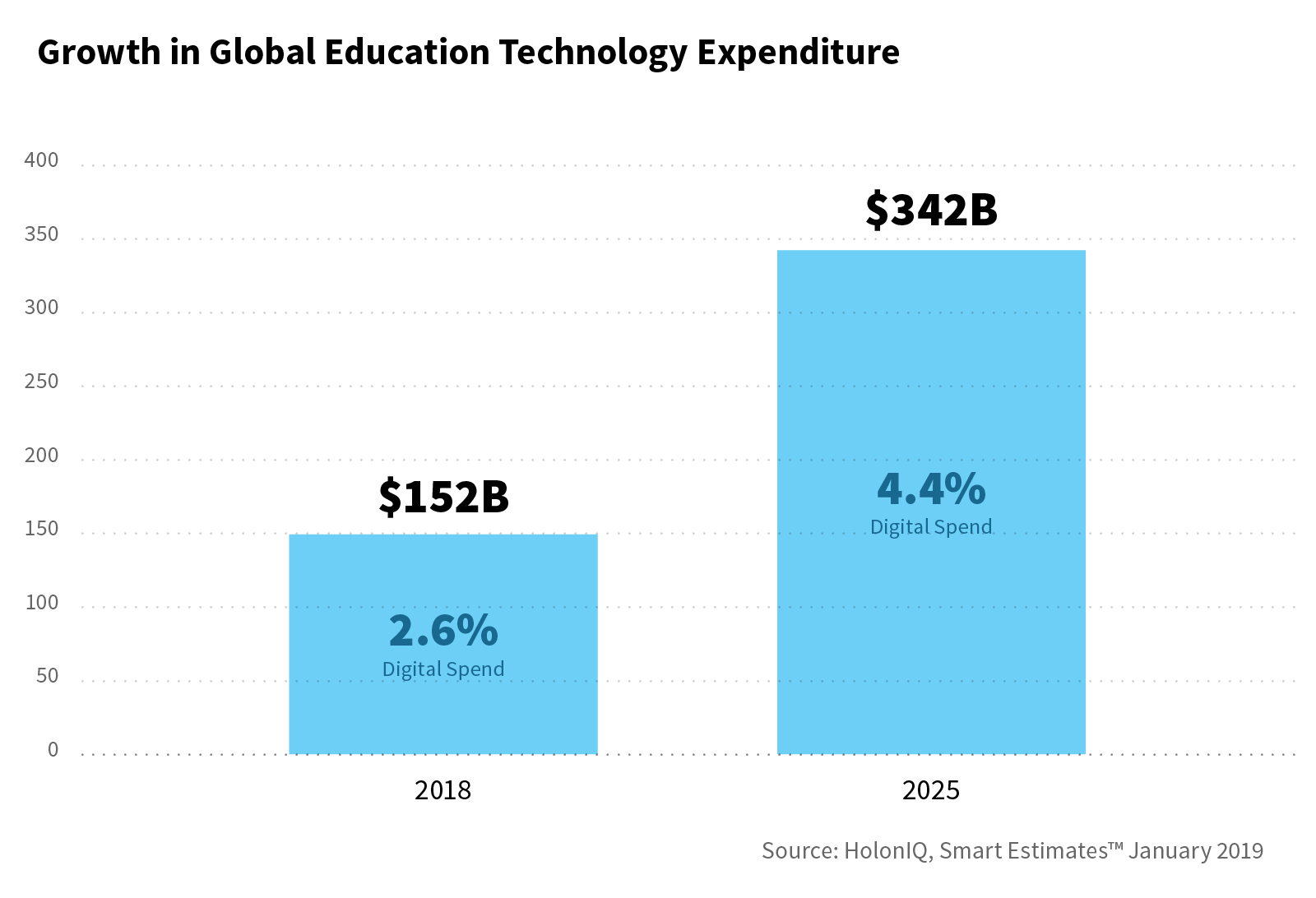 The tools we use to learn and the books we use to teach are changing. What we learn is changing with technologies that are being taught today being obsolete within five years.
The only way that this doesn't happen is by having a continuous update of the new and upcoming technology. Currently, spending on education is a paltry 5% of the total spending. The expectation is that this will grow to $342B in 2025. Compared with a market growth to $8T in the same timeframe however, there is still lots of room to improve.
A wide range of technologies will be implemented into education delivery and learning processes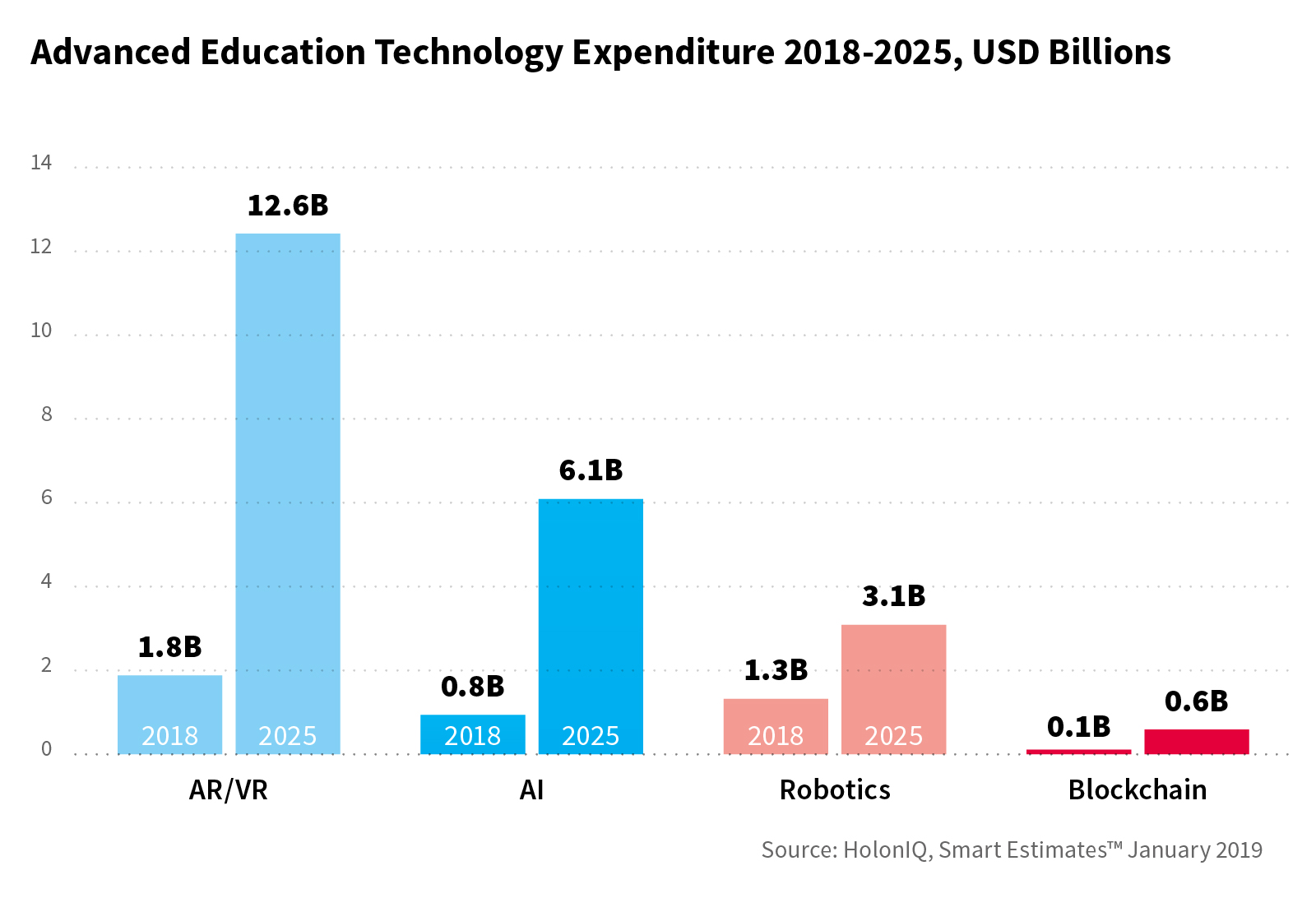 eBooks and online classes are the tips of the iceberg when it comes to learning. Technology is constantly evolving. In addition, the way we learn is also changing. AR/VR technology has been introduced and while this only accounted for $1.8B in 2018, it is expected to surpass $12B by 2025. Additional EdTech technology funding has seen other technologies increase in investment.
AI is expected to increase from under $1B to over $6B in the same timeframe. Robotics and Blockchain similarly are expected to have significant growth curves.
New technology is constantly being discovered and created. Today, technology cannot be separated from learning.
Venture Capital invested $8b in 2018 compared to $2b in 2014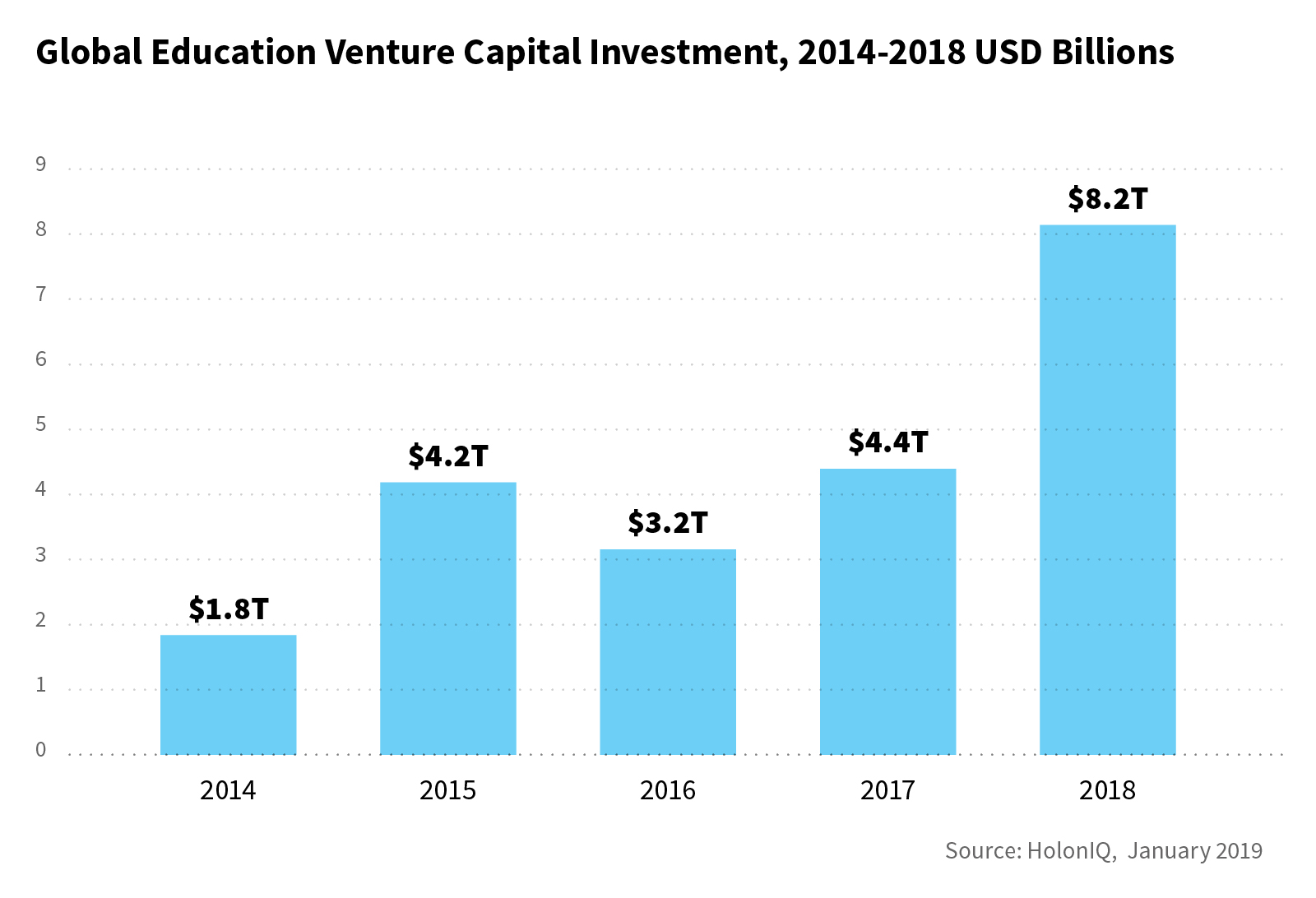 Edtech venture capital companies around the world are starting to embrace the market. Investment in 2014 was under $2B, but in four years this market has seen substantial growth. 2018 saw investments in the EdTech sector of over $8B. However, these investments are not currently evenly distributed leaving many markets underserved.
The core driver of growth in VC investments in China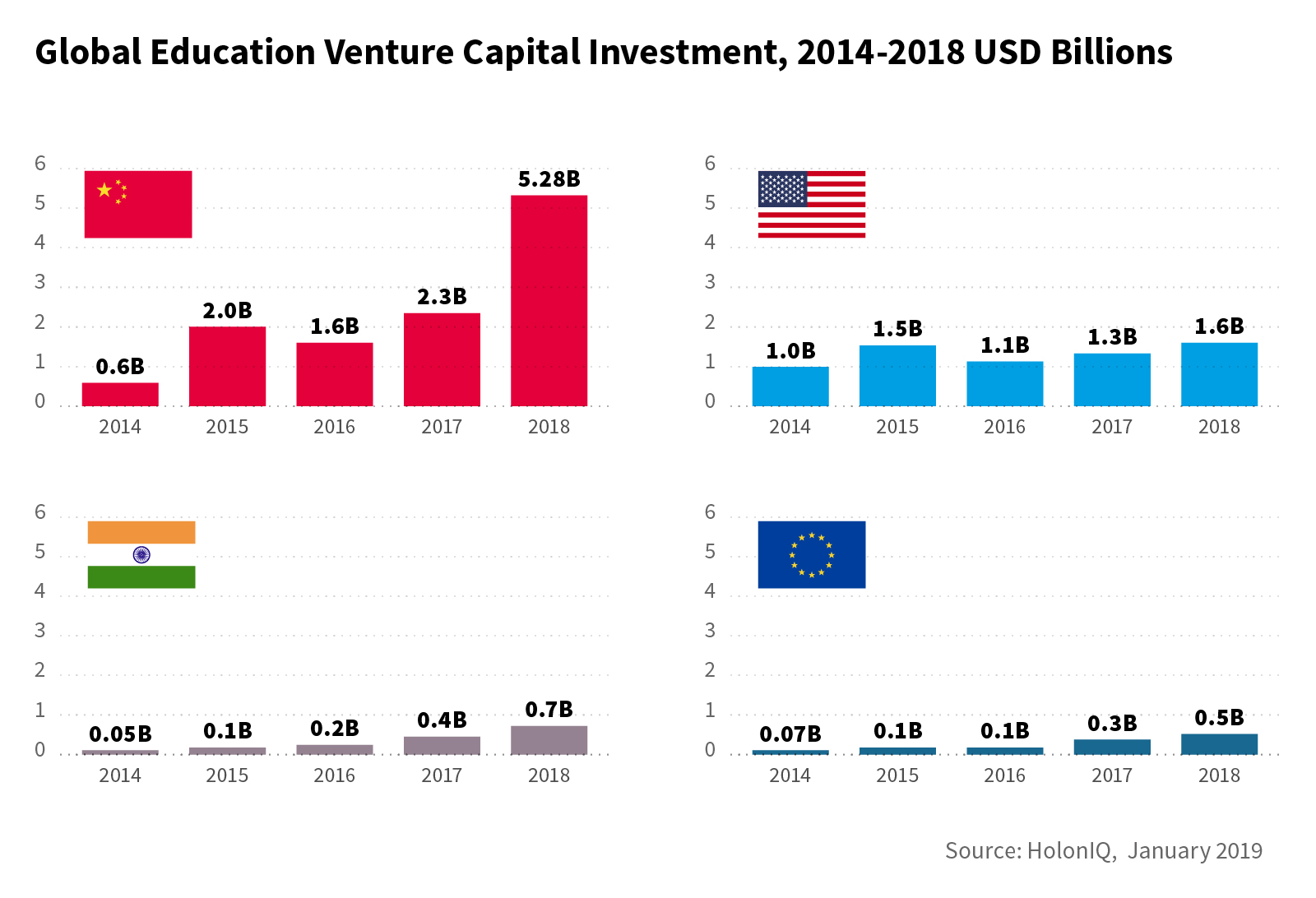 Many countries have seen a modest increase in investment in EdTech venture capital over the previous four years. China, however, has seen massive growth. They have far outstripped any other country and China currently accounts for over 50% of global venture capital investment.
This could be for two reasons. Firstly, The population rate of China is ranked among the highest in the world. This has also led to one of the largest – and growing larger – middle classes. This sector as previously mentioned, understands the value of education.
Secondly, China, while not known as an innovator with regards to technology, has an unparalleled ability to embrace the best from others. This constantly evolving technical literacy helps ensure that they are at the cutting edge at all times.
The Challenges of Edtech Investment
The benefits of investing in EdTech cannot be overstated. However, there are some challenges that any business should be aware of.
The delicacy of the outer market
Each market is different. Language and culture are two of the most obvious differences. Added to this is that in certain markets, the curriculum itself needs to be changed to accommodate certain differences in social and cultural backgrounds. This means that there is no such thing as a one-size fits all approach.
The need for more solutions
The tools we're using now to educate might be a significant improvement in the tools from a decade or less ago. However, there is still much room to grow.
Additional tools need to be developed and created. Ones that take into account the massive increases in data that we have seen. These tools should help us better analyze and use the information in a simpler manner.
The attitude of the students
Sometimes ease becomes a liability. The lack of proper discipline while studying online is one example. This could lead to unmotivated students awry.
Conclusion
Businesses looking to transform the future must invest in EdTech. The market is only starting to grow and there is significant room for growth for savvy investors. The technology trends we are using now might seem advanced, but the potential for new innovations is staggering.
There are risks to investing in EdTech like there are in any investment. However, the obvious upside potential far outweighs the negative risks. At NIX we can help you navigate these risks. We understand the challenges from a business and technology perspective and we have the resources in place to help you be successful.