Blockchain in Healthcare: Digital Transformation, Ecosystem Prediction, Trusted Use Case
blog
Blockchain technology could provide a new model for health information exchanges. It has the potential to transform healthcare with a patient-centric ecosystem and increase the security, privacy, and interoperability of health data.

How is this done? By making electronic medical records more secure, efficient, and disintermediated. This may not be a panacea, but this new, rapidly evolving field provides fertile ground for experimentation, investment, and proof-of-concept testing.
Check the plan:
What is Blockchain and Why is it Used in Healthcare
Briefly, blockchain is a distributed system that records and stores transaction records. More specifically, blockchain is a shared, immutable record of peer-to-peer transactions built from linked transaction blocks and stored in a digital ledger.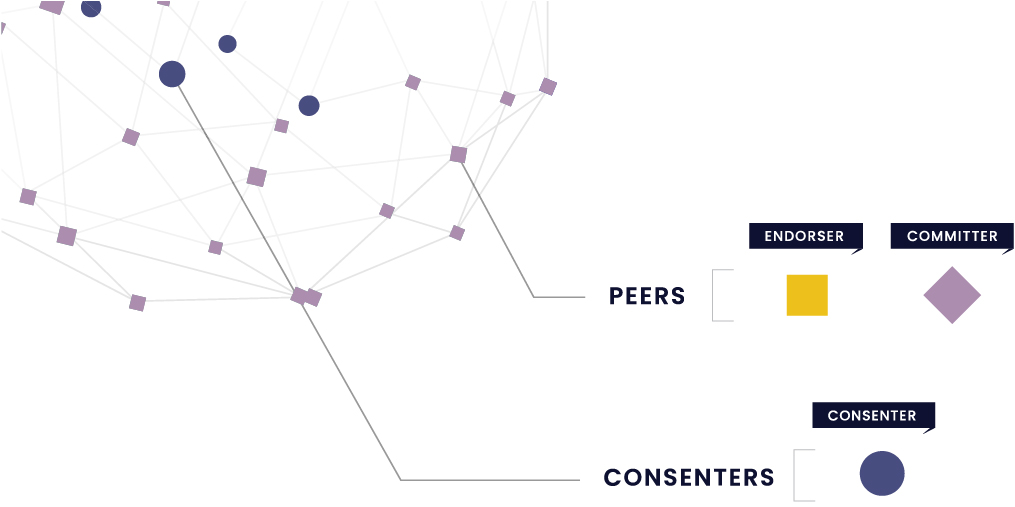 Forget, for a moment, "big data," and think instead about "long data"—short for longitudinal data—and its applications in healthcare. The value of having the full history of an individual's health can't be overestimated.
For example, imagine when every important piece of data is recorded—all of the medicine taken, information associated with every doctor's visit, illness, operation, and results. Long data is simply the lifetime history of data related to a person.
The healthcare ecosystem aims to raise the quality and coordination of care, and simultaneously the fall costs and risks—and that is precisely what blockchains can do extremely well for healthcare.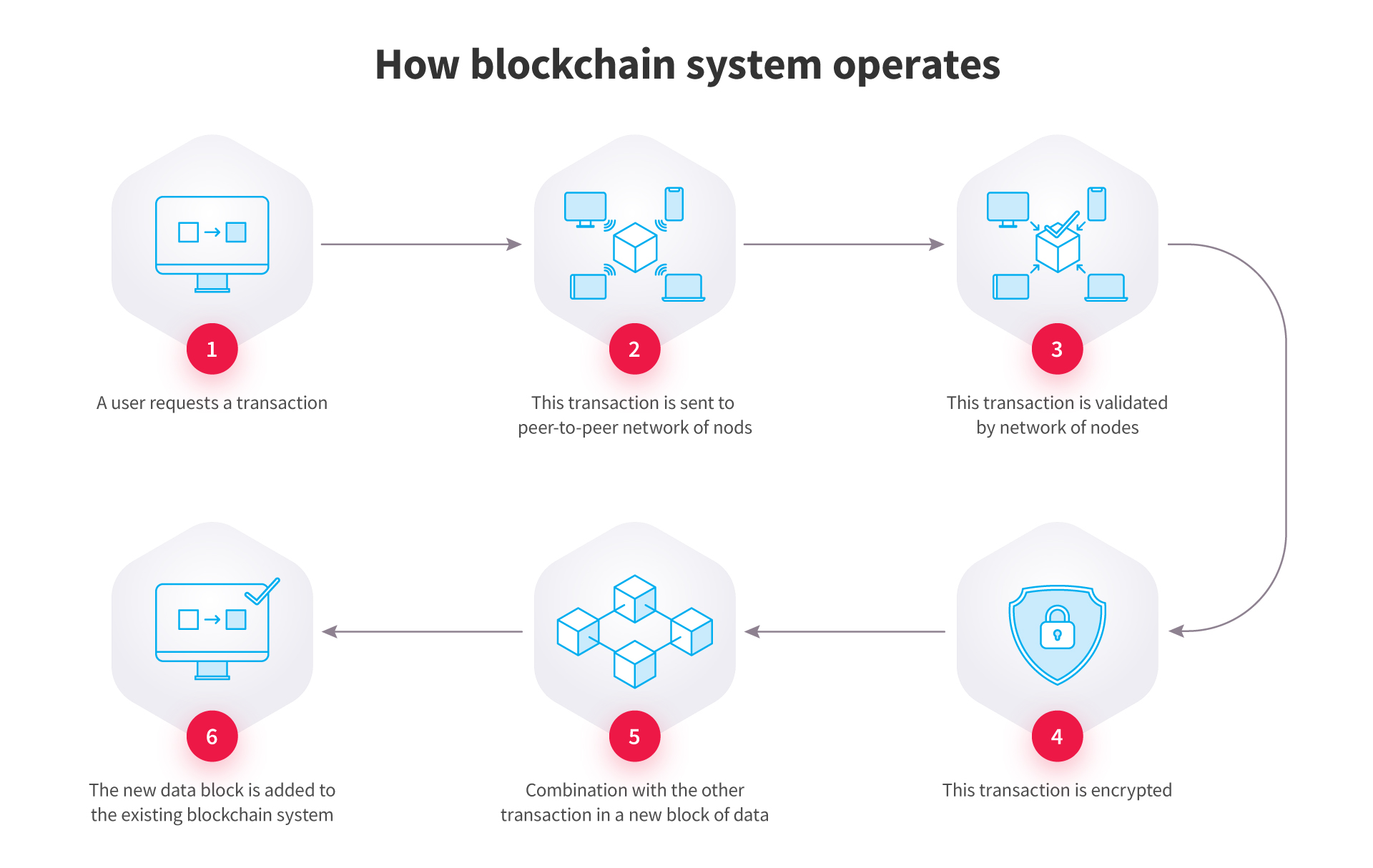 Data captured on blockchains can be shared in real time across a scalable group of individuals and institutions. Every event or transaction is time-stamped and becomes part of a long chain, or permanent record, that can't be tampered with after the fact. On permissionless blockchains, all parties can view all records. On permissioned blockchains, privacy can be maintained by agreement about which parties can view which transactions—and where desired, by masking the identity of the party.
In this way, blockchains shift the lens from disparate bits of information held by a single owner, to the lifetime history of an asset. This holds true whether that asset is a patient's health record or a bottle of pills as it moves through the supply chain. We will illustrate an example below.
Predicting the Blockchain Future
According to IBM, 70% of healthcare leaders predict that the greatest impact of blockchain within the health domain will be the improvement of clinical trial management, regulatory compliance, and providing a decentralized framework for sharing electronic health records (EHR). Moreover, according to Research and Markets, the global blockchain technology market in the healthcare industry is expected to cross $500 million by 2022, growing at a CAGR of 61.4% between 2018 and 2022. At the same time, IDC suggests that 55% of all healthcare applications will have employed blockchain for commercial purposes by 2025.
As blockchain is gaining popularity, healthcare organizations are partnering with blockchain consultants to facilitate the adoption of this technology in healthcare projects.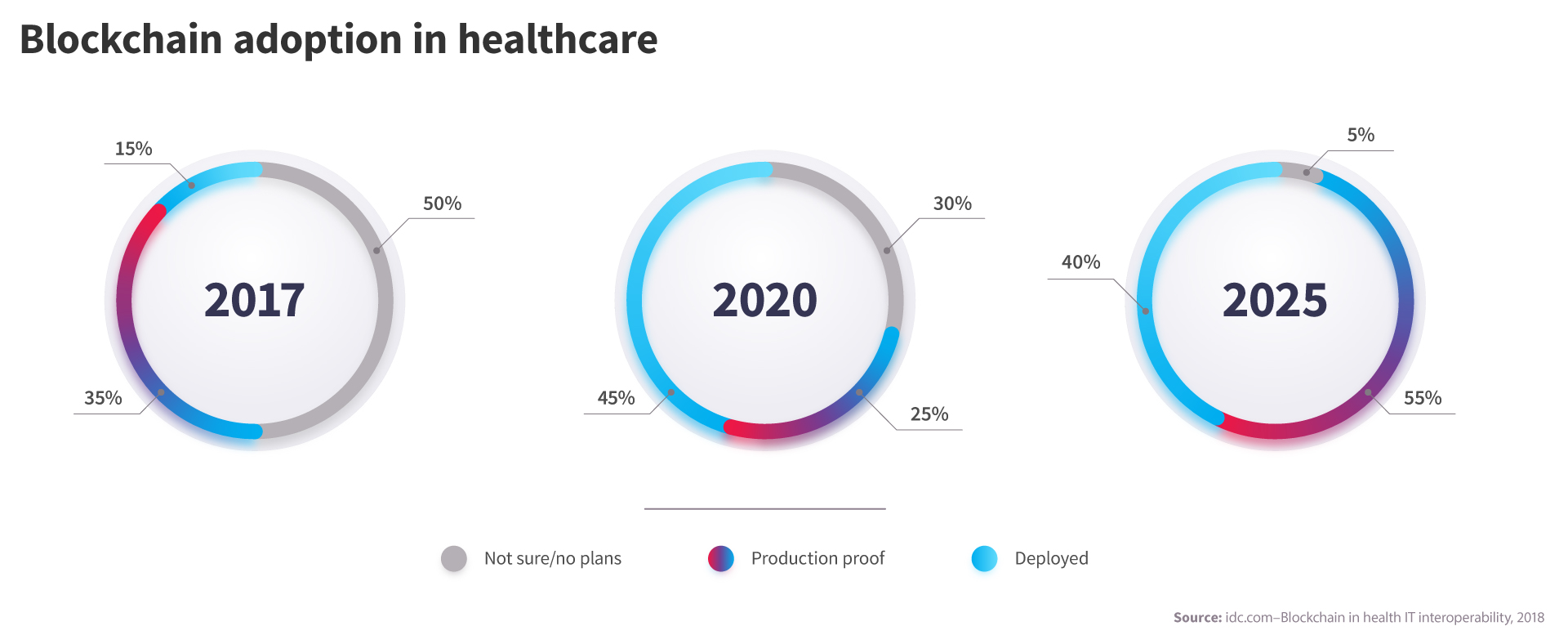 In 2019, along with Blockchain in Healthcare Today (BHTY) editorial board members, conference speakers were invited to join with Tory Cenaj, publisher of BHTY, to contribute their expertise and share insights for the near-term landscape of blockchain in healthcare.
"Two predictions are worth highlighting," — George T. Mathew stated. "First, there will be more specific use cases that can significantly be better handled by blockchain. These include interoperability, data monetization/ownership/consent. Second, eventually these will overlap with the existing tech use cases, including provider credentialing and verification, and claims processing. Financial institutions that are not already in healthcare will go here first."
NIX United Case — Child Medical Record
The NIX United team had a challenging task to create and confidentially maintain health info about a patient when there are several independent participants in the process— a trusted case of blockchain technology in healthcare. Here is our network structure:
A flow, in which there are a few key participants—Hospital (Pediatrician), parents, elementary school—contains the following 5 steps:
Parents sign an agreement with the hospital, where their child is examined.
A pediatrician gains access to their child's medical records and the ability to update information on the child's health.
Parents apply for a place in an elementary school for their child.
If the child is accepted, the elementary school sends a request to the pediatrician for a report on the child's health.
A doctor creates a health report, then the parents need to give permission to the particular elementary school/s to access and check the report.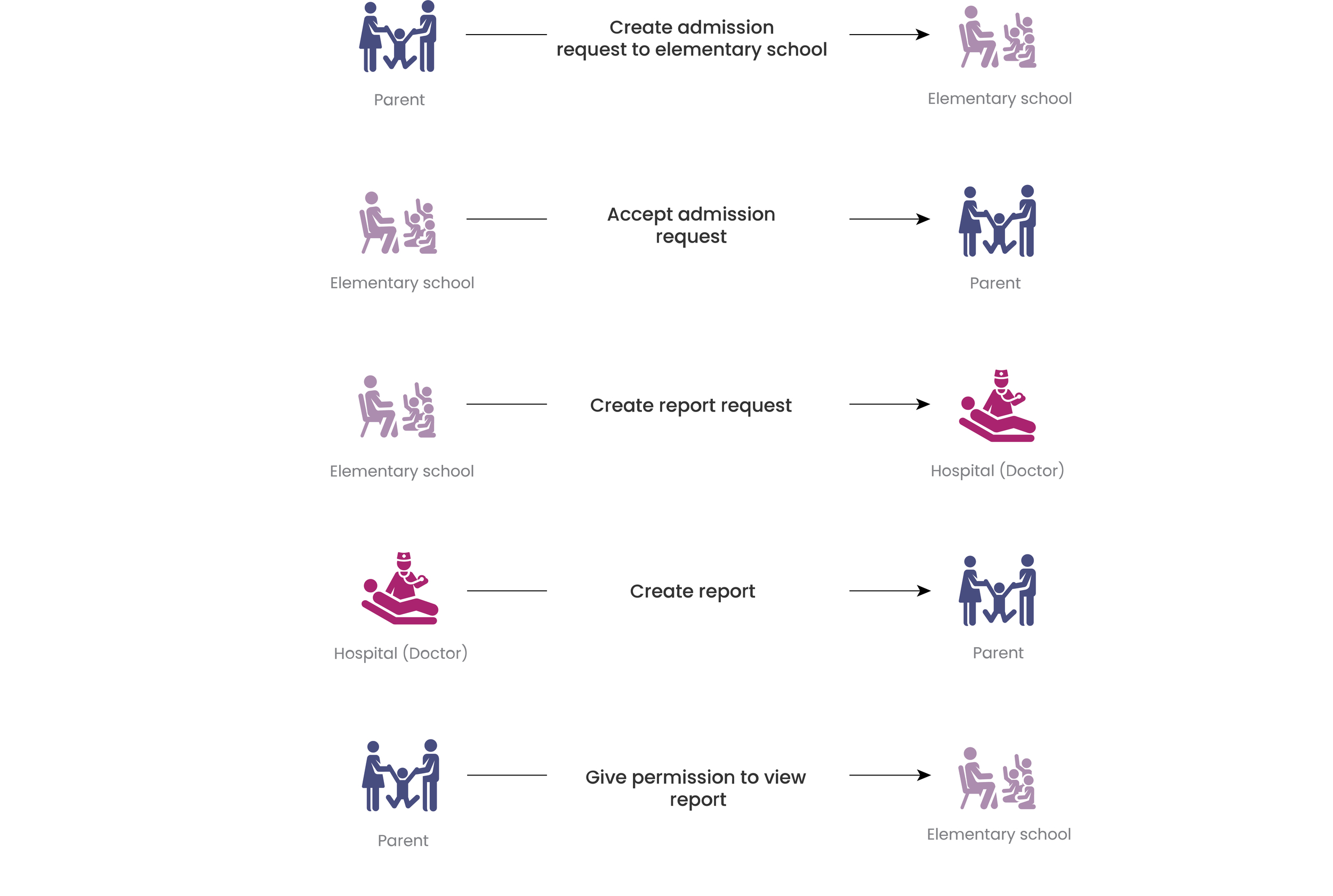 To restrict access to confidential info about the child's medical records, a different channel was created, accessible only to parents and the hospital. Thus, the elementary school will not be able to store any child's medical records on its node. Here is an advantage to the parent—confidential transactions only.
Our team also created one more channel for the child's health reports accessible to all peers.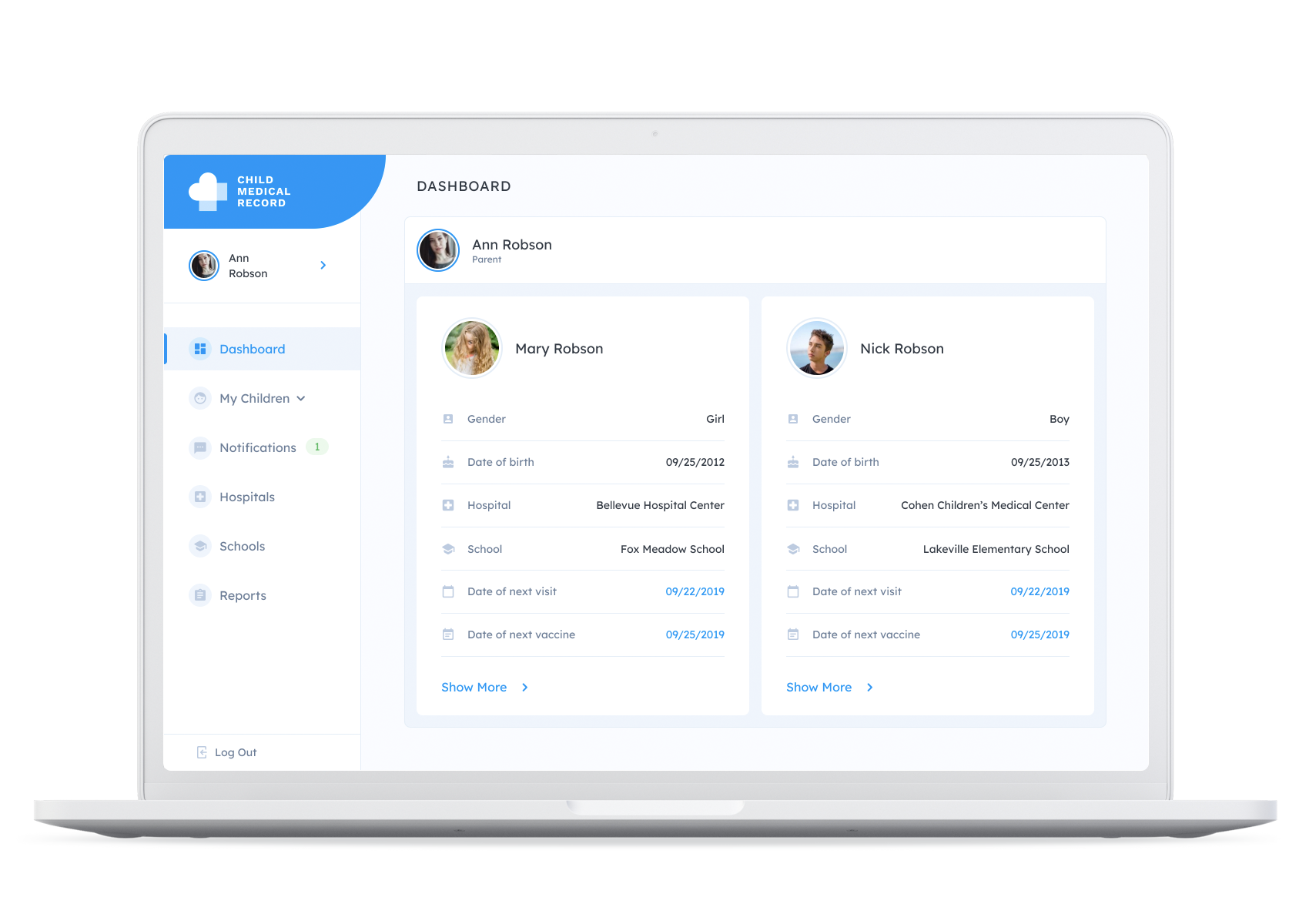 There is no doubt in stating that blockchain promises a revolutionary future of healthcare, medicine, and beyond. Because blockchain is about security and accessibility, the technology can be used in many different areas of the healthcare system—for storing and sharing medical records and insurance information both in healthcare venues and in mobile applications and remote monitoring systems, and for clinical trials.
NIX is able to create blockchain solutions for healthcare in which everyone is working together while ensuring confidentiality, scalability, and security. If you want to learn more of our expertise, please contact us.