Electronic Health Records — Safety, Quality and Integrations
blog
EHR system integration brings the opportunity to switch from a paper-based system to a digitized one. Imagine no more personal health records written on pages in folders and files that could be in lots of different locations around the country, but a new modern system that enables patients and clients to have full access to personal health information.
Briefly answering the question "What is EHR (electronic health record)?", we can say that EHR is a software for a structural way of storing and sharing patient data. EHRs are digital versions of paper patient cards, real-time and patient-oriented records that make information instantly accessible and secure for users who have authorized it
This facilitates collaborative working practices where different health professionals can work together in real-time to provide patients with the best care and enable quick access to services which will improve waiting lists and diagnose accurately using the most advanced data security measures. Furthermore, patients' health information becomes more secure.
Industry Trends
According to a research report by Global Market Insights, the rate of digital health technology adoption is expected to witness a growth of over 5.5% CAGR from 2019 to 2025. This predictable increase creates the need to integrate the tools below into the EHR software increasingly critical for health systems.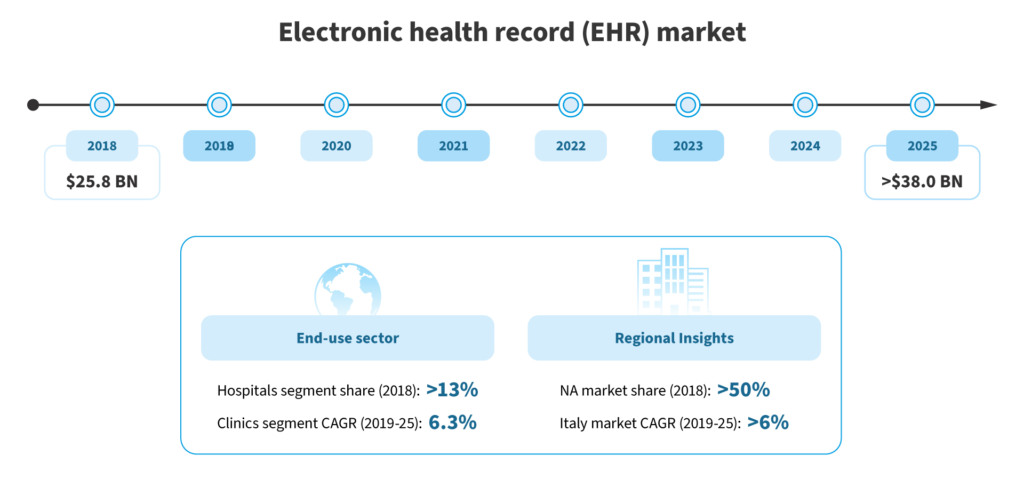 It is estimated that the market of сlinics electronic health records will grow at a short-term rate of 6.3% over the projected period. Expansion of clinical facilities, especially in emerging economies, will soon lead to wider adoption of EHR system. Joint efforts by physicians and initiatives will help to rapidly introduce comprehensive electronic medical records in clinics. Besides, the addition of specialized features in clinic EHR, along with other benefits, will increase the segment of clinics in the coming period.
The market of hospital electronic medical records held the largest share, while in 2018 the segment of specialized centers held more than 13.0% of the revenue. The significant growth is due to the electronics the miniaturization and integration technologies, which led to the promotion of new EHR solutions in healthcare to include more flexible options that practitioners can customize. EHRs offer improved capabilities to meet a variety of industry requirements, as well as better access to information at higher speeds and with fewer errors. EHRs in specialized clinics are increasingly being implemented due to benefits such as effective patient communication, improved diagnostics and treatment, better data management and fraud mitigation, resulting in segment growth.
Healthcare Must-Have Interoperability
The Office of the National Coordinator for Health Information Technology (ONC), as part of the 21st Century Cures Act, contributes to improving the quality of patient care, which includes optimization of EHRs and improved data compatibility.
Interoperability is defined by ONS as, "the ability of a system to exchange electronic health information with and use electronic health information from other systems without special effort on the part of the user."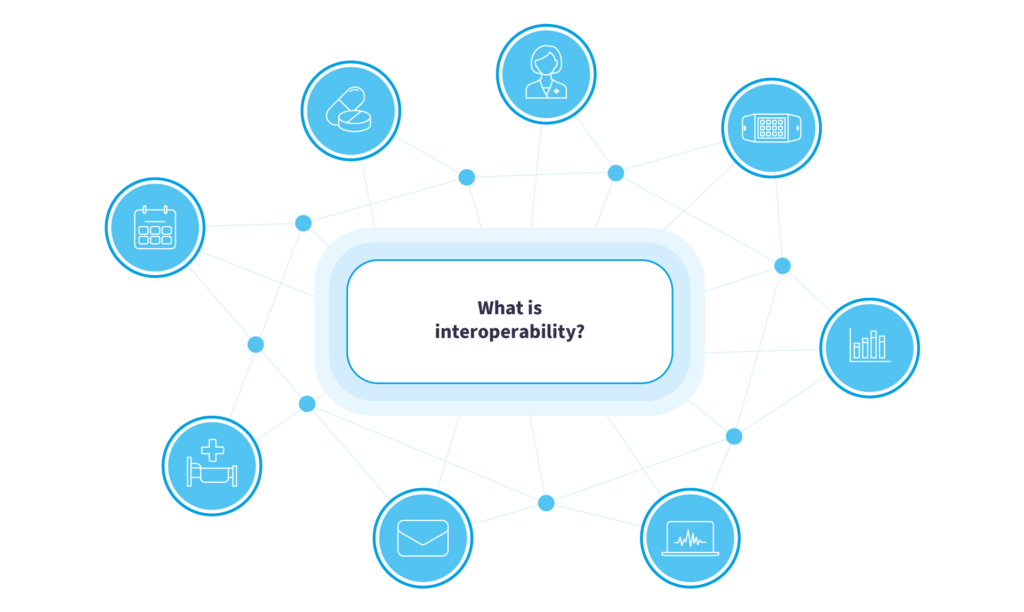 "To achieve EHR integration, health systems must have interoperability," says Daniel Orenstein, JD, Senior Vice President, General Counsel, and Secretary of Health Catalyst. "Users must be able to easily find and use the information on both ends, whether sending or receiving, as well as send to and receive information from, third-party systems (independent IT vendors). In practical terms, integration is having automatic access (versus manual entry) in the EHR to clinical information from sources within and outside the health systems and using that information when treating a patient."
EHR Integration Challenges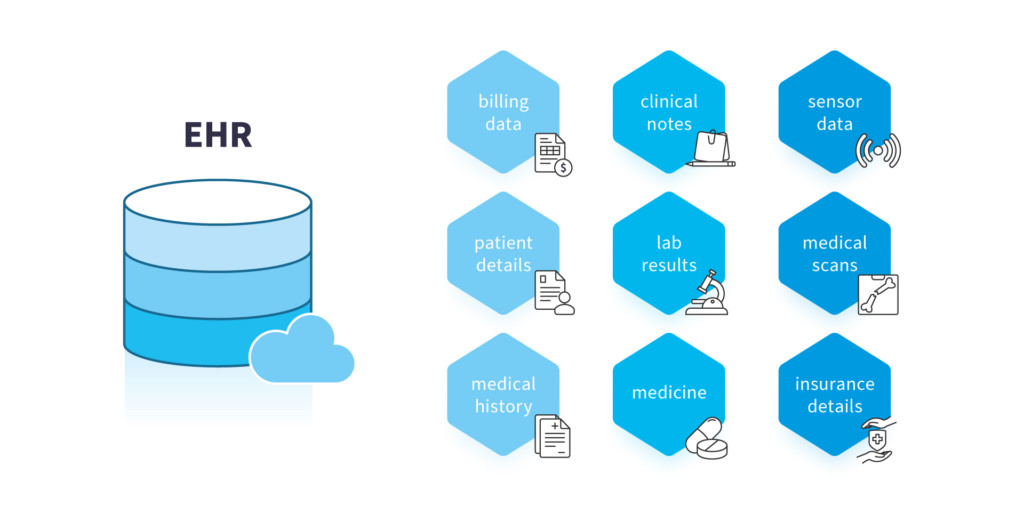 Quality issues
Data and knowledge logistics must be supported by EHR. Therefore, related data should not only be accessed on-demand, but also have four dimensions: accuracy, completeness, consistency, and timeliness.

The manner in which data is presented should take into consideration the current clinical context and anticipate users' needs, thus creating an intelligent ambiance. Thus, the different types of health data such as narrative data, physical examinations, diagnosis, procedures, laboratory reports, images, and biological signals should be obtained with different methods and corresponding standards.
To ensure high-quality EHR content in healthcare, care managers (means nurses) and health information managers have to gather, integrate and supervise various pieces of patient information. The accuracy and integrity of data in the EHR must be monitored and verified in accordance with the rules for software as a medical device under the European Medical Device Directive (MDD) or FDA regulations.
Privacy and security concerns
Poor design and misuse of an EHR system can lead to, what is called, EHR-related errors that jeopardize the integrity of information in records, resulting in errors that in turn compromise patient safety and reduce service quality. These unintended consequences can also lead to increased fraud and can have serious legal consequences.
This is why government privacy and security regulations and HIPAA impose restrictions on healthcare systems properly using and disclosing Protected Health Information (PHI). Organizations must take measures to ensure compliance with HIPAA; however, these requirements should not pose serious obstacles to EHR integration where appropriate. To ensure integration with third parties, health systems may need to put in place valid HIPAA business associate agreements (BAAs).
Limitations on contracts
Some industry players limit integration to contracted restrictions, more accurately described as administrative barriers. According to HIPAA, interoperability laws do not create barriers to integration; on the contrary, these laws encourage interoperability. Generally, any restrictions on integration and data exchange come from a provider or a vendor.
EHR Benefits or the Future of Health IT
As digital healthcare evolves, an urgent need for the industry is the full integration of the EHR, enabling here and now to obtain data-driven insight for the goal of care.
Health care workers should provide constant access to the right information about patients, and EHRs are a significant step forward in this struggle. While there are still some improvements, the transition from paper with hard-to-read medical curls to a digital format that can be quickly and easily transferred from office to office is a technological leap forward.
For organizations that want to take advantage of this technology and understand how to best utilize other telemedicine capabilities in their work, make sure you choose the right vendor that can manage complex solutions for your patients while saving time and money.