Immersive Technologies for Your Business
blog
Augmented reality is a phenomenon that has made its way into our technology. Augmented Reality (AR) holds day to day applications. The change happened right in recent years. The future we sought after for many years is here, and it's comfortably virtual. By the year 2022, Gartner reported that 25% of the business would deploy immersive technologies for production, and 70% of the enterprises will be experimenting with the potential of augmented reality for their market.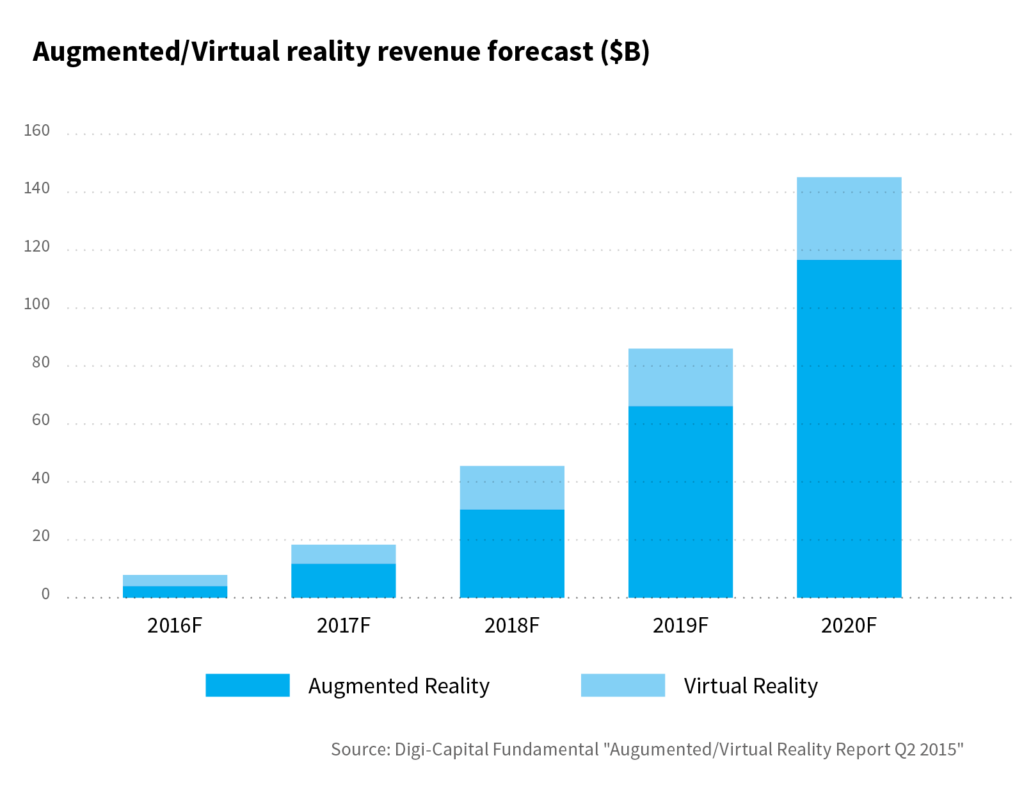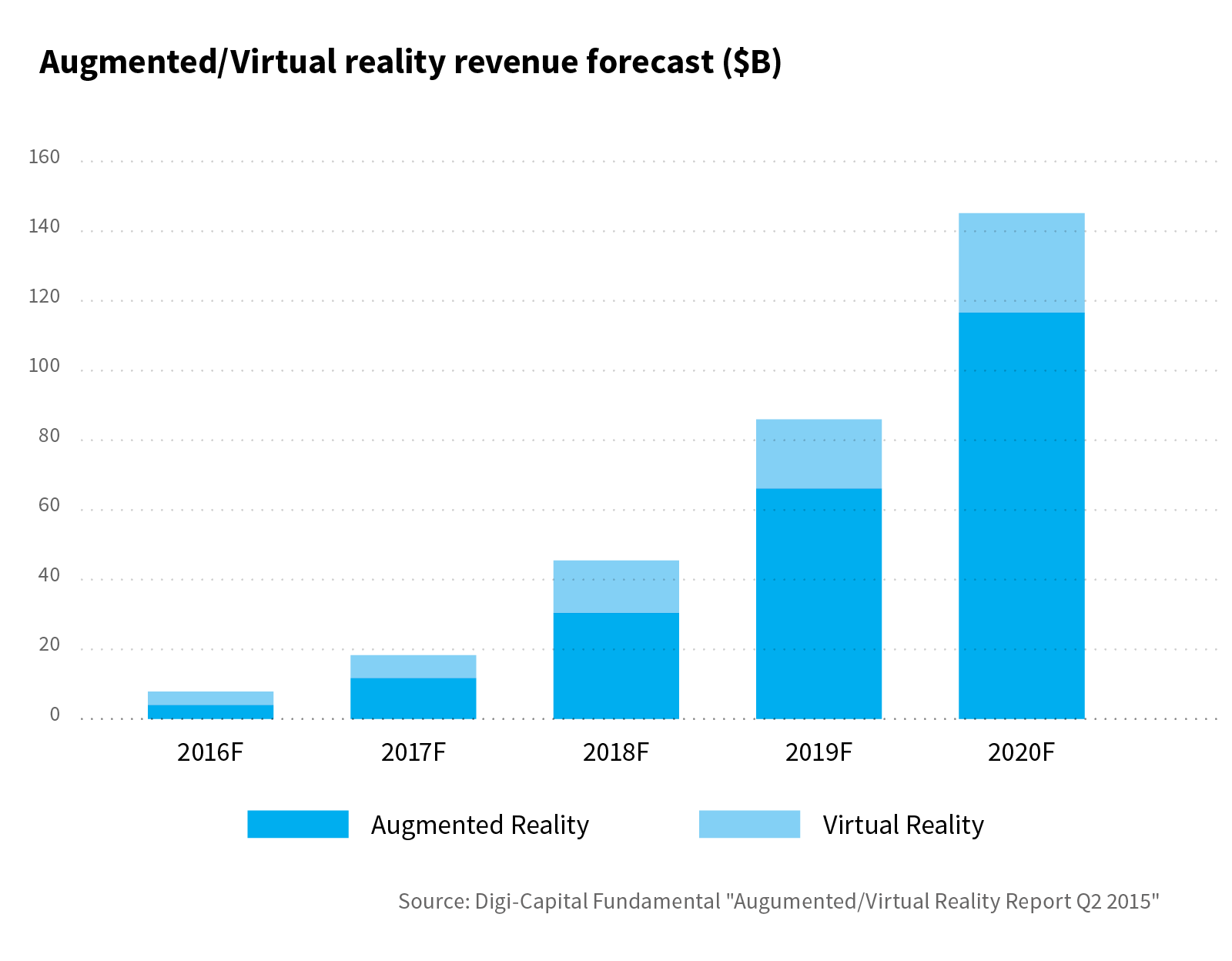 Augmented reality has many definitions, but the concept is that it combines data from the real-world and creates an extraordinarily informative virtual presentation on a device. This virtual presentation allows the user to experience the reality that is being layered by appropriate computer-generated information. You could find AR in your general grocery store. While you're shopping, you are made aware of the fiber, magnesium, and protein content in every vegetable you pick.
Expansion of the AR Market
In recent years, augmented reality has started advancing rapidly. This immersive technology is inching closer to the state of mass adoption. It is in fact predicted to have at least 1 billion users by the end of this year, and in three more years, AR is expected to be a $60 billion industry. As the market for augmented reality evolves, the possibilities and fields to create reality apps are at its peak. The creation of these possibilities requires excellent tools and knowledge of AR, including more focused technology. In this work, a trusted software partner is a key resource which is where we can help.
Advantages of Augmented Reality for Business
AR is changing the current state of commerce. The core challenge of augmented reality for business is that the market has to come up with a variety of engaging applications for devices. There are certain advantages that AR posses when comparing it to other immersive tech solutions. Augmented reality can benefit any domain business by
· Being unique and noticeable
· Providing various opportunities for customization
· Improving content and providing details
· Engaging the user at an advanced level
AR can be used in different industries for product demos, such as a "try it before you buy it," training, an explanation for difficult concepts in a more straightforward way, and to increase the interaction with a brand. In upcoming years, clients will most likely try on garments without actually wearing it, which will be performed with the assistance of smartphone augmented reality applications. With future innovation, there is more expectation of developing the AR application where other human senses are involved, including olfactory and somatosensory.
Advancements in technology open new doors for business sectors regardless of domains. Among these new business sectors are:
· education and training,
· tourism, and even
· manufacturing.
Manufacturing
AR can aid in accelerating and facilitating building processes by monitoring the workplace. Work progress can be estimated in real time through AR markers on equipment. AR can be used to save time by using digital maps and plants by using pointing devices in a real-life location. These pointers can show whether the machine fits for construction and a variety of other beneficial tasks.
Retail
Augmented reality for retailers has immense opportunities. Retailers prioritize customer experience both in the real world and digitally. This bridging gap experience introduces new ways to help customers with shopping and will open doors of opportunity in the shopping industry. As storefront footprints and malls around the world continue to shrink, retail is moving online to an ever greater degree. Customers having an ability to "virtually" try on clothing is only one of the advantages AR will provide retail consumers.
Education and training
Bringing AR tech into the classroom can increase the engagement of students and make even the most exhausting subject somewhat fun by downloading and using applications on their devices. Using AR on specific devices will reduce distractions while it helps students to study point by point data or well-ordered directions and in particular a superior comprehension of the subject. Augmented reality has also been shown to be useful for students with special needs who require a more in-depth approach. AR provides real-life simulations with real psychological and physical experience. An excellent example of a real-life simulation is how medical students can practice operations in a much more realistic manner than previously available. This improves their skills dramatically at a fraction of the costs of other methods.
Travel and Tourism
We are already familiar with the GPS applications, which show us routes and directions to our desired destinations. GPS with AR will be taken to the next level of experience by translating signboards and provide more information about sightseeing without using a tourist guide. Adding a technological layer to the museums can give tourists a new level of experiencing the culture and historical reconstruction. In addition, AR allows citizens around the world to be tourists without leaving the comfort of their sofa. Historical sights and landmarks are simply a click away.
Design & Creative
Enterprises in the design and creative sectors will be an essential portion of the business industry, which is profoundly impacted by augmented reality tech. Creating applications that enable organizations to superimpose 3D models into physical spaces allow them to convey more grounded details and promoting material. Artists and modelers will likewise profit by AR, as it gives them a way to render items and different resources in a 3D space for a more straightforward work process and presentation.
Conclusion
2019 will see the mass adoption of augmented reality technology. AR tech is somewhat unrefined and remains in its earliest stages, but it will provide numerous possibilities. Increasing virtual interaction will increase your potential sales by up to 20%. It's time to take part in the future!
Are you looking for a tech-partner who can develop a more significant, creative element for your AR application? It's now or never, and today is the best time to start with an application that will exceed your client's expectations by increasing virtual interaction with your service.