CRM Market Share — Salesforce Bright Future in 2020
blog
Roman Piluta
February 19, 2020
It's hard to imagine a prosperous and developed business in 2020, which wouldn't have any connection with the digital world. Taking to attention gigantic leaps that technological breakthroughs annually make, software for business nowadays is a mandatory and crucial component for successfully doing business in almost any industry. The growth of budgets in which enterprises all over the world invest in various IT fields only confirms this statement.
According to Gartner, the enterprise software market experienced massive growth in 2019, crossing the figure of $450 billion. In comparison to 2018, it increased by 9%, which is $38 billion. At the same time, the flows of funds in the Data Centers and Devices markets significantly decreased.

This situation begs the question, what technologies are mainstream and in demand at the enterprise Software market now?
Today Cloud computing is one of the fast-developed IT areas. Cloud solutions are a technology which made the most influence in development and reorganization business infrastructure in recent years. More and more companies strive to transfer their activities and process in cloud space to be free of expenses to local computing power and data centers.
Customer Relationship Management Systems
When people mention the use of cloud solutions for business needs, most often than not, it's about Customer relationship management (CRM) systems. The primary purpose of these systems is improving the company's flow of interaction with existing and potential customers in different ways. CRM systems allow companies to be closer to customers, better understand their needs, optimize the interaction process with them, and as a result, grow customer loyalty. 
CRM is classified with the natural functions they perform: strategic, operational, analytical, collaborative, and customer data platform. But it's hardly you face a CRM which relates to one type only. Modern CRM are complex SaaS or PaaS solutions that can cover most of the business activities, starting with the tracking of potential clients and ending with monitoring the service provided to customers. Digital transformation is a stage, which every business should handle to stay at a competitive level.
Some statistics:
CRM is the largest and fastest developing type of enterprise software.
According to Gartner, worldwide spending on CRM software is increased by 15.6% in 2018 and amounts to $48.2 billion.
CRM software brought almost a quarter of the total enterprise application software revenue all over the world; what approximately is $48 billion.
Comparison CRM systems in early 2000 with modern analogs, it's easy to notice how fast this software developed and became mainstream. Cloud CRM, such as Salesforce, is already one of the most demanded types of enterprise software, and according to expert's forecasts, this tendency will keep at least in the 2025 year.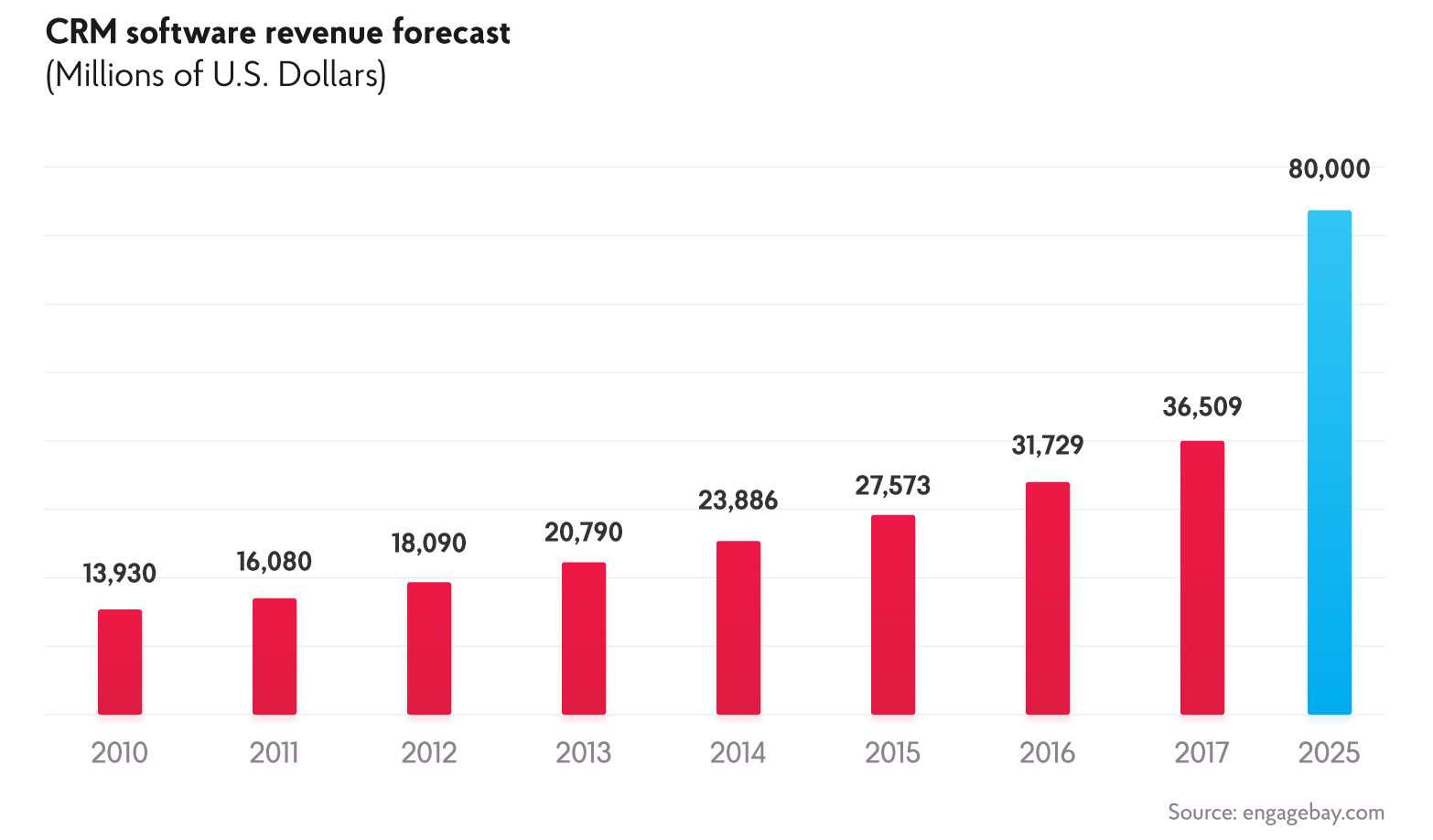 CRM Market Share — TOP 5 Companies
If you have decided that it's time to empower your business using CRM software, you may have a question: "Which one will fit my needs?" CRM market includes many players who offer their solutions, that's why if you are not an expert in it, selecting a CRM provider may be a difficult task. The easiest and logical way is to choose one from TOP CRM vendors.
The most indicative success criteria of any business is revenue. Five companies take almost 40% of the entire CRM market share. There are such world-known names as Salesforce, SAP, Adobe, Oracle, and of course, Microsoft. However, even among TOP vendors, we can emphasize an unconditional leader, which accounts for 19,5% of CRM market share itself, what is almost equal all shares of other companies from the TOP5, taken together. It talks about Salesforce software company that income was $9 420.5 million in 2018 (according to Gartner Inc.)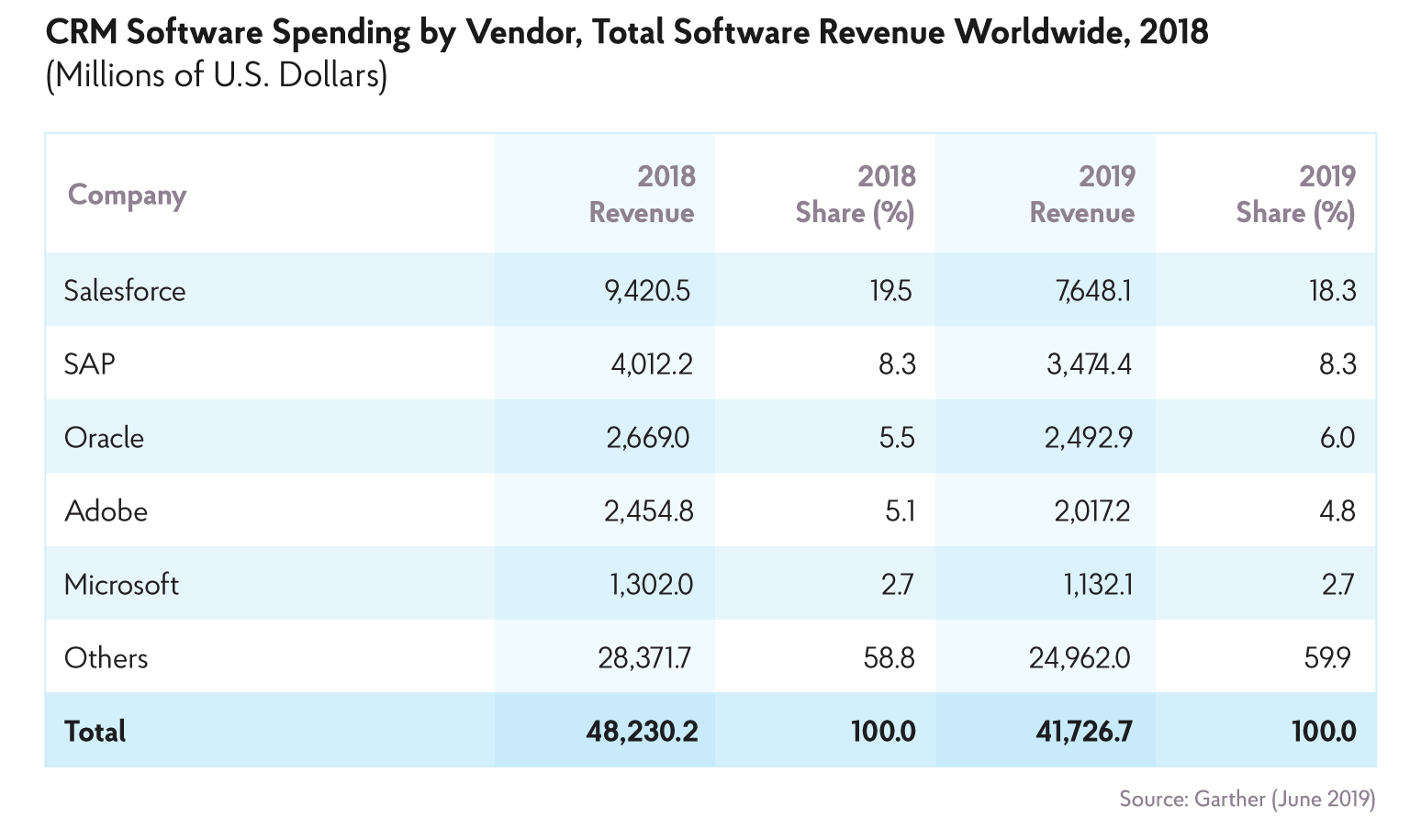 What is Salesforce CRM
As it was mentioned above, CRMs are software solutions that bring companies and customers together. Salesforce, in turn, is something more significant. Installed Salesforce complementary suite of enterprise applications forms a global ecosystem inside the company. It allows all departments — including marketing, sales, commerce, and service providers — to have a single, shared view of every customer. At the same time, every department gets information about customers, useful from their angle.
Salesforce ecosystem comprises with different software solutions that are called products. Now their number is more than a few tens; however, every year, Salesforce joins new services in the roster, and enhance existing ones, stuffed them with new features. For example, in 2019, Salesforce users got the ability to talk with their CRM system due to new features Voice Assistant, which is based on Salesforce's Einstein technology.
Salesforce Industry or Where CRM will be the Most Profitable?
The beauty of CRMs, in particular, Salesforce is that it can be successfully used and be profitable in any customer-oriented industry. Let's take a glance at industries where Salesforce products are the most popular.
Retail
Manufacture
Finance
Communication and Media
Education & Science
Government
Different sources can rearrange the first three positions of TOP salesforce industries as they prefer, but our experts think that this order corresponds well with reality. In turn, industries that get the highest income from the Salesforce use are Finance and Manufacture. These two industries have almost 40% of the total economic benefit of using Salesforce services.
A Solution for All-size Companies 
In addition to the use of highly-developed and use of innovative technical solutions, another Salesforce key to success is an ability to provide services for business which have entirely different sizes and yearly revenue. Such giants as US Bank, Spotify, Amazon, and American Express use Salesforce services. 
However, about 50% of all Salesforce users are small companies that have up to 25 employees. Only in the United States, the number of SMB, using Salesforce, is four times greater than the number of companies that year revenue is more than $1 billion.
Salesforce Future — CRM Trends in 2020
The first CRM could only store basic data about customers and provide the basic ways of communication. The requirements for CRM have been changed in the last 20 years, and the following list will show features that already used or will appear in the coming years, and 2020 inclusively.
Using Big Data to provide continuous and rapid data flow
A gradual transition from omnichannel to a single unified channel of communication with customers
The use of AI in CRM to in-depth data analyze 
Voice control (Salesforce already released Einstein voice assistant last year)
New customer experience due to VR/AR technologies
Binding CRM and IoT
Enhancement of mobile functionality and more close interaction with social networks
Appearance new types of users
How to Implement Salesforce CRM in Your Business — Search of Salesforce Consultants
To start using Salesforce CRM is extremely easy, because it's a cloud-based platform. You create an account and get access to your personal space. A Salesforce customer receives a set of out of the box features which are customized under business needs and integrated with other software. The content of the applications suit depends on the edition you use.
And here, you may need professional help of developers or how they called in the Salesforce world — consultants. They customize Salesforce products to bring maximum benefit for your company, can create custom logic for your business. 
Salesforce is an open-source platform so that developers can design and develop a unique solution for your company. Also, There's a special resource, AppExchange, where you can purchase a ready-to-install solution or find company-consultants.
NIX Team of Salesforce Consultants
NIX United is a Salesforce ISV partner. The NIX Salesforce team has more than a hundred successful projects under its belt and can provide all types of services related to Salesforce. There are consulting, customization and configuration, integration Salesforce products with third-party software, and direct the development of the custom Salesforce apps.
The NIX team can assist you with any Salesforce-related task, starting from Data Schema developing and initial configurations and ending with developing complex integrations and applications.
Conversations app upMessage
The NIX team developed a driving conversations app, upMessage, which offers the most needed functions related to SMS messaging. It's a free application, and any interested person can install it using the link below.
https://appexchange.salesforce.com/appxListingDetail?listingId=a0N3A00000FMcyLUAT