How Machine Learning Impacts Finance
blog
Machine learning (ML), data science, and artificial intelligence (AI) are related. Machine learning can be defined as a subset of data science. Here the key point to understand is that machines learn without being directly programmed. Systems are designed based on general models and goals. Over time, these systems automatically configure themselves to better achieve these objectives.
Machine Learning in Finance
Executives are interested in machine learning and finance because it
· reduces operational costs due to process automation,
· it increases revenue due to improved productivity and user experiences, and
· machine learning in finances offers enhanced compliance and reinforced security.
Machine learning is more prevalent in finance than any other industry due to the available computer power and new and improved machine learning tools.
Other benefits of machine learning in finance include the simplification of product marketing and helps with accurate sales forecasts. Exact machine learning algorithms greatly depend upon substantial data sets. Some basic machine learning algorithms include, but are not limited to
· Decision trees
· Graph analytics and ML
· Linear and logistics regression
· Random forests
· Generative Adversarial Networks (GANs)
· Neural networks
· Reinforcement learning
What is the Challenge of Implementing Machine Learning in Finance?
In many industries, such as the finance sector, the cost of an error or mistake regardless of how big or small, has a massive impact on a company. Correcting mistakes in the finance world are expensive. Many companies are not ready to solely rely on machine learning models, for their automated decision-making processes.
Businesses in the finance industry are unwilling to take the risk of having a series of errors and mishaps occur. Financial services are built on a foundation that includes trust, credibility, and assurance, and many machine learning technologies are not predictable, making businesses less willing to adopt these innovative technologies.
Although these new technologies are not yet accepted by all businesses in the finance sector, new use cases of machine learning in finance are on the rise. There are a variety of core trends associated with machine learning in finances, and they're worth becoming familiar with for business success.
Core Trends of Machine Learning in Finance
Insurance Underwriting
Many of the conventional insurance business models companies use today are many decades old. These systems and tools were designed in a time before the internet and the modern microprocessor.
The processes business use today are as old as they are due to compliance and regulation views. These views state machine learning is a type of technology that supports businesses but does not improve business functions.
Similar to many industries this one is ripe for revolution. Millennials will expect improved speed and transparency when it comes to insurance. These individuals want instant access to insurance products, pricing transparency, data, product features, and a variety of other insurance requirements.
Algorithmic Trading
Machine learning algorithms help with trading. This type of machine learning informs clients of when it is the best time to fund, sell, or lend to a customer.
Algorithmic trading also tells clients when to call on a loan. This type of trading technology allows for fast trading arrangements and real-time trading decisions.
Personalized Marketing
The more information you know about your current customers, the better you can market your products and services to them. Benefits of customized marketing include in-depth intel about your customers, customer segmentation, valid personalized pricing, and Robo-advisory.
Personalized information that is crated to a specific customer and their circumstances is crucial in the new marketplace. Businesses and individuals are constantly looking for information that meets their unique situation whether that is with respect to investments or purchasing in general.
Deal Analysis
Deal analysis is beneficial because it enables businesses to be significantly more efficient with their resources. Through tools like smart contracts and others that embrace machine learning and automation, businesses are able to evaluate thousands of contracts at automatically.
Proper Security Measures
The internet can be a scary place. Complex passwords containing capital and lowercase letters, numbers, and special characters are great, but it's not enough protection.
Companies who use biometric algorithms are better protected from hacking attempts than businesses that only use complicated passwords.
Detecting Fraud
Suspicious activity alerts in near real-time are a game-changer for businesses in the finance industry. These alerts save time and money for companies and customers. Hidden illegal cash flow is a problem for many companies in the finance sector. ML programs offer more security for detecting and identifying abnormal operations.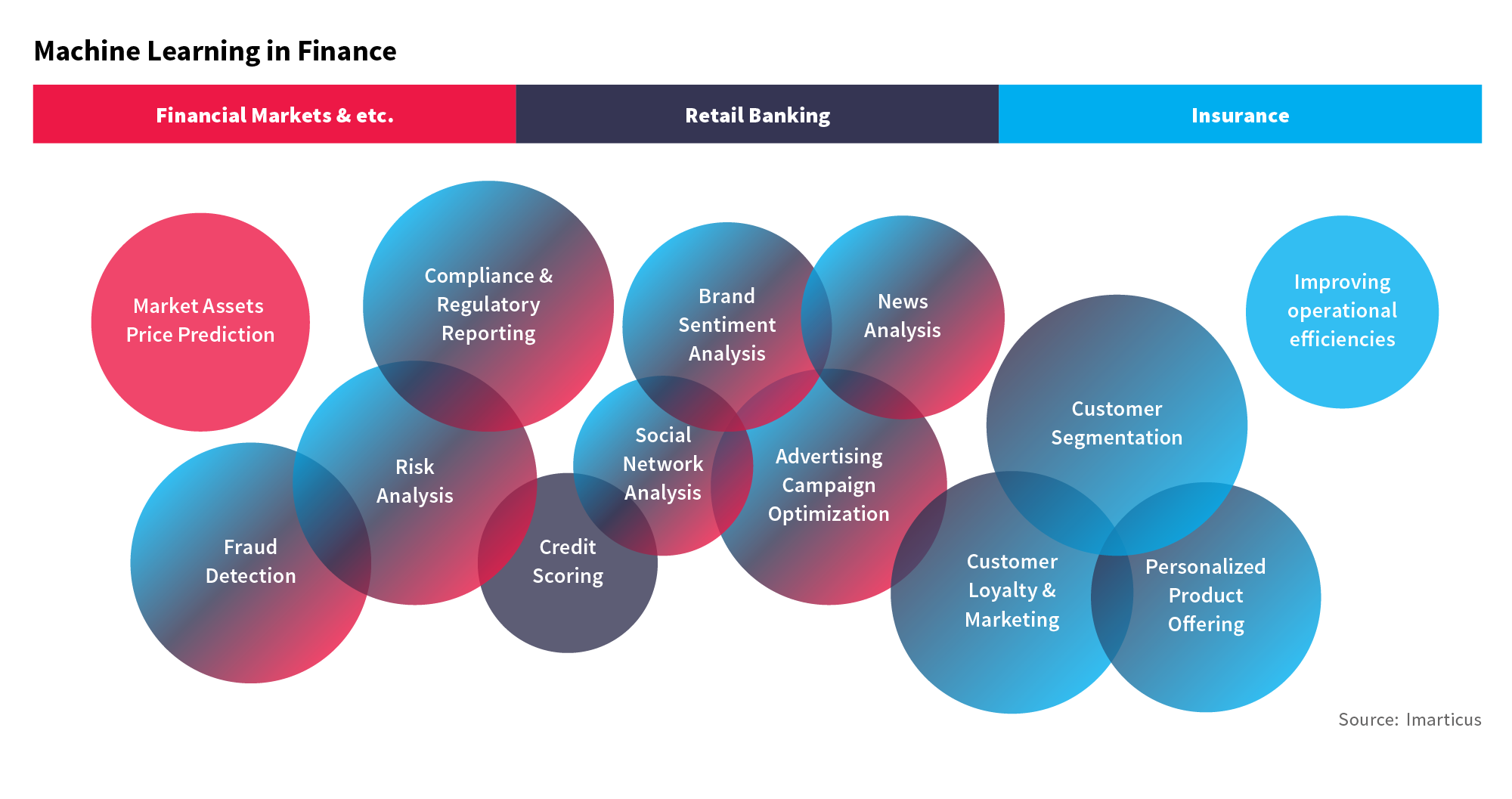 A simple use case of machine learning is with expense reporting. Individuals can easily – and innocently – double enter expenses from one month to the next. This can cost companies millions of dollars but ML helps identify and flag repeat entries.
The future of machine learning will not stop here. It will continue to thrive and become more prevalent in the finance sector and expand to other industries. As machine learning in finance continues to thrive, the apps and programs for this industry will evolve and get better with time, which helps businesses and customers get what they want, which is an excellent customer experience, better service, and minimal downtime. As with all technology, whether new or old, there are benefits and downfalls.
Over time, the pitfalls of ML will improve and better serve the needs of companies and customers. The benefits ML currently provides customers and businesses will be expanded upon to make machine learning in finance better than what it is now, which means more innovative technology and faster processing times.
If your business has not taken part in machine learning, now is the best time to start getting your business ready to adapt to a variety of changes. In case you don't know where to start, get in touch with us and we will guide you through the process. A company that does not change with technology is often at risk of failing within a few years because it cannot meet the needs of its customers. Make sure your business provides everything your customer needs. It's the best way to keep your current customers and gain new ones.