Health Insurance Industry Trends After Pandemic
blog
In 2020 the world went through a seismic shift due to the global COVID-19 pandemic. Healthcare and the health insurance industry became a topic of conversation around the dinner table as many individuals around the world looked for ways to protect themselves and their families. These health insurance industry trends are top of mind for very obvious reasons, given what is happening around the world.
In many countries, health insurance is often employer-sponsored and with the impact of the pandemic on economies globally, millions of people around the world were out of work. While some individuals were able to take advantage of spousal or parental support, in many other instances, the only options available were the government-sponsored subsidized offerings.
This shift in coverage and circumstances has seen government-sponsored plans increasing in popularity. In the US for example, plans that are in either the Affordable Care Act (ACA) or Medicaid exchanges have both seen an upswing in enrollment. New plans that join these exchanges have changed to accommodate the new normal with the support that encompasses job loss and other health impacts due to the pandemic.
Content:
Where Do Insurers Stand as They Enter 2021?
2020 was a year of transformation and change for many, including those in the health insurance industry. The early part of 2020 saw many insurers significantly impacted due to workers' compensation claims as well as event cancellation claims.
Due to these claims and others, the industry saw a return-on-average equity decrease of 2.8% compared to the previous year. However, despite the impact and the pandemic throughout 2020 and the concurrent knock-on effect it had on jobs, retail and trade, there is an expectation that as early as 2021 growth could return, primarily bolstered by emerging markets.
While the pandemic continues to wreak havoc with certain lines of business — workers' compensation claims continue to rise — others are slowly starting to rebound. In some respects, the negative impact on jobs has provided a benefit in that there are fewer drivers on the road. This has led to a decrease in accident frequency helping drive some profit.
When considering health insurance industry trends for 2021 and beyond, the key mantra that firms need to keep uppermost is to respond, recover and thrive. Insurers in 2020 reacted quickly to help keep businesses afloat and to assist their customers. Moving into 2021, efforts need to be expanded to help propel longer-term recovery efforts so that the industry can quickly pivot into the thrive phase when the global situation has stabilized.
How the Pandemic Impacted the Insurance Industry
COVID-19 has decimated the job market globally. In fact, the number of people applying for unemployment benefits is at its highest level since the Great Depression. For citizens in countries without state-supported health insurance, the impact has been significant leaving many citizens at risk.
Many individuals without spousal or parental support are looking to health exchanges as well as state care like Medicaid in the US to avoid the risk of remaining uninsured.
Digital and Technology Tools
Individuals looking to join exchanges as well as citizens looking at Medicaid or similar options as a solution has indicated an interest in digital and technology tools for a variety of reasons. For exchange customers particularly, shopping for different health services based on price and cost-sharing is a factor, however, both exchange and Medicaid consumers are interested in new offerings like fitness tracking and virtual medical services.
Price and Coverage versus Health Information
When it comes to health insurance technology, the demographic of the consumer matters. Exchanges specifically compete on price and services and these are generally popular with a younger demographic. In this case, users find value in tools that provide costs with 34% of users looking up drug prices and 33% researching services.
Medicaid consumers on the other hand are generally those with lower income levels and a concurrent lower level of education. They find value in researching details of their health conditions along with trying to find out information on different medications.
Virtual Care is Growing in Popularity
Virtual care is defined as a means of allowing patients to communicate with healthcare professionals via digital services on a smartphone, personal computer, or tablet. Virtual care was showing increasing popularity prior to COVID-19 and it has only increased in demand since.
Exchange consumers are the most positive about virtual options with 87% of surveyed participants indicating that they would return for an additional visit. Medicaid consumers were still high but at 79%, they were slightly below exchange users. With virtual being the only option for many for most of 2020, this number is set to increase dramatically.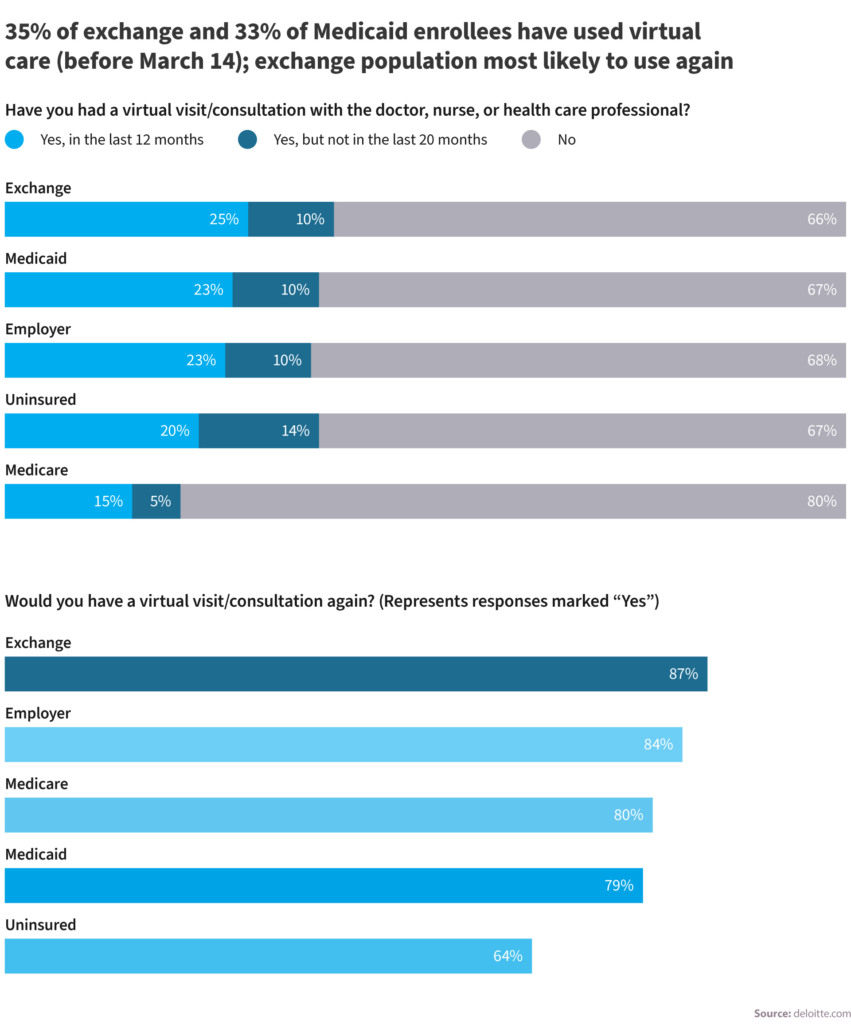 Digital Health Tools
Digital health tools like fitness trackers are popular with both exchange consumers and Medicaid consumers. Of these two groups, the exchange consumers had slightly higher usage at 45% compared to the 38% of Medicaid consumers.
Of the two groups, exchange participants were more likely to share data with their medical carer and greater than 50% of the exchange participants in the survey indicated that they would share the information with their insurer. In addition to the sharing of information, exchange consumers are more likely to report a positive correlation with their health due to the use of this type of technology. Almost half of all participants at 44% indicated that it had changed their behavior considerably.
When it comes to digital health tools, fitness trackers are not the only solutions available. Another tool used by many exchange and Medicaid consumers is one that helps reorder repeat prescriptions. This type of tool saw equal usage at 36% across both types of consumers.
Health Loyalty Plans
As individuals gain or lose employment, they make decisions on their coverage. Churn is definitely a factor to consider for exchange and Medicaid insurers as individual consumer circumstances change. Some new factors to consider however are that employers in a post-COVID-19 world might choose not to offer employer coverage. In addition, individual states might reduce the number of allowed enrollees due to budgetary considerations.
Plan switching for Medicaid consumers has been fairly static from 2016 to 2020 with an average of 15% stating they had switched plans. Exchange consumers are still much more likely to switch, although the number is decreasing year-on-year.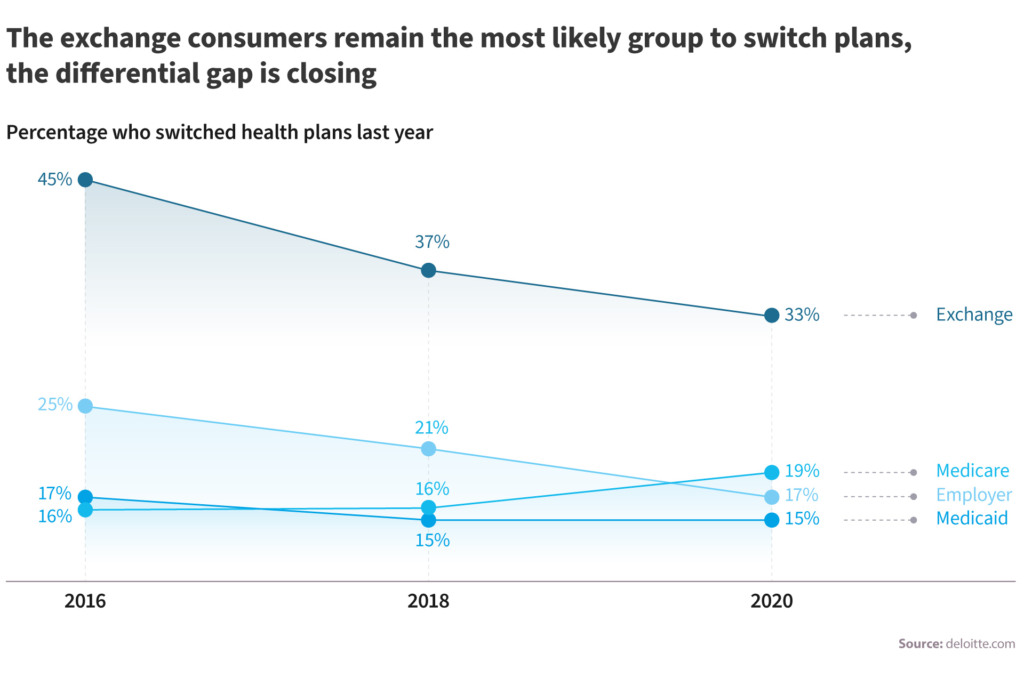 Challenges of the Healthcare Industry in the Pandemic
2020 has been a year of radical change for many and the health insurance industry is no exception. Over the course of the past year, annuity sales were significantly impacted dropping by double digits in Q2 alone. This trend is expected to continue through 2021 and with interest rates remaining near zero, no change is expected until 2023.
In addition to the impact on annuities, mortgage loans are also expected to be impacted. Life insurers could see close to 50% more in losses on these loans versus what they experienced during the Great Recession. While there was some hope that the rising mortality rates due to COVID-19 would lead to increased purchases of life insurance products, that has not yet turned out to be the case.
There have been many challenges that insurers have had to deal with due to the pandemic. Some issues are the same as before the pandemic but due to the remote nature of claims handling has become more challenging. These challenges include business solvency concerns and workers' compensation claims. Other challenges are new and relate to changing socio-economic conditions unrelated to COVID-19. Some of the concerns to be aware of here include racial discrimination and overall social unrest along with a deeper climate change concern.
From the point of view of the health insurance industry and policy sales, many insurers are continuing to look to invest in online properties as a means of reaching customers. However, existing relationships with brokers are not being abandoned and in fact, many insurers are providing financial aid to the distributors in their network.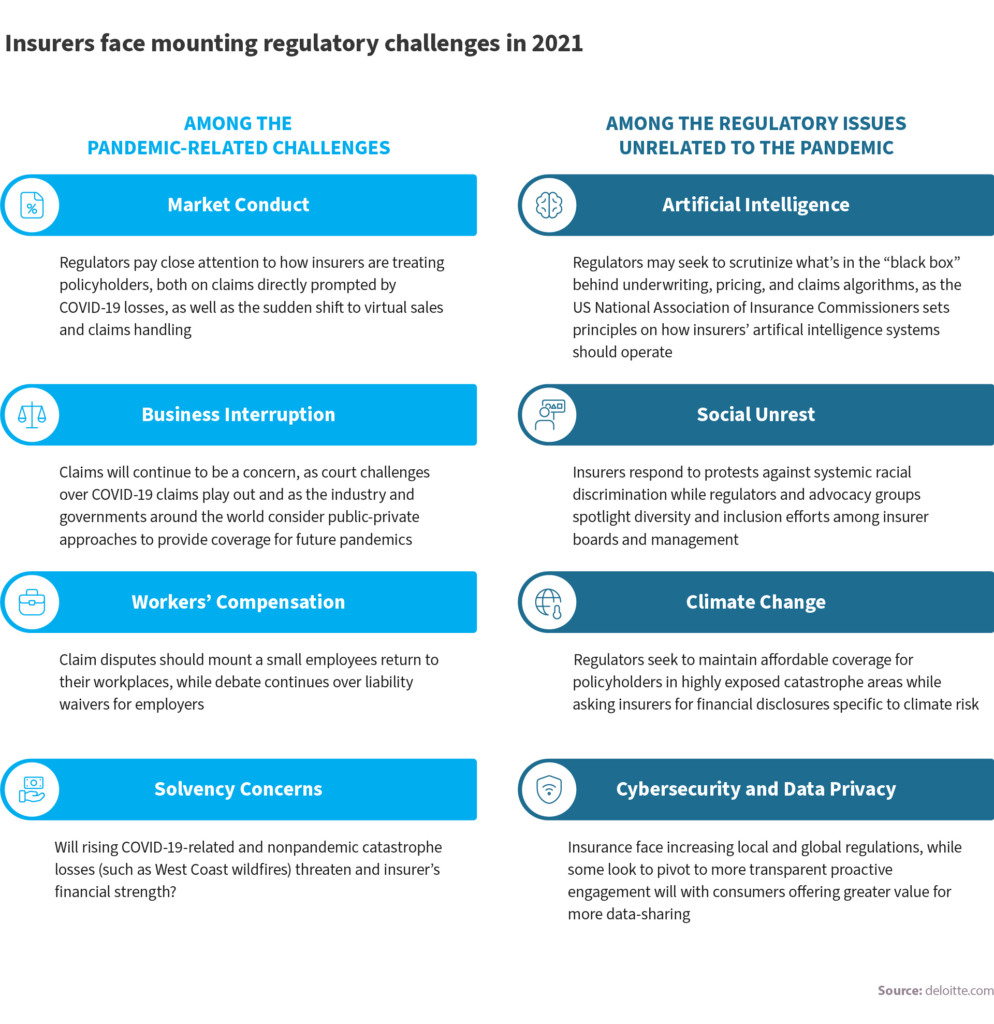 Future Trends
Customer Expectations have Changed
Regardless of the business or industry, today, the expectations customers have with respect to service and support have changed. Over the past decade with tools like the internet at their fingertips, customers have taken to sharing reviews on multiple platforms about their positive and negative experiences.
At one point an insurer could get away with sending a response to a request via post. Today, they are expected to have a fully staffed 24/7 team able to handle inquiries via email, phone, chat, and social media.
In today's interconnected world, customer loyalty is simply not a given. Consumers have access to a wealth of choices that were not previously available and can shop for solutions from many areas of the world. Online services are becoming more commonplace throughout the health insurance industry. In addition, many consumers look for solutions that offer a wealth of benefits aside from only insurance.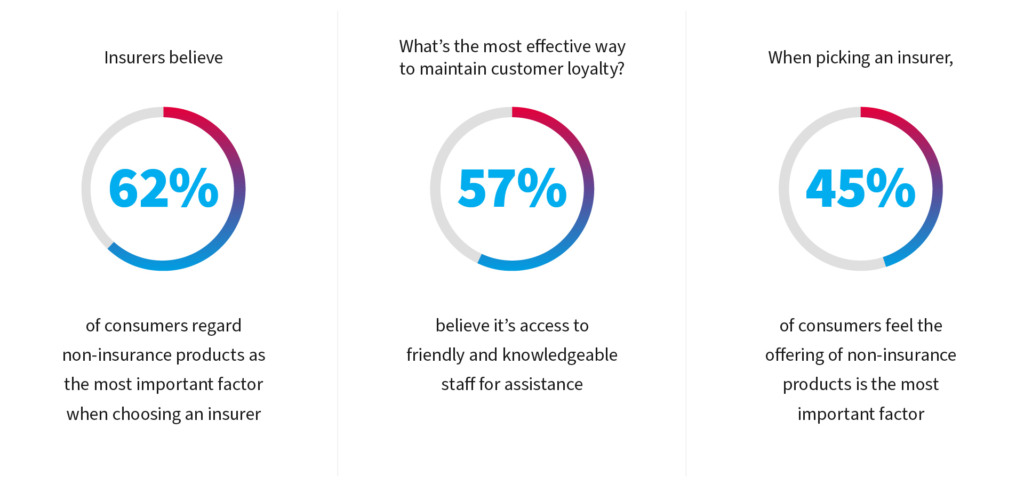 Growth in the Coming Years
Some health insurance industry trends to stay abreast of include the launch of new products. These parametric policies are different from regular policies and pay based on a triggering event. This type of product could have significant implications for future viral pandemics as well as property-catastrophe scenarios. Another trend that is gaining steam is the creation of more customized policies based on changing circumstances. Of particular import to the younger demographic, the ability to modify policies based on driving habits and alternative modes of transportation is continuing to gain momentum.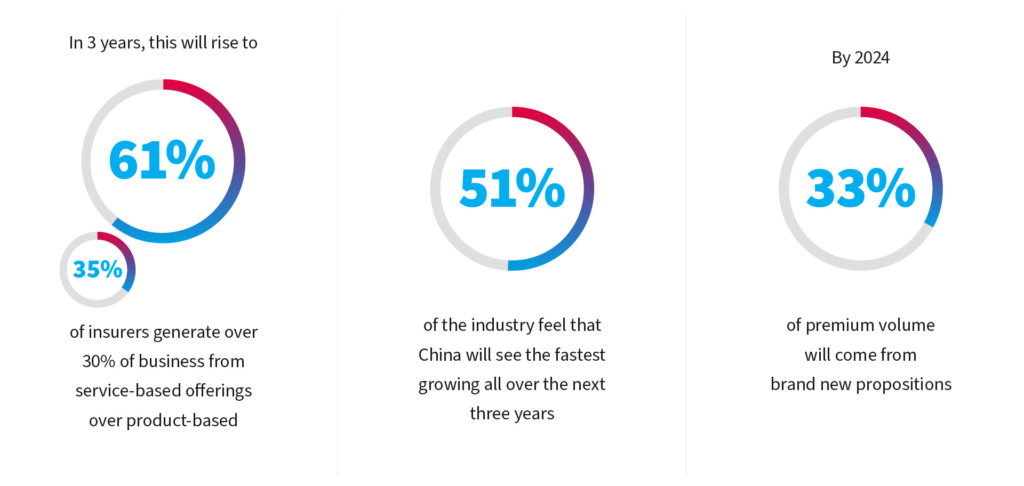 In addition to these changes in policies, a more preventative approach to insurance is something many insurers are looking towards. The old way of selling protection products will not work in the future. Now for insurers to grow, they need to constantly consider new products that have a preventative approach along with a service-based model.
Acquisition vs Organic Growth
With all of the disruption in the industry, there are some organizations that are struggling. In this industry, organic growth by itself will not be enough, which raises the prospect of acquisitions and partnerships.
The companies that survive and thrive in this industry will be those that can build alliances. While an established incumbent can continue to innovate, a partnership with a start-up might be a better solution. Growth will require the ability to find and make deals wherever possible.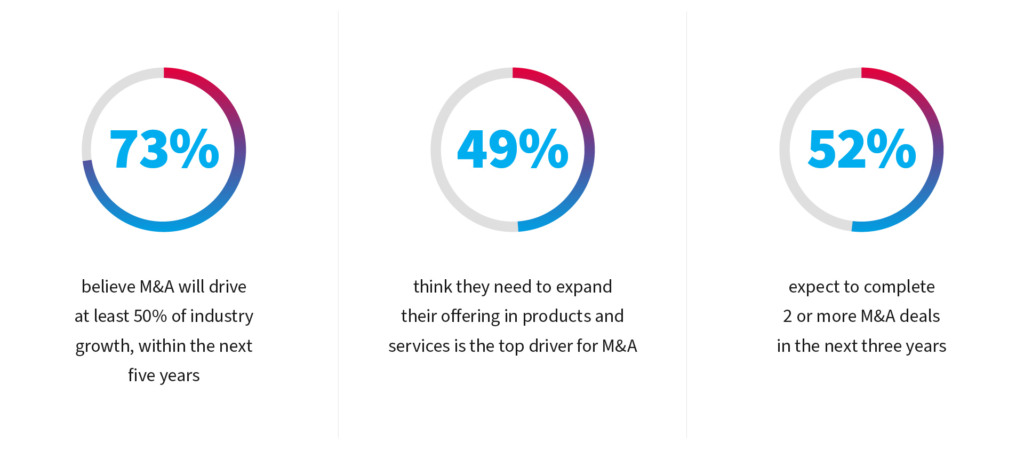 Digital Disruption
Change is inevitable and technological change even more so. However, knowing that change is coming and doing something about it is a different proposition altogether.
Some new insurance technology trends to consider include the launch of Artificial Intelligence (AI) tools within the insurance industry. AI and its ability to automate routine tasks and also compile data and information in new ways have helped underwriters create better and more accurate predictive models.
Data handling itself is another insurance industry trend to watch for. With remote claims handling becoming the norm due to the pandemic, methods to find and detect fraud while also automating and improving the way in which claims are handled became ever more important.
Other trends to monitor include blockchain and the cloud. Insurance companies need to monitor all of these trends and others and make sure that they are deploying the right technology where appropriate to stay ahead.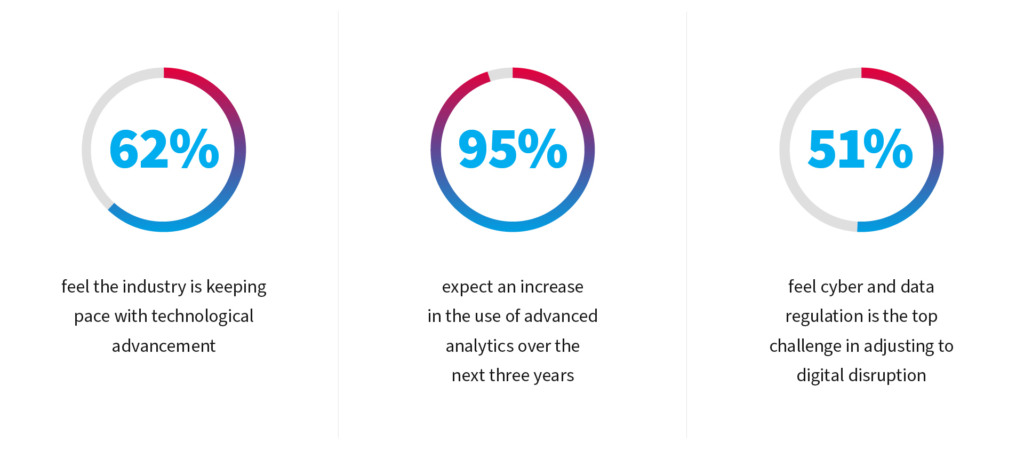 Conclusion
Historically technology has helped facilitate back-office operational work within the health insurance industry. However, increased investment in technology without similar investment in operational areas is changing the relationship considerably.
Many incumbent insurers rightly hope that the shift to digital will help drive profit and improve competition. While success is not guaranteed, organizations that follow the guidelines provided below are much more likely to achieve the results they are looking for.
Assemble Interdisciplinary Teams
Interdisciplinary teams comprised of product owners, operations staff, data scientists, and others help make organizations significantly more productive. By having individuals with different skills within a small team, new perspectives are provided which helps to improve customer service and overall decision making.
Within one organization that used this methodology a reduction in time to market of close to 30% was achieved with one initiative. Over time as technology capabilities within an organization become more mature and robust, these teams can evolve to provide more specialized services.
Create Integrated Organizational Structures
With the new structure in place, a shared knowledge throughout the organization is needed. This will help ensure that everyone understands the responsibilities of the team and how they can best collaborate with them.
Success in this area will require significant training efforts and improved reporting and performance management capabilities from a leadership perspective.
Invest in Technology Tools that Serve Customer Preferences
Customers are looking for transparency with all of the businesses they deal with. They also want to have faster and more intuitive transactions that are custom-tailored to their needs. AI tools like chatbots are perfectly suited to help provide answers to simple questions while still ensuring customers have access to human agents for more complex requirements.
Adopt New Service Models
Using old methods and service models simply because that is the way it was always done is a recipe for failure. Insurers looking to succeed are partnering with insurtechs as well as technology companies to provide new and innovative solutions to their clients. These new models help reduce cost while at the same time improving service and in some cases offer the option of creating additional revenue streams.
Rely on Technologies and Hire a Reliable Vendor
When considering all of the different health insurance industry trends that are out there, trying to understand which ones are worth focusing on can be complicated. By using the services of a reliable, skilled, and knowledgeable partner who understands the sector you are much more likely to be successful. A vendor should know how the insurance industry works and help you transform your business into a more agile and nimble organization able to take advantage of the benefits technology provides. Contact us to find out how we can help you succeed.