How To Outsource App Development And Succeed
blog
By outsourcing mobile app development, you can shorten the time to market, reduce project costs, and enhance product quality. Sometimes to expand a business, there is a need to get expert insight into modern technologies or qualified assistance.
A successful outsourcing strategy provides benefits and cost-effectiveness for process improvements and enhanced focus on your core business.
In this article, we will cover the most relevant questions regarding outsourcing mobile app development:
Benefits of Outsourcing Mobile App Development
Extensive expertise. Due to many similar implemented projects, outsourcing companies have combined wide expertise in business domains and tech solutions to solve issues swiftly and aptly. Therefore, they have a better understanding of the app requirements, primary goals, and priority app features, as well as how to address common issues with popular technologies

Highly-qualified outsourcing teams can seamlessly enforce in-house experts by bringing the knowledge and experience that otherwise would be much more time-consuming and expensive.

Furthermore, outsourcing companies with extensive experience could have a broader view of industry trends and act like business consultants to guide your project growth. It's possible to come across new approaches and novel practices for task completion that will facilitate change and innovation in your business.
Wide talent pool and scalability. The outsourcing company has a full range of IT professionals under their roof: BA, QA, DevOps, AR/VR, Data Engineering, and more. These on-demand specialists could be easily accessed and quickly hired for a limited period of time.

The provider can easily and relatively quickly scale up or down the team size to match the product or business's changing needs.

Finally, an outsourcing team member can be easily fired from the project or replaced. Usually, this means just staff rotation for outsourcing companies between different projects and not actually firing.
Cost-effectiveness. Well-skilled developers in offshore regions like Eastern Europe or India cost less. This is especially relevant for companies with offices in Silicon Valley, New York, and other destinations that are very expensive to live in. Furthermore, due to high competition for talent in those regions, it's not easy to find developers, thus hiring takes much more time.

There is no need to create, maintain an entire department, and bear the costs associated with it. Development agencies charge an hourly rate that includes the cost of developers, equipment, maintenance, and post-launch services. By dealing with outsourcing companies, businesses save on rental costs, IT ecosystems, as well as corporate events, perks, and other overheads.
No micromanagement. There is no need to spend much time on hiring, training, and retaining employees. Businesses can better focus on business development and operating processes while outsourcing team handling development. Engineering team management, development velocity, and quality assurance are delegated to the outsourcing team. This means the client can analyze the metrics of app performance and engineering team KPIs to make decisions instead of taking a deeper dive into the analysis of causes and consequences.
According to the Coding Sans survey, almost 63% of the companies polled have outsourced software development fully or partly at least once, and about 60% were satisfied with the outcome.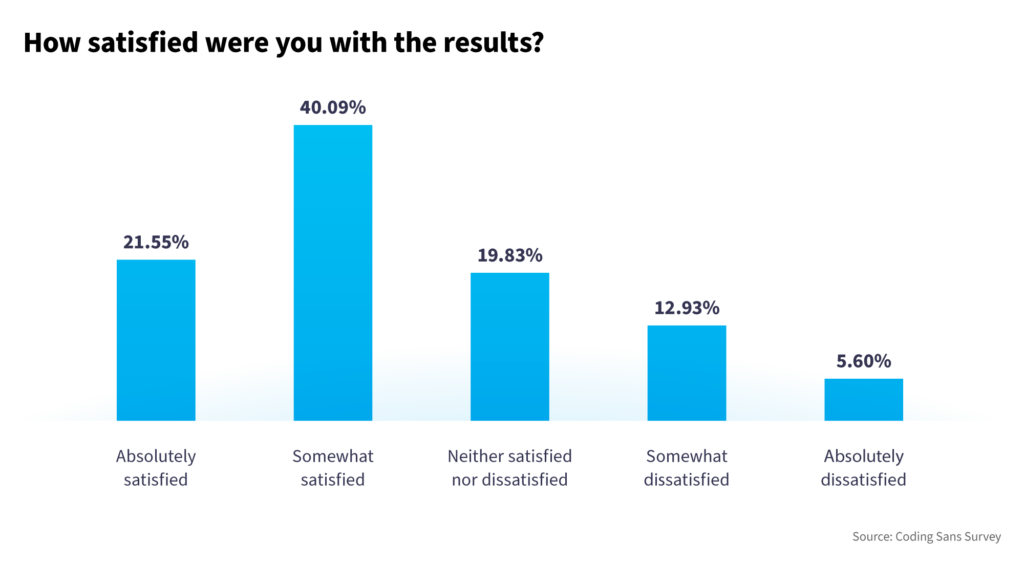 For example, large companies like Microsoft, IBM, Google, Apple outsource and have been outsourcing non-core functions like admin and software development for years.
A great partner can bring years of experience in business and expertise in delivering holistic outsourcing projects. This enhances productivity and efficiency, thereby making contributions to the clients' bottom line.
When is Outsourcing Mobile App Development Right?
If time to market is critical. Outsourced teams have access to a larger pool of resources and expertise. Sourcing, hiring, and training employees to accomplish the task on your own could cause significant delays in project delivery, so outsourcing should always be considered when lacking in-house hands or staff.
If the cost factor is essential for you. In-house resources are usually more expensive. By outsourcing, your team can focus on product and company growth, leaving the outsourcing company to focus on development. Moreover, outsourcing companies have custom libraries, ready solutions, and reliable IT-infrastructures that improve the development velocity and save time and money.
If you need niche expertise. Some projects require unique and rare skills like AI, ML, VR, AR, or even Salesforce and DevOps that require on-off configuration and maintenance. Hiring those resources within the organization does not make sense when outsourcing companies can offer on-demand engineers with rare or special skills on a project length basis or as one-time service.
If your in-house skills are limited. An outsourcing company can give you the time to upskill resources appropriately. Perhaps more importantly, this ensures that your clients and customers receive high-quality products or services faster.
If IT is not your core competence. An outsourcing company can use industry-standard best practices to ensure an efficient software development process and create or improve IT ecosystem performance and project scalability. Gaining IT expertise and building an application on your own could take much more time and money.
Options for Outsourcing App Development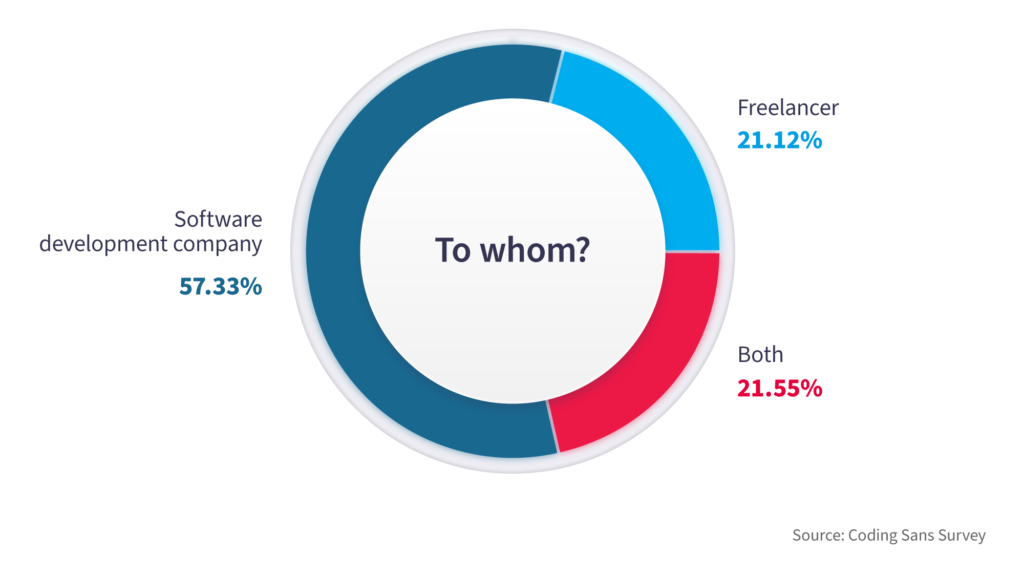 Freelance developers
Freelance developers usually offer attractive hourly rates and have relevant experience, but there is a lack of guarantees and client protection measures that can jeopardize the whole development process.
When you hire a freelancer you hire a hand or head which may be a skilled developer, but the management issue that the company needs to implement or hire as a freelancer is not closed.
When you need a simple app, freelance developers can come in handy having narrow specializations in platforms and technologies they are good at. If the features you need match the developer's area and level of expertise, there is a chance to score big in terms of app development cost savings.
Off-the-shelf solutions
These are usually the cheapest option and quickest to launch but such solutions are difficult to customize and transition from if there will be a need to move to another system. Moreover, off-the-shelf solutions don't imply swift updates and changes in response to the market needs, which is not flexible within business necessities.
If your task is to make an app for an existing business and there is no need for anything unique and customized, an off-the-shelf solution might be for you.
Development company
A team assembled based on the client's precise needs and organizational model can be an end-to-end development to build an app from scratch or an in-house team extension.
Building an app with a software development company provides you with more flexibility than off-the-shelf solutions, better time to market, better quality, and fewer risks in comparison to freelancers. If you need to create a custom solution or complex app, outsourcing software development with a reliable company is the right choice.
It's usually more expensive than freelance developers and off-the-shelf solutions. Still, a development company will charge only for the amount of work done.
How to Outsource Mobile App Development
Regardless of whether you are considering onshore, nearshore, or offshore outsourcing app development, you need to go through several stages before starting and be sure of what app you want to develop before you reach out to software companies.
Here are the stages to start outsourcing Android or iOS app development:
1. App Requirements for the Desired Outcome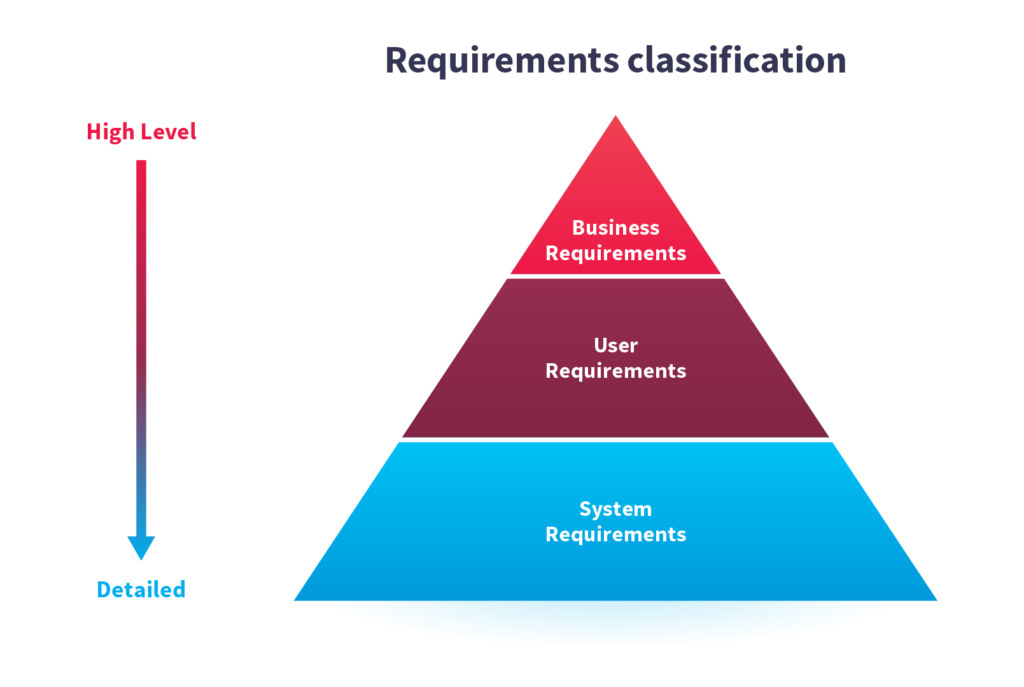 If you want to turn your business idea into a working solution, you need to clarify the following:
Business requirements. Define the objective and business concept of your mobile app, what goals you are pursuing, and what are the needs of end-users.
User requirements. Describe all interactions between the user and the mobile app and hence give the user's point of view – priority app features, user roles, etc. This will help app developers quickly identify what functions are essential and which of them can be in a later version of the release.
App requirements. Outline the product characteristics that will meet your business needs and expectations. These include:
Functional requirements. Describe the ways a product must function in various situations. The specification document can consist of authorization level types, administrative functions, transaction corrections, adjustments, etc.
Nonfunctional requirements. Define the app properties such as device types and operating systems, permissions, performance, and security requirements.
2. Where to Look for Outsourcing Companies
As the mobile development sphere is growing every day, there are many ways to find outsourcing companies. It's better to start by asking your network about successful outsourcing experiences, then inquire to your shortlisted software providers about recommendations from clients of your region or country.
There are two main places to look for outsourcing companies:
B2B directories like Clutch and GoodFirms – the best place to search for an app development company.
3. Сhoosing an Outsourcing App Development Team
Nowadays, businesses consider outsourcing as a strategic step to obtain a competitive advantage. But to make sure that cooperation will be fruitful, you need to trust your provider, and the main question here is how to gain this trust. There are three steps to gain a whole perception of your future vendor:
Review – check feedback about the company on specialized websites like those listed above and ask the vendor which of their current clients they could contact for a recommendation.
Interaction process – invest some time in discussing how they ensure transparency during the development process, how the results are going to be delivered, and what communication or management tools are going to be used. This is essential to ascertain if you own the intellectual property (IP), and how the provider will assure app approval to the stores since it depends on the app quality, not only business.
Techstack and required experience – ensure the team has the expertise to leverage the technologies required by your app idea and the company has experience working with clients in the same industry as you. Review their portfolio with relevant examples of similar projects.
Industry certificates – check if the outsourcing agency has been listed in independent ratings and if trusted organizations regularly recognize them as high-quality software engineering providers. Find out if they have industry-leading companies among their partners.
Finding answers to these 4 crucial points helps you shortlist the number of potential outsourcing partners and get rid of the least trusted and unreliable ones.
4. How To Choose an Engagement Model
There are various engagement and payment approaches, and you need to choose the one that suits you precisely. An experienced software provider can help to define which type is the most beneficial for you considering the required specifications and capabilities. These are three of the most used engagement models: project-based, team extension and service-based.
Project-based, also known as the end-to-end development model, suggests building an app from scratch by a dedicated team which includes a business analyst, project manager, designer, developer and QA engineer. End-to-end development provides full-fledged support, flexibility, and ongoing support after product release.
The End-to-End development model is the right choice for you if:
You want to focus on other matters like marketing or other business needs, leaving the development to outsourcing software engineering agency
You want to get more precise financial prospects by fixing the cost and planning the company's annual budget along with securing investment needs
You have an idea for the future product and want to leave the full-cycle development process to the experts who know how to set up a solid process and provide recommendations for the successful outcome
You are not tech-savvy and need a dedicated team for a full development cycle from business analysis to a market-ready product
At NIX, the engagement process for the project-based model includes 3 steps:

Team extension, also known as Team-as-a-service (TaaS) model, allows you to get the skill set you need if you don't have enough professionals on your team, without the costs associated with hiring new permanent employees or extending your in-house capabilities. With the TaaS model, you hire a remote expert team to work with you explicitly. The vendor can deal with the recruitment side, negotiations, and employees, but you still will be the one to decide who gets hired and what the primary requirements are, or the vendor can set up a new unit for your business needs and enhance the local team.
TaaS model can be the right choice for you if:
You are tech-savvy and can set up the whole development process yourself
You need to extend your in-house team with well-experienced engineers quickly
At NIX, the engagement process for the TaaS model includes 3 steps:

The service-based model entails that if you clearly understand what work should be done. We can jump in to accompany you, no matter where you are in the product life cycle.
For example, if you have a ready-to-go product or app and want to test it before launching. In this case, you need to hire a quality assurance team to detect and fix bugs.
At NIX, the engagement process for the service-based model includes 3 steps:

From one side, when hiring, the client receives high-level, narrow-focused expertise that achieves a precise result. On the other side, the provider is responsible only for the discussed scope of work, not for the whole end product.
Once you choose the most suited type of engagement, it's time to make up your mind about the payment part.
5. Choosing Outsourced Payment Model
Time & Material (hourly)
This is the most flexible and popular approach to IT outsourcing, as the customer will pay biweekly or monthly fees based on time spent on the work. The provider evaluates the next iteration forecasting the budget – so the client will know the amount that should be paid and for what. At the end of each iteration, the team performs the re-estimation of development priorities.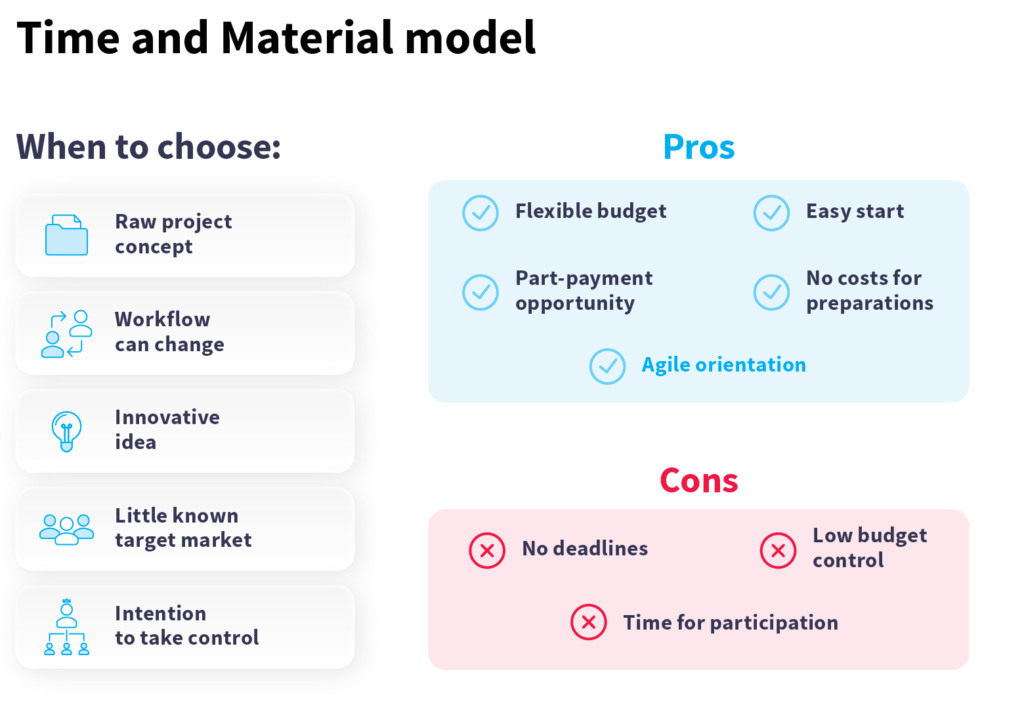 Advantages:
Flexibility – ability to change the project scope/specifications/team size at any stage.
Transparency – the client has complete control over the budget and pays only for the delivered results
Communication – more involvement in the project process and allows easier analyzing of the stakeholder's feedback
As for disadvantages, the final cost may vary and there is less control over the budget.
Fixed Price
Fixed scope price model goes only in the combination of the following criteria:
The amount of costs is fixed with the scope (and not separately)
From scratch
A clear understanding of precisely what needs to be done (detailed specifications, screens/mockups), which won't change
There is no 3rd party integration or hardware that can affect work effort or result
It's a well-known solution, not innovation or new technology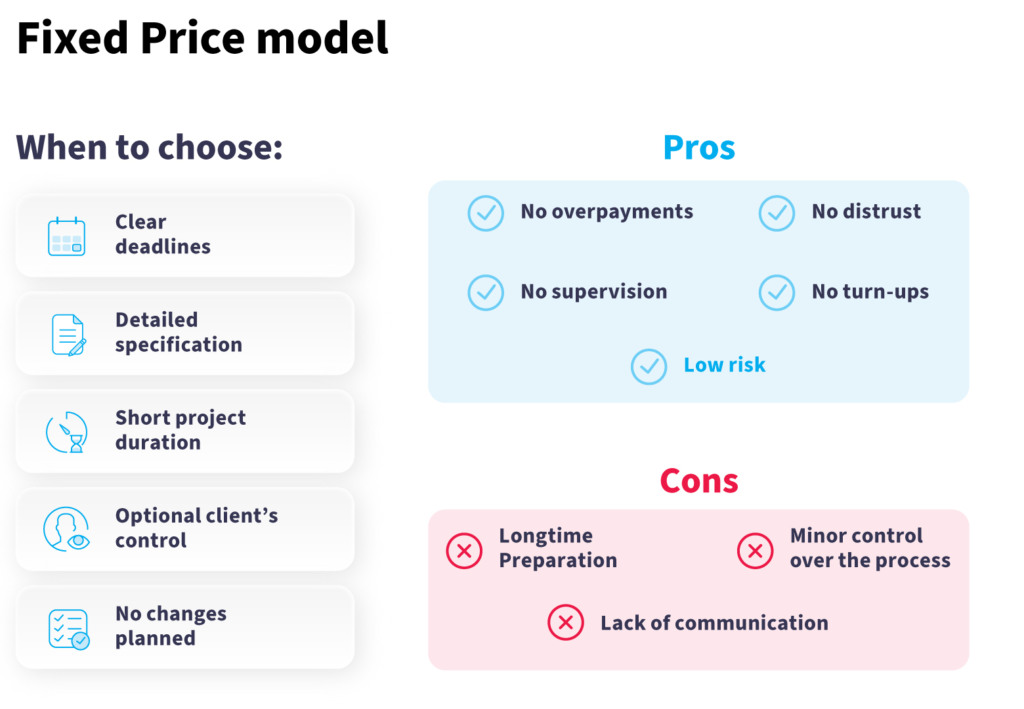 Advantages – the client realizes how much it will cost and when he will get a market-ready product/app.
The disadvantages of this model are that requirement analysis and writing a detailed specification takes significant time, and only when it's done can the development process begin. What's most important is, in case you want to change the scope or add new features, you're going to need a re-estimation, which is time-consuming.
Outsourcing Risks and How to Mitigate Them
Outsourcing has a lot of advantages since it is cost-effective and gives on-the-spot access to specific expertise. Nevertheless, these benefits go hand in hand with hazards that should be considered. Here are some of them:
Data confidentiality. For this matter, to secure the data flow, you should sign a non-disclosure agreement (NDA) and an intellectual property (IP) protection agreement that often is a part of a provider's service contract. This will evaluate risks regarding the leaking of confidential information and secure the work process.
To be on the same page about the scope of work/budget/timeline. The app development company should dedicate enough time to perform a thorough analysis at the requirements stage and dive deep into the client's business.

You need to review the contracts carefully to make sure everything is documented. It's essential to discuss and document a delivery plan based on all requirements that will contain approximate budgets and time frames.
Lack of outsourcing experience. Some companies mention that they are not ready to hire outsourcing companies for mobile app development because they need to have the whole team locally. One option is finding an onshore or nearshore team. This will give you the ability to meet everyone in person and it still will have many of the outsourcing benefits. You can also choose a company with a well-established approach for remote team engagement. The right vendor has the needed experience and skill set required for a flourishing collaboration.
Communication issues and time zone differences. The most important thing here is to maintain efficient communication between the client and the vendor. Try to maintain a regular schedule of touchpoints – daily or weekly – to review open issues and project status. It's important to maintain this schedule at all stages of the project.

At the beginning of the cooperation, there is a possibility to even visit each other and discuss all key matters. Moreover, try to take advantage of overlapping working hours when they intersect with your provider. You can even turn time differences into benefits – when the app development team finishes its workday, you have a day to check their work.
App's quality. Check all the references, portfolio samples, feedback, and even a code sample if you are tech-savvy. Also make sure that the company has business analysis, quality assurance, project management services apart from development.
How Much Does it Cost to Outsource Mobile App Development?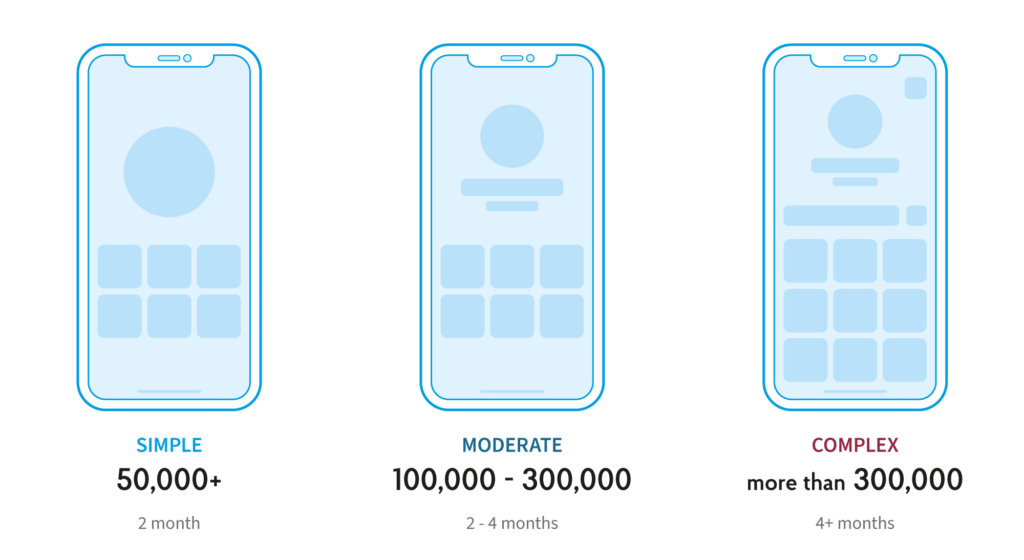 App development cost depends on many factors, including the app's complexity, features, platform, tools used, and more. Even the location of the outsourcing company influences the total cost of the app.
A comprehensive project requires a holistic business approach to ensure a high-quality app delivered on time. A fundamental team for building an app from scratch includes up to 10 people with the following roles: product owner, project manager, business analyst, 2–3 app developers per platform (Android and iOS), back-end developer, UI/UX designer, and 1-2 QA engineers.
Based on the features or type of mobile application, the cost can vary:
Telehealth app like Doctor on Demand – costs between $250,000 to $350,000
Edtech like Coursera – costs between $50,000 to $70,000
Fintech – like Revolut costs between $35,000 to $55,000
Taxi with geolocation like Uber costs between $25,000 to $100,000
Food Delivery with real-time tracking like UberEats – costs between $70,000 to $80,000
Real Estate and booking apps like Airbnb – costs between $140,000 to $200,000.
Ecommerce app like eBay – costs between $25,000 to $50,000
Photo-sharing with social media functions like Instagram – costs between $70,000 to $100,000
Video streaming like Netflix – costs roughly around $20,000 to $50,000
Customer loyalty and retention app like McDonald's – costs from $60,000 to $120,000 per platform
Conclusion
Now companies consider outsourcing as a strategic step to gaining a competitive advantage and advancing the business itself. This type of cooperation can be a solution for different kinds of companies like start-ups and mid and large-sized companies.
Still, to receive all the benefits of outsourcing app development, you need to choose the team you are going to work with thoughtfully. Hence, you should start by checking their portfolio to be sure that they have the precise expertise you need and testimonials from previous clients. Then it's time to select the engagement and payment models which are most suited for you, and sign the contract.
The most successful cooperation starts with trust and commitment, so it's vital to find the right vendor who will be not only your partner but also a friend. NIX is here if you have any questions or doubts about outsourcing your mobile app development. Moreover, you can get a free estimation for your mobile application development, so don't hesitate to contact us and start fulfilling your dream project!