How To Outsource Mobile App Development And Succeed
blog
In the world, by a number of IT specialists, Ukraine is fourth, behind the United States, which is a massive draw for international entrepreneurs. Outsourcing services can be what you need, even if your business is not connected with the IT industry. Sometimes to expand your business, you need to get expert insight into current technologies or specialists' assistance.
A successful outsourcing strategy provides benefits and cost-effectiveness for your business — process improvements and enhanced focus on your core business.
Outsource vs. In-house Development
There are many advantages to outsourcing your business processes to destinations around the world. Some of them are:
Expertise – outsourcing company has combined expertise in business domains and tech solutions.
Scalability – the provider can easily and relatively quickly scale up or down to match the changing needs of product/business.
Cost-effectiveness – there is no need to create, maintain an entire department and bear the costs associated with it.
No micromanaging – better to focus on marketing needs/operating processes and gain profit from your application while outsourcing team handling concerns regarding development.
According to the Coding Sans survey, almost 63% of the companies have outsourced software development fully or partly at least once and about 60% were satisfied with the outcome.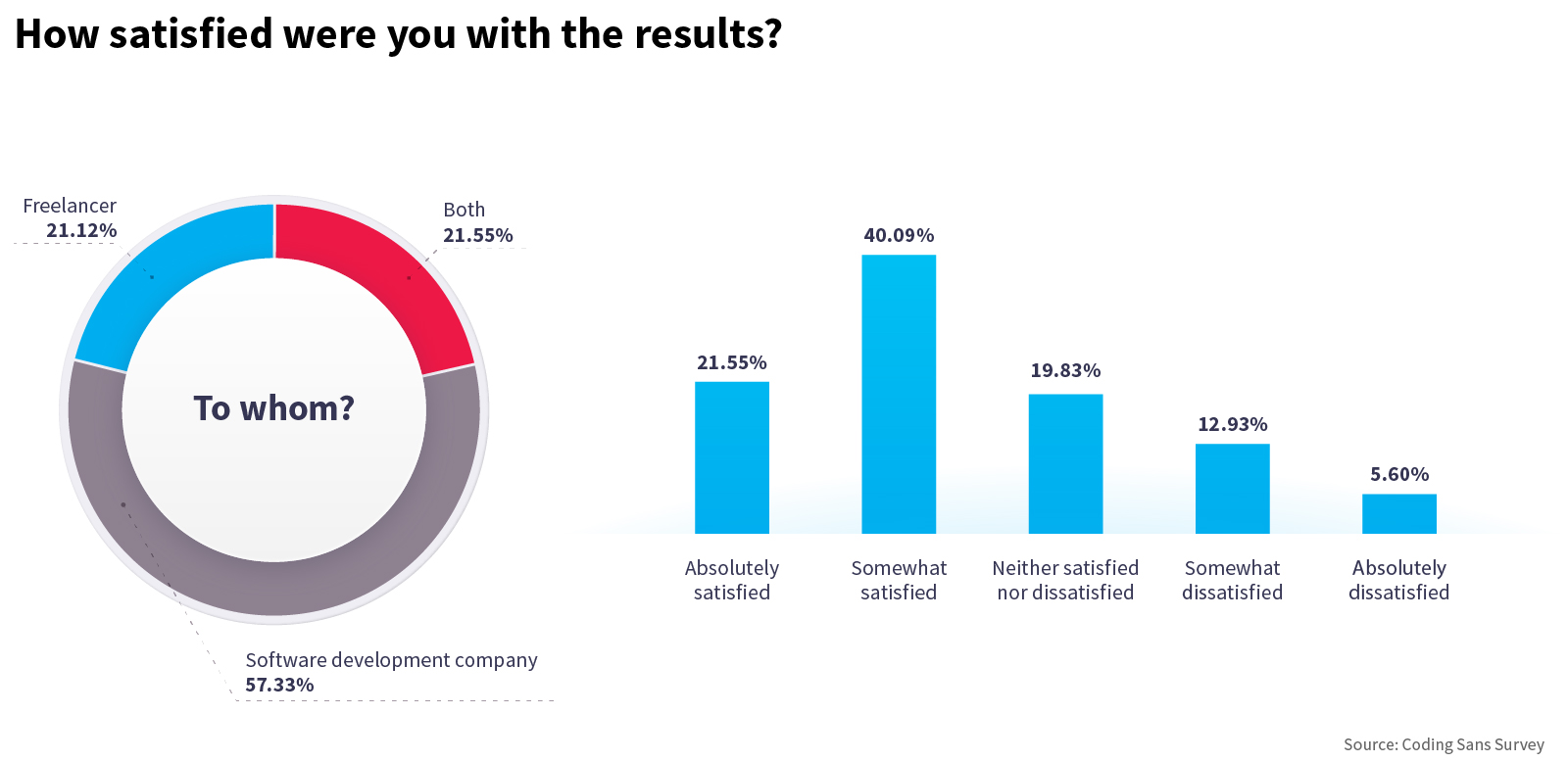 A great partner can bring years of experience in the business and expertise in delivering holistic outsourcing projects. It enhances productivity and efficiency, thereby making contributions to the outcome of your company.
Сhoosing An Outsourcing App Development Team
Nowadays, businesses consider outsourcing as a strategic step to obtaining a competitive advantage.
Is your business suffering from not enough knowledge or time to complete the tasks? If non-stopping deadlines made you sick and you are looking to rise to higher levels – it's time to try outsourcing.
Most significantly, you need to trust your provider, and the main question here is how to gain this trust.
Recommendations – start by asking your network about the successful outsourcing experience. Then inquire to your shortlisted software providers about recommendations from clients of your region/country.
Interaction process – invest some time to discuss how they ensure transparency during the development process, how the results are going to be delivered, and what communication/management tools are going to be used. It's essential to ascertain if you own the intellectual property (IP), and how the provider will assure app approval to the stores (since it depends on the app quality, not only business).
Ready to go – ask for a small pilot project or pay as you like.
Once you are satisfied with all the answers – this is your outsourcing partner. It means that now you can trust your partner, and it's time to pave the way to get outstanding results.
App Requirements For Desired Outcome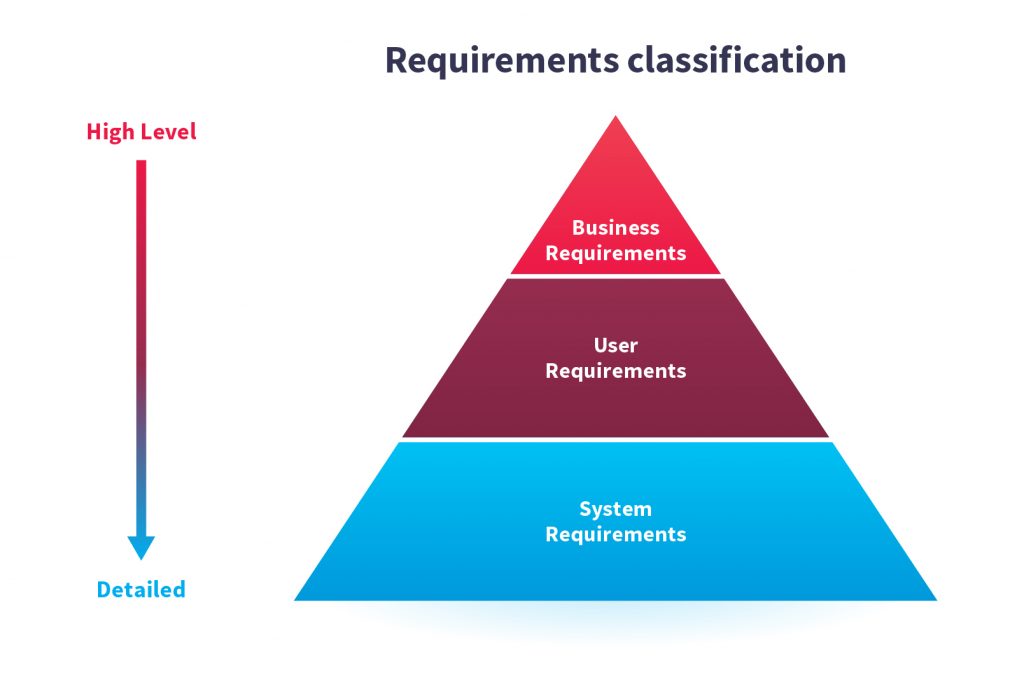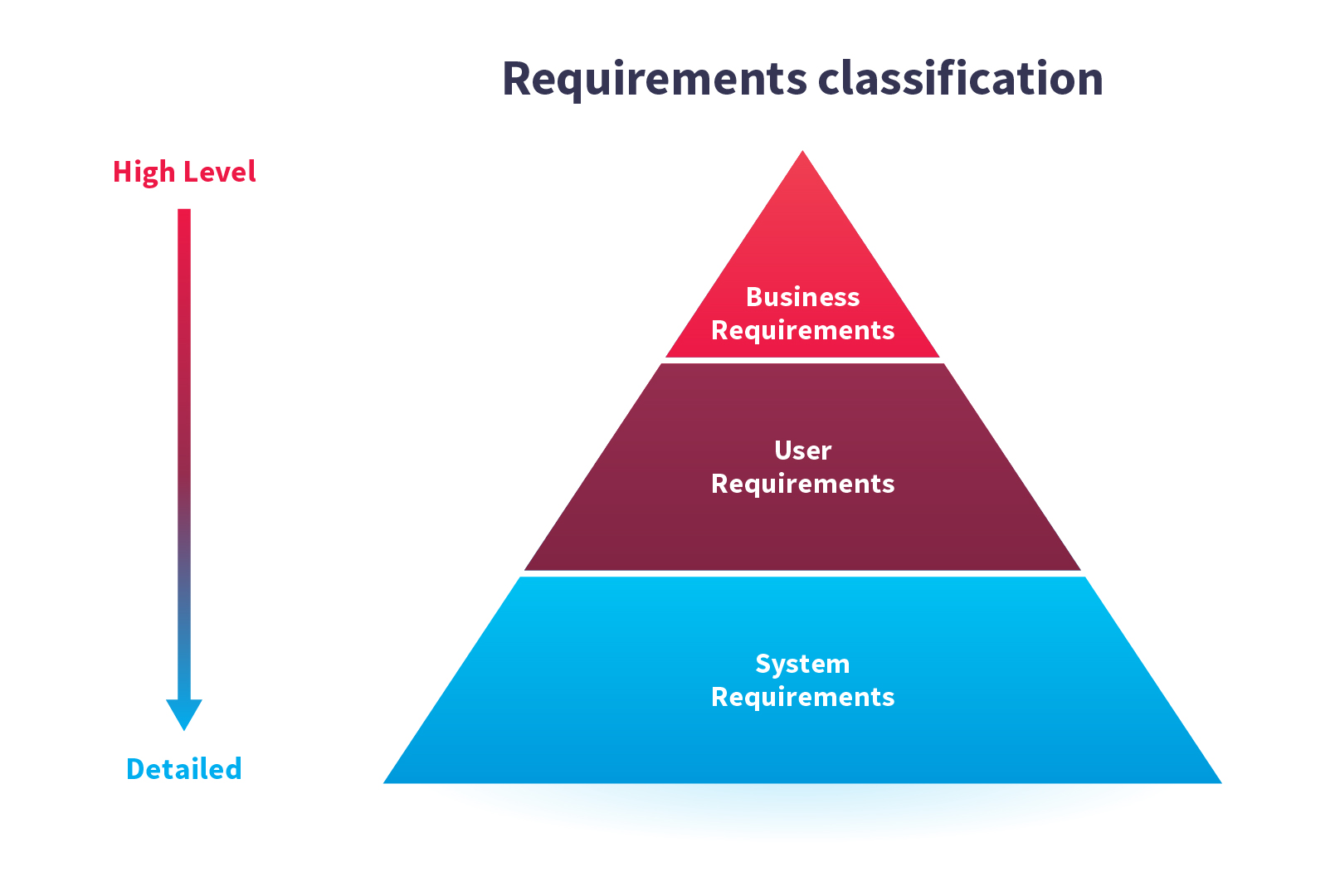 If you want to turn your business idea into a working solution, you need to clarify the following:
Business requirements. Define the objective and business concept of your mobile app, what goals you are pursuing, and what are the needs of end-users.
User requirements. Describe all interactions between the user and the mobile app hence give the user's point of view – priority features, user roles, etc. It will help developers quickly identify what functions are essential and which of them can be in a later version of the release.
App requirements. Outline the product characteristics that will meet your business needs and expectations. They include:
Functional requirements. Describe the ways a product must function in various situations. The specification document can consist of authorization level types, administrative functions, transaction corrections, adjustments, etc.
Nonfunctional requirements. Define the app properties such as device types and operating systems, permissions, performance and security requirements.
How To Choose An Engagement Model
There are various engagement and payment approaches, and you need to choose the one that suits you precisely. An experienced software provider can help to define which type is the most beneficial for you, considering the required specifications and capabilities.
End-To-End Development (project-based) model suggests building an app from scratch by an expert team which includes a business analyst, project manager, designer, developer, and QA engineer. End-to-end development can help improve a business's performance and profitability by providing a full-fledged support.
At NIX, the engagement process includes 3 steps:


Team-as-a-Service (TaaS) model allows you to get the skill set you don't have in-house, without the costs associated with hiring new permanent employees. With the TaaS model, you hire a remote expert team to work with you explicitly. The vendor either can deal with the recruitment side, negotiations, and employees, but you still will be the one to decide who gets hired and what the primary requirements are or he can set up a new unit for your business needs and enhance the local team.
At NIX, the engagement process includes 3 steps:


The service-based model entails that if you clearly understand what work should be done, we can jump in to accompany you, no matter where you are in the product life cycle.
For example, you have a ready-to-go product/app and want to test it before launching. In this case, he hires a Quality Assurance team to detect and fix bugs.
At NIX, the engagement process includes 3 steps:

From one side, when hiring, the client receives high-level narrow-focused expertise that allows achieving a precise result. On the other side, the provider is responsible only for the discussed scope of work – not for a whole end product.
When you chose the most suited type of engagement – it's time to make up your mind about the payment part.
Choosing Outsource Payment Model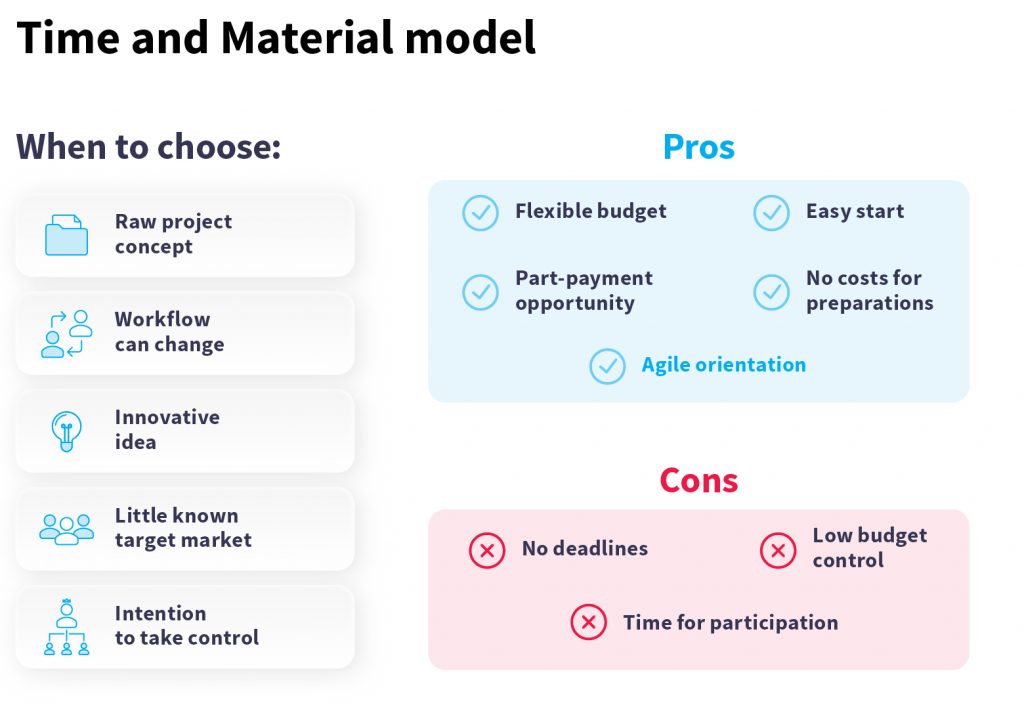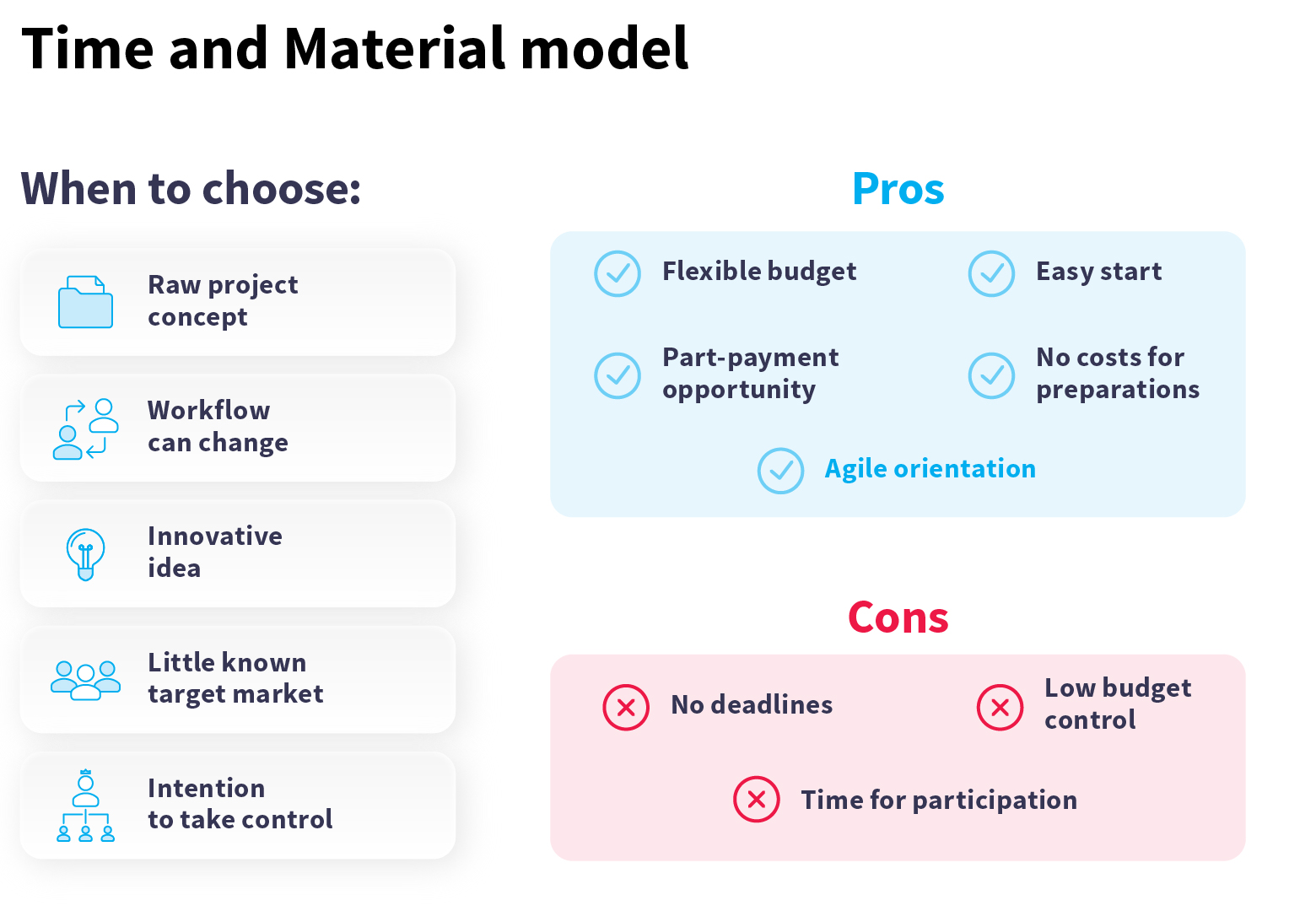 It's a more flexible and the most popular approach to IT outsourcing, as the customer will pay biweekly or monthly fees based on time spent on the work. The provider evaluates the next iteration forecasting the budget – so the client will know the amount should be paid and for what. At the end of each iteration, the team performs the re-estimation of development priorities.
Advantages:
Flexibility – ability to change the project scope/specifications/team size at any stage.
Transparency – the client has complete control over the budget and pays only for the delivered results.
Communication – more involvement in the project process and allows analyzing the stakeholder's feedback easier.
As for disadvantages – unknown final cost and date of the project's release because there are no strict deadlines.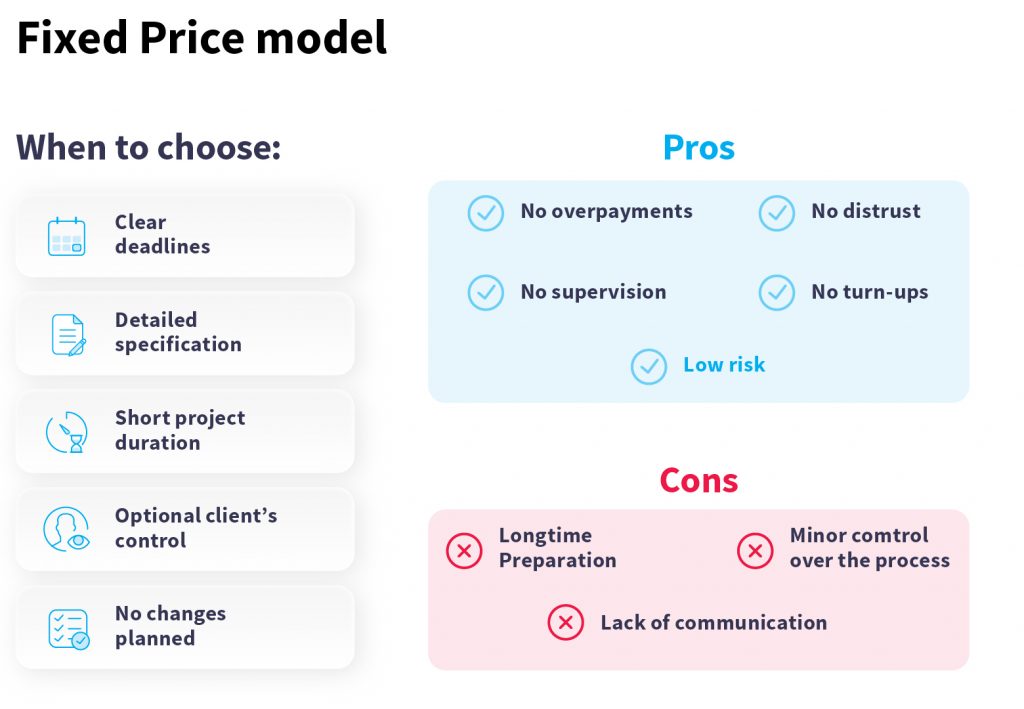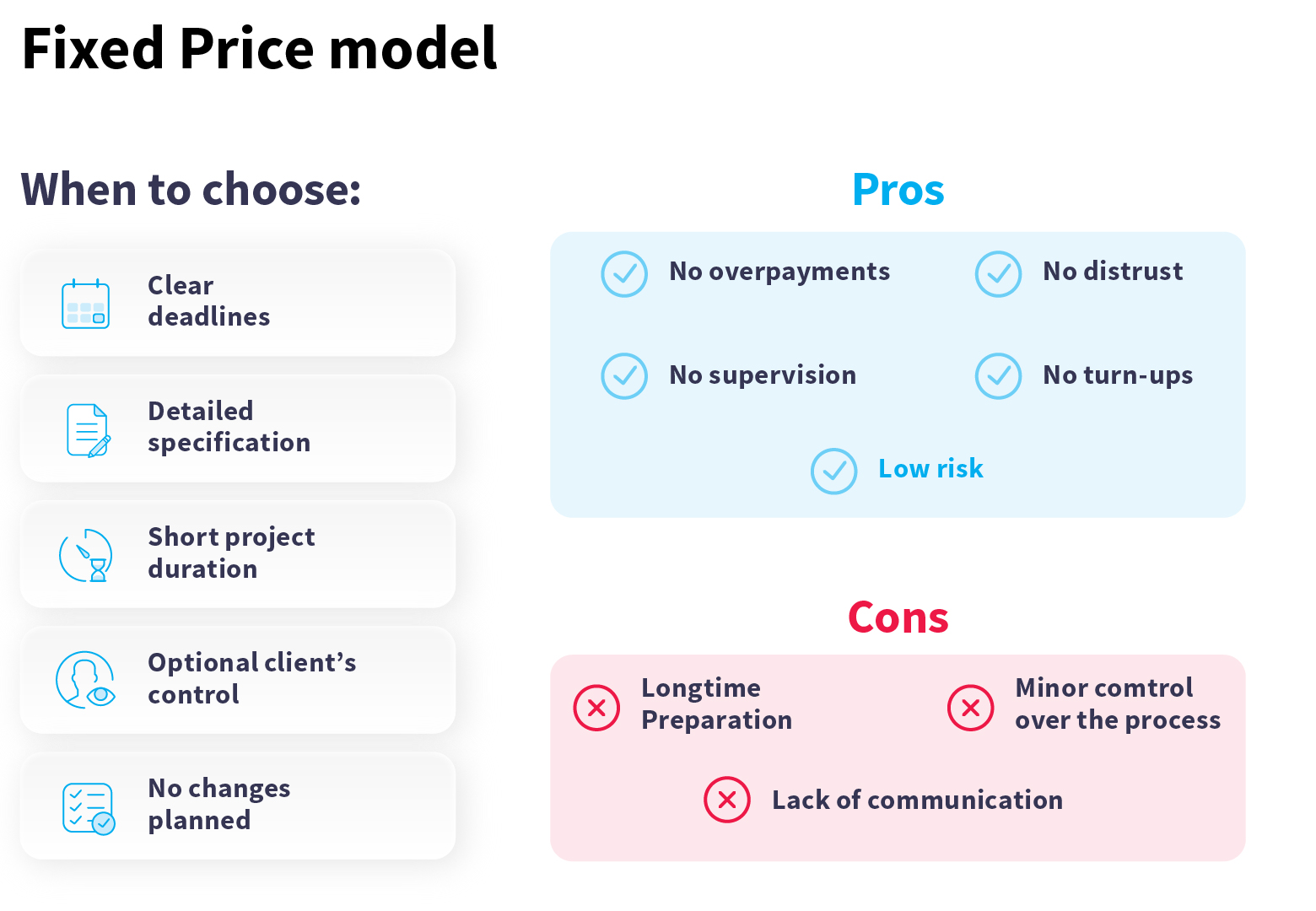 This payment model goes only in the combination of the following criteria:
The amount of costs is fixed with the scope (and not separately)
Only from scratch
Clear understanding precisely what needs to be done and it won't change (detailed specifications, screens/mockups)
There is no 3rd party integration or hardware that can affect work effort or result.
It's a well-known solution, not an innovation or a new technology
Advantages – the client realizes how much it will cost and when he will get a market-ready product/app.
The disadvantage of this model is that requirements analysis and writing a detailed specification take significant time, and only when it's done – the development process can begin. And what's the most important – in case you want to change the scope or add new features, you're going to need a re-estimation, which is time-consuming.
Outsourcing Risks And How To Mitigate Them
Outsourcing has a lot of advantages since it is cost-effective and gives on-the-spot access to specific expertise. Nevertheless, these benefits go hand in hand with hazards that should be considered. Here are some of them:
Data confidentiality. For this matter, to secure the data flow, you should sign a non-disclosure agreement (NDA) and an intellectual property (IP) protection agreement. It will evaluate risks regarding the leaking of confidential information and secure the work process.
Lack of outsourcing experience. Some companies mention that they are not ready to outsource mobile app development because they need to have the whole team locally. In this case, you need to choose a company with a well-established approach for remote team engagement. The right vendor has the needed experience and skills set required for a flourishing collaboration.
Lack of control. When outsourcing app development, the client can be afraid to lose control over it partly. The most important thing here is to maintain efficient communication between you and your provider. Don't neglect to discuss all the essential points of your collaboration. Also, it's important to establish regular reporting, i.e., daily or weekly, depending on the complexity of your project.
Conclusion
Now companies consider outsourcing as a strategic step to gaining a competitive advantage and advancing the business itself. This type of cooperation can be a solution for different kinds of companies – start-ups, mid and large-sized companies.
Still, to receive all the benefits of outsourcing app development, you need to choose the team you are going to work with thoughtfully.
Hence, you should start by checking their portfolio to be sure that they have precise expertise you need and testimonials from previous clients. Then it's time to select the engagement and payment model, which is the most suited for you and sign the contract.
The most successful cooperation stands on trust and commitment, so it's vital to find the right vendor, who will be not only your partner but also a friend. NIX is here if you have any questions or doubts about outsourcing your mobile app development. Moreover, you can get a free estimation for your mobile application development, so don't hesitate to contact us and start fulfilling your dream project!