How to Develop a Modern Food Delivery App
blog
Food delivery is one of the fastest-growing industries globally. According to Statista, delivery companies raked in at least $107.43 billion in 2019 and are on track to earn $122.74 billion in 2020 – despite the coronavirus pandemic. By 2024, the revenues will top $156 billion.
This sharp growth is primarily fueled by the ever-increasing customer base for delivered foodstuffs. According to the study mentioned above, the number of people ordering food via online apps nearly doubled in the last three years, rising from 364.8 million in 2017 to 625.9 million in 2020. This number is projected to reach 858 billion in 2024 and should pass the billion mark in 2025.
It confirms what many entrepreneurs might be thinking – there's every reason to hop onto the food delivery bandwagon. The customer base is enormous and growing fast, and revenues and even profitability are very enticing.
Understanding How a Food Delivery App Works
Before you begin developing a food delivery app, however, it's crucial to understand how the apps work. Let's use an example of a food delivery app that NIX developed. The application is one of the most popular and successful food-delivery apps in Europe. Analyzing it can help us learn how a typical food delivery app works.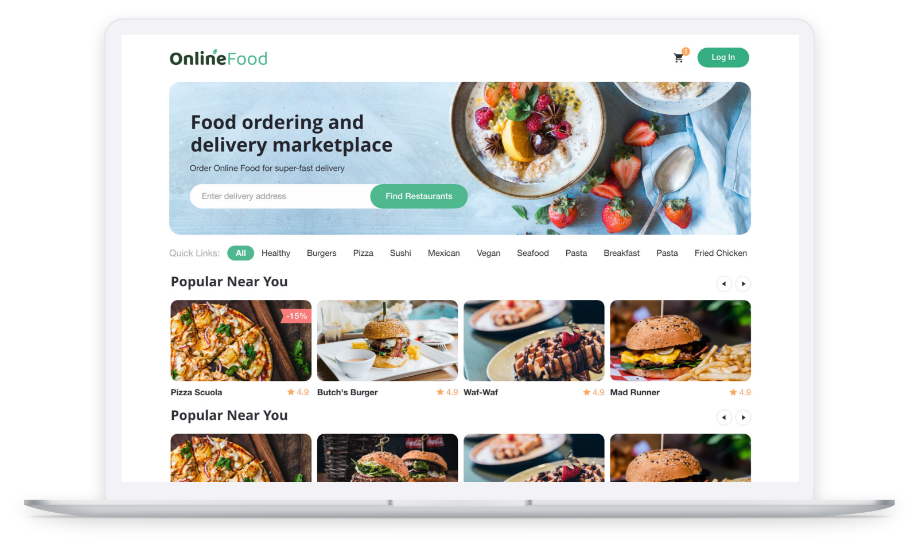 This app takes food orders, processes the orders, and delivers the food. The app provides users with multiple functions to make the ordering and delivery processes as convenient as possible. Some of the notable features include;
Restaurant recommendations
Search filters
Customizable delivery details
Order tracking
Designing Your Food Delivery App
Now that you understand how a food delivery app works, you can begin designing and then developing your app. Proceed as follows: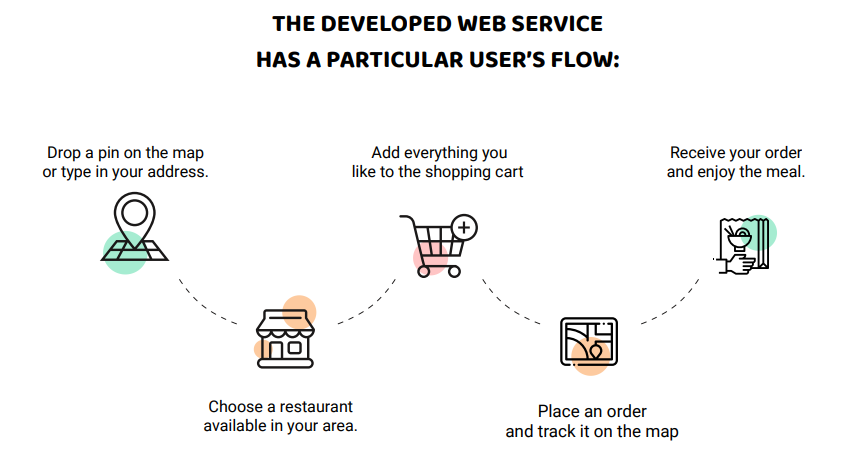 Learn about key market trends
The food delivery industry is heavily reliant on trends. People are attracted to "hot" apps, with popular features. If you're left behind on these features, you'll miss out on the customers.
So, the first step is to ask yourself what the customer wants. What is today's customer looking for in food delivery apps? Social media integration, virtual assistants, and smartwatch integration are a few areas to look at.
There are two primary food delivery models – order-only and order-and-delivery. In an order-only model, your company is only responsible for ordering and managing orders. You're not responsible for delivery. Examples of companies that offer order-only services include Eat24, Delivery.com, and JustEat.
Order-and-delivery companies, meanwhile, manage both orders and delivery. So, you may need a company-owned delivery crew or partner with a courier service to deliver your orders. UberEats, Doordash, and Deliveroo, are some popular order-and-delivery food companies.
Research your target market
You want to build an app that meets the needs of your target audience. So, begin by understanding those needs. At the very least, document the demographics of the audience, prioritizing aspects such as age, gender, nationality, and income.
Identify critical app features
Every food delivery app has a few basic features. These include registration and login. For instance, can customers log in via social media? Search is another vital consideration. Other key features include ordering, payment notifications, order tracking, reviews, and ratings.
Select technologies for the development
You'll need different technologies for different features. For instance, if you intend to list restaurants, then the Grubhub API or FourSquare API would be required. To accept and process payments, meanwhile, common payment gateways to consider include Square API, Braintree, Stripe, and PayPal.
Then, you also need technology that pinpoints user location. Excellent options include Google Places API, Google Maps, and the Core Location Framework. Finally, for push notifications, common options include Amazon SNS, Urban Airship, and Firebase Cloud Messaging.
Food Delivery App Development Tips and Best Practices
Once you're through with the design, development ensues. The following recommendations and best practices should help you build a robust app for long-term success: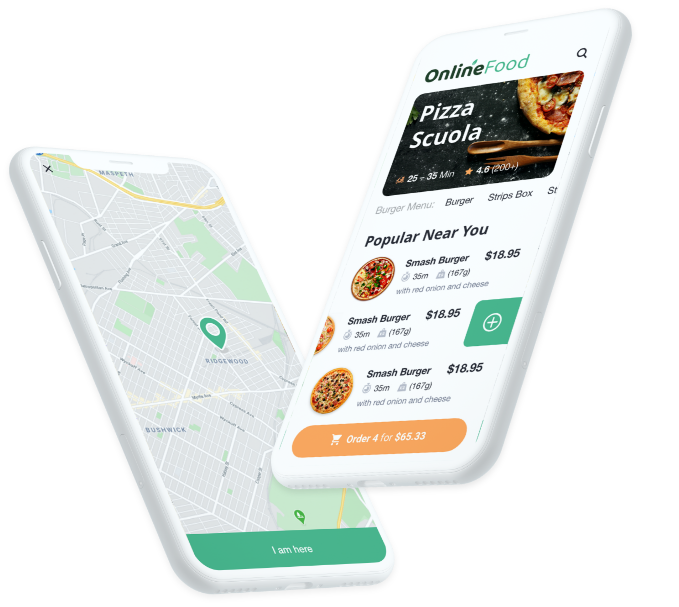 Leverage users' metrics to refine UI friendliness
It's impractical to measure UI user-friendliness with objective metrics. Instead, consider establishing small focus groups and observe where the people look, what buttons they press, and so on. This will help you develop a more functional user interface.
You need a simple, clutter-free admin interface
A more straightforward admin interface will help you get more work done in less time. It means two things. First, you're able to process more orders per minute. Secondly, faster order processing results in higher customer satisfaction, leading to repeat business!
Define and track all business metrics
Everything that makes you money, especially long-term processes, must be reflected in the database and tracked thoroughly. The number of orders processed per day, returned orders, rejections from restaurants, average delivery time, etc., must all be tracked.
Tech metrics are things such as how long it takes a regular customer to place an order and how often app visitors leave without making an order. Also, are people comfortable with the navigation? How long does it take them to find the items they're looking for?
Logs are especially important when there's trouble. If you have logs for everything, you can trace the source of the problem with ease. So, log what you send to the network, what you get from the network, and branches in your algorithms – everything!
Develop strong documentation
Finally, documentation is just as important as the app itself. Without proper documentation, diagnosing issues in the app becomes almost impossible. So, develop strong documentation and keep it updated at all times.
How Much Does it Cost to Develop an On-Demand Delivery App
A comprehensive project requires a holistic business approach that will help to improve the business's performance and profitability by providing full-fledged support.
The essential team for building an app from scratch includes the product owner, 2–3 mobile developers per platform (Android and iOS), 2 back-end developers, designer, business analyst, 1-2 QA engineers, and project manager.
If we're talking about the outsourcing companies, they have a combined expertise in business domains and tech solutions, which can be a well-suited solution for your app development, considering that it turns out to be less expensive than the in-house team. As for in-house development, it implies a closer connection to the team and a better understanding of corporate culture but requires intensive cash flow that implies recruiting, maintaining an entire department, and bearing the costs associated with it.
The next step – summing up the pros and cons of available development types and choosing the most suitable for a future project.
Let's take a look at the most common priority features of the on-demand food delivery app and how much it costs based on types discussed above.
Order Only App
An app like Grubhub allows ordering and delivering from restaurants across multiple cities with food catalog, order management, and 24/7 customer support.
The 1st version of the app with customer and administrator roles with no payment processing and geo-tracking features can be developed within 2.5–3 months. If choosing the Eastern European development team it would roughly cost $50–55,000.
Order & Delivery App
An app like UberEats covers various restaurants and allows ordering food as well as provides delivery with its couriers. It's usually a great type for startups if they have competitive features to stand out with the existing players on the market.
The first version of the app, with a full cycle of service providing and managing various restaurants, can be developed within 3.5–4 months. If choosing the Eastern European offshore development team, it would roughly cost $70–80,000.
Fully Integrated App
An app like EatPurely includes one restaurant chain and covers a whole cycle of cooking, ordering, and delivering for the nearest locations with the support of clients, partners, and couriers. Individual businesses and restaurant owners usually choose this type of app.
The first version of the app, with its own restaurant's chain infrastructure with payment processing and geo-tracking support, can be developed within 3–4 months. If choosing the Eastern European development team it would roughly cost $60-65,000.
We at NIX Can Help
Our experience developing IT solutions for businesses gives us an edge when developing modern applications of all kinds. Let us help you plan and develop the right food delivery app for your company – and enter the market with a bang!