Software Development Cost When Outsourcing: Key Contributing Factors
blog
Software development cost is a determining factor for anyone who plans to build a digital product. The company's annual budget must be planned and investment needs to be secured, and that's why it's crucial to get a well-defined price for value. Nevertheless, it's not easy to estimate its cost and do it properly, especially when discussing complex systems. When outsourcing software development, you as a company need to know precisely the software type, desired platforms, and specified set of features.
At NIX, a leading outsourcing company for over 25 years, our mission is to create the best solution to meet the client's budget. In this article, we will explain the key factors influencing the final outsourcing software development cost.
Factors That Influence Software Development Costs
1. Rate
Many factors can affect the rate for outsourcing software development, mainly location and seniority of the software engineers, technologies, the project's duration and payment model. Let's look at these factors in further detail.
Location
The most expensive development services are in the US and Australia. However, Eastern Europe outsourcing companies provide near the same quality services for less. Here we can see outsourcing software development costs per hour from different regions based on PayScale's research.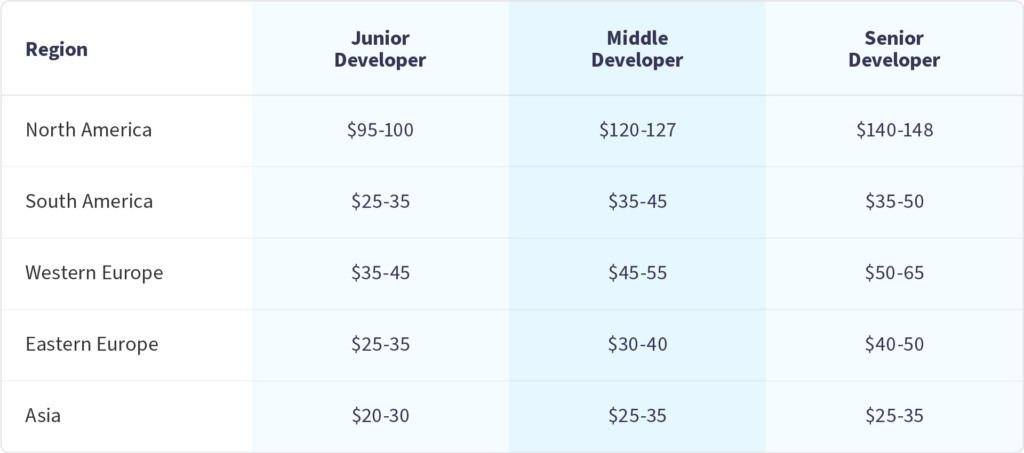 Seniority of Software Developers
Developers are often divided into three categories by their knowledge, skillset, and experience. Understanding the developer seniority levels will help set more realistic expectations for a particular engineer.
Junior developers have only recently begun their working pathway and have up to 1-2 years experience, but are already involved in real commercial projects. They still require guidance from tech leads and work in a team of more experienced developers to learn more quickly.
Middle developers can work autonomously and deal with complex technical challenges set by the project's techlead/architect since they have up to 3-4 years of experience.
Senior developers have more than 4-5 years of experience and can provide the most effective ways for developing a project, by providing more flexible ways to solve challenges with different technologies, languages and know-how. Moreover, they can not only solve emerging problems, but also foresee scenarios, prevent bugs from happening, and build complex systems' architecture.
Tech leads are responsible for leading a team and alignment of the technical direction. They provide strong technical guidance that involves establishing a technical vision, resolving technical disagreements, and managing team deliverables' technical quality.
Architects oversee IT assignments that aim to improve the business and ensure all parts of a project run smoothly. They have a vision of the system's technical solution at the beginning, can foresee bottlenecks, and are usually involved in complex projects from the very beginning.
Tech Stack
The set of technologies you use for your project has an impact not only on scope, but also on rate. Whether you want to empower your web system or app with the help of cutting-edge technologies such as AI, Blockchain, AR, or VR, it will be more expensive than building a basic mobile app. Likewise, if you need an outdated technology that is no longer in wide use, it will be challenging and most likely pricey to find an engineer.
Payment Model and Project's Duration
No less important is the scope of work and choosing what payment model is more suited for your needs:
Time & Material model is the more flexible and most popular approach to IT outsourcing, as the customer will pay biweekly or monthly based on time spent on the work. For example, if the project duration is long and consists of a large software development team, then the rate can be discounted.
Fixed Price model goes only when the amount of costs is fixed with the scope and there is a clear understanding of what needs to be done and it won't change with detailed specifications, screens and mockups. The Fixed Price model involves many pitfalls, which is why software development companies usually have higher rates for this type of project to cover some of the risks that may arise in the process.
Dedicated model is a model in which the client hires a remote expert team to work with him exclusively. The client handles the development process on his own, assigning tasks and altering priorities. The outsourcing company can only help with some organizational moments, but the entire process is with the owner of the product. When choosing this model, only the rate will affect the final cost.
Read more about our engagement and payment models.
2. Project Complexity & Scope of Work
Another essential component that influences the software development cost is project estimation. This consists of functional and nonfunctional requirements, software integrations, and supplementary services such as business analysis and custom design.
Functional Requirements
Extensive functionality often involves the need for complex software architecture design, which comes at a price. Functionality consists of components such as authorization level types, administrative functions, transaction improvements, and modifications that influence the rate.
Not all features have the same cost of implementation. Push notifications and video calls, for instance, are entirely different in terms of price because of the code complexity and time needed. Complex, real-time data analytics with multiple permission levels will need other resources than, for example, a fitness app with time-tracking.
Non-Functional Requirements
These types of requirements include device types and operating systems, permissions, performance, and security requirements.
It's essential to measure software reliability, for example, by counting the percentage of actions that are performed correctly or tracking the average time the system operates before failing. And it is no less critical to make sure that the system is scalable – how fast data is processed, and how many users can be supported simultaneously.
Security requirements guarantee that the software is protected from unauthorized access to the system and stored data. It implies different levels of authorization and authentication across different users' roles.
Which devices, browsers, and OSes the website or application support is one more question since the final cost depends on it. For example, a cross-platform app is less expensive than the development of two native iOS and Android applications.
As for software accessibility, it's essential to ensure that users can perceive all information with restricted or no hearing.
Software Integrations
There are three most widespread types of software integrations:
Integration with third-party services such as payment and cloud systems
Integration with business applications, such as ERP, CRM, supply chain management, business intelligence, and HR
Integration with AI, Data Science, AR/VR, Blockchain, and IoT
While some integrations are simple to handle (for example, services like PayPal), others can be challenging when it comes to legacy systems and require more efforts for analysis, preparation, and verification of outcomes. You can check out one of our cases that shows a process of complex integration with Blockchain.
Supplementary Services
Business and Requirements Analysis
Business analysts provide in-depth research of the client's specific business expectations to plan the work. A business analyst looks at the project's scope, establishes the requirements and standards the project must meet, facilitates communication with the development team, and supports its implementation. This allows predicting the outcomes accurately and helps deliver software development on time.
UX is how the product feels, and UI is how the product is laid out – in combination, these two make the application user-friendly. Custom design makes your software stand out and enjoyable for users.
The design's complexity affects the cost depending on the amount of functionality to depict and its complexity or complex technologies such as 3D modeling or motion design.
DevOps Engineers know how to maintain the IT infrastructure that supports software code and select a suitable deployment model and monitor performance after release.
It's crucial to test every software component to prevent or solve any potential bugs – above all, this saves you money.
Testing ensures the quality of the final product and smooth market entry. The cost of testing in software development always depends on the complexity of your project.
Conclusion
It's necessary to understand that custom software development cost estimation is much more complicated than it seems at first glance. There are many technical and non-technical factors that need to be considered beforehand.
It's time for fair-priced software development outsourcing. NIX develops solutions of different complexities cost-effectively and without compromising quality. Reach out to us and receive an estimation for your future project.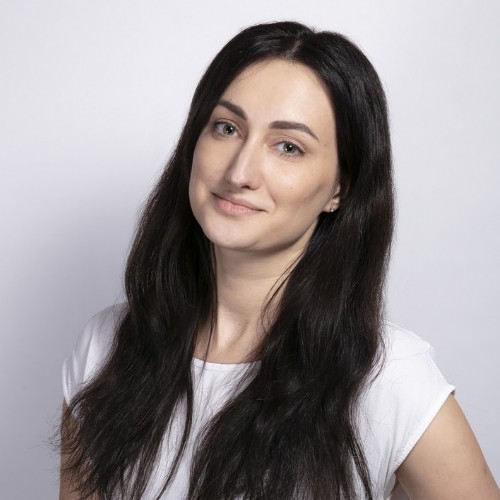 Anna Vorobiova, VP of Sales at NIX
Having more than 7 years experience in IT and Software Outsourcing as a business analyst, project manager and sales engineer, Anna helps businesses leverage digital transformation, achieve their ROI goals and speed up time to market by imposing optimal technical solutions and product roadmaps.