Top 14 Mobile App Dev Trends That Will Change Business
blog
If your business has not invested in mobile already, it's an area that you need to focus on. Statista has in fact determined that mobile apps will generate $581.9 billion in revenue in 2020 alone! As the number of smartphones around the world continues to rise, this revenue will only increase. Mobile is clearly winning the war for online and companies that fail to invest in mobile are at a significant risk of falling behind. If your company has not invested in mobile, check our list of the top 14 trends to focus on in 2020 and beyond.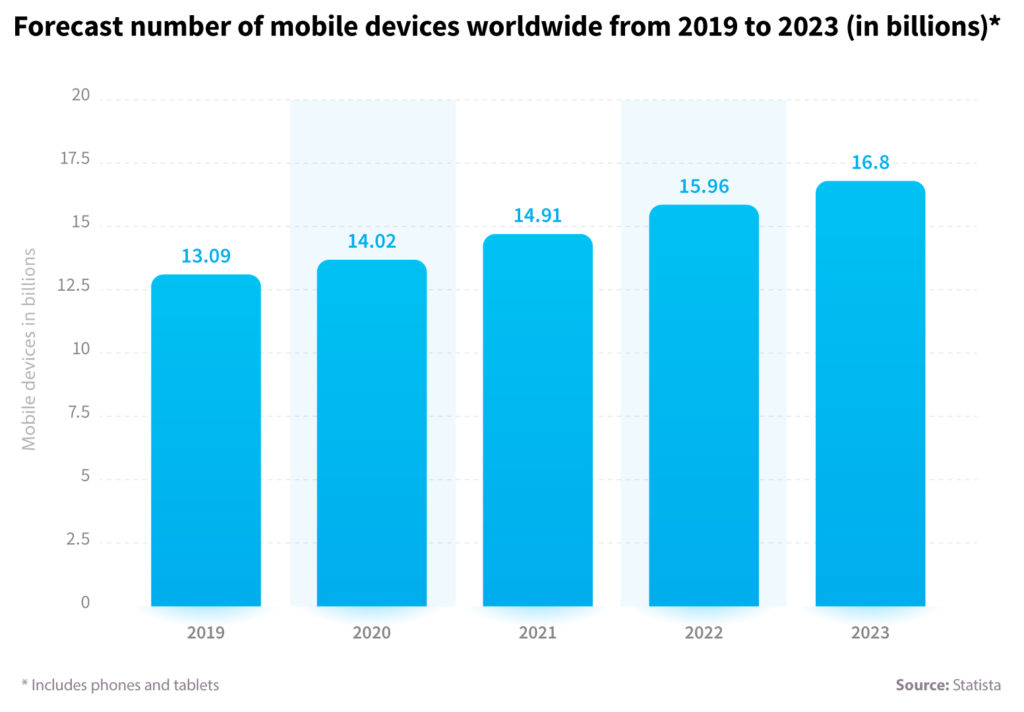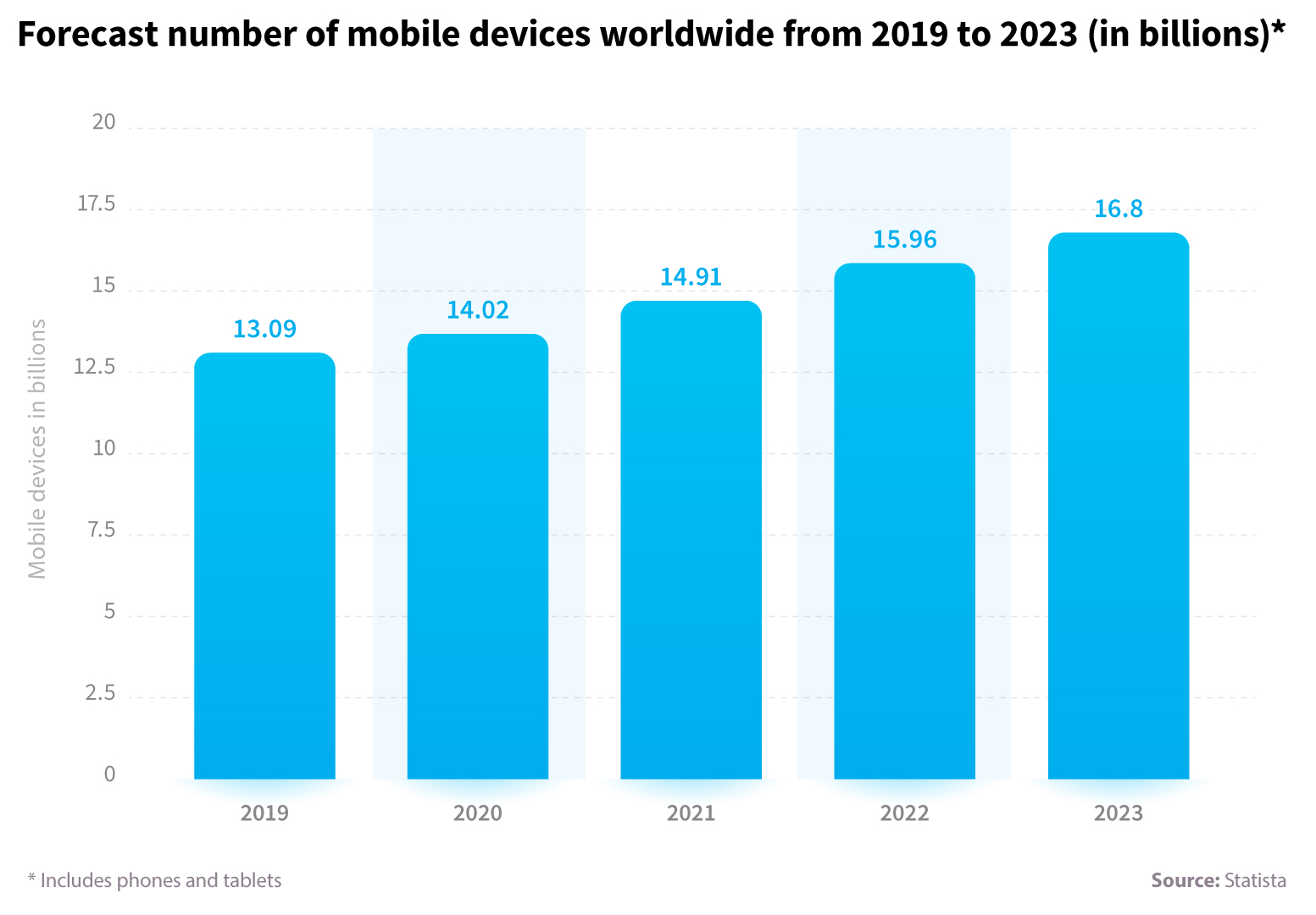 "The future of mobile is the future of online. It is how people access online content now."

– David Murphy, Founder and Editor of Mobile Marketing Daily
For companies that already had mobile applications in their arsenal, implementing one of the following top-notch technologies helps them obtain new benefits and development opportunities, add additional value to products and services, and increase their clients' customer experience. These are not the only advantages that trending mobile technology can provide—more details below.
Cloud Computing Integration
Cloud computing is one of the most quickly developed sectors in 2019 and 2020 that will keep growing in 2021. The mobile app industry has only started using cloud services, but it's already apparent how many new growth options it provides for mobile development.
"I don't need a hard disk in my computer if I can get to the server faster… carrying around these non-connected computers is byzantine by comparison."

– Steve Jobs
Many experts claim that cloud technology will be a base for mobile applications in coming years that will dramatically increase the app's performance and user experience. Modern applications can already access cloud data storage and perform processing using its capacities.
By the end of this year, more than 80% of enterprises' processing will be cloud-based, giving apparent advantages of these solutions such as decreased maintenance cost, easily scalable abilities, and enhanced performance to compare with old in-house systems. If your business is built around mobile systems and you meditate about its update, you should pay attention to these trends in 2020.
Instant Apps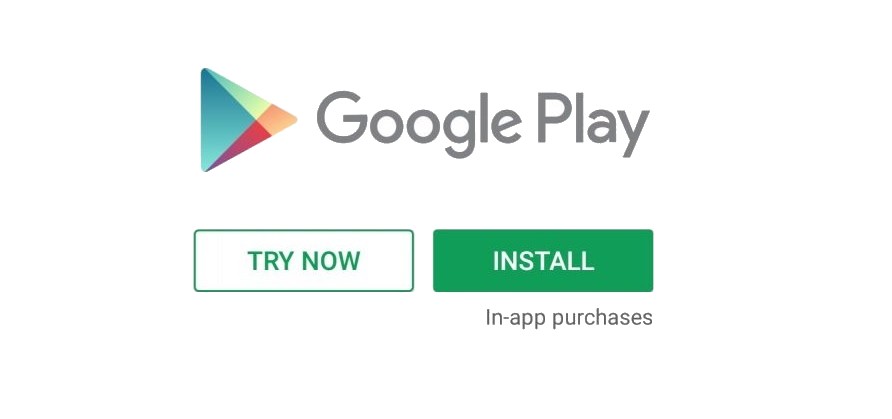 A new trend introduced only recently by Google is the Instant App. Previously prior to using an app, users needed to download and install it on their own device. Aside from the memory used, in many cases, the app was not what the user actually wanted, so additional time and effort were wasted uninstalling it before resuming the search.
Instant apps change this paradigm somewhat. Instead of forcing users to download the app, instant apps let users try the app without downloading it with all of its features. It's great for letting users try and understand if an app is suited to their needs and improves their experience right out the gate as time is saved.
Accelerated Mobile Pages (AMP)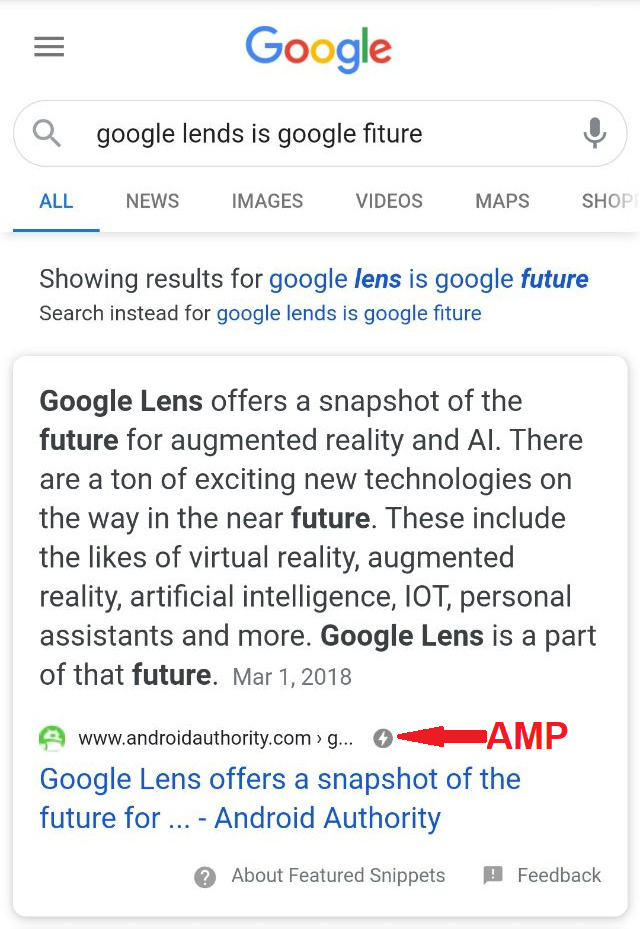 While 5G is coming, many consumers currently do not have mobile connections that match their home WiFi and local networks. As such their browsing while on mobile is often not as enjoyable. With more and more consumers using mobile devices to browse online, it is critical to ensure that their experience is as seamless as possible. AMP helps to solve this problem by improving the responsiveness of websites and decreasing page load times for mobile users. Sites built using AMP have demonstrated a significantly higher user engagement rate pointing to its value. AMP is indicated by a round icon with lightning near the page link in the Google search results. You can multiple times visit a webpage and not realize why it's loaded less than a second. Finally, AMP pages have a positive effect on the website's ranking in Google search results on mobile devices. In March 2021, Google also plans to enable mobile-first indexing for all sites.
Internet of Things (IoT)
IoT is changing the way we live and work in many different ways. From smart home devices that respond to location requests and automatically turn on lights and heating to more, IoT is on the cusp of a revolution.
"If you think that the internet has changed your life, think again. The Internet of Things is about to change it all over again!"

— Brendan O'Brien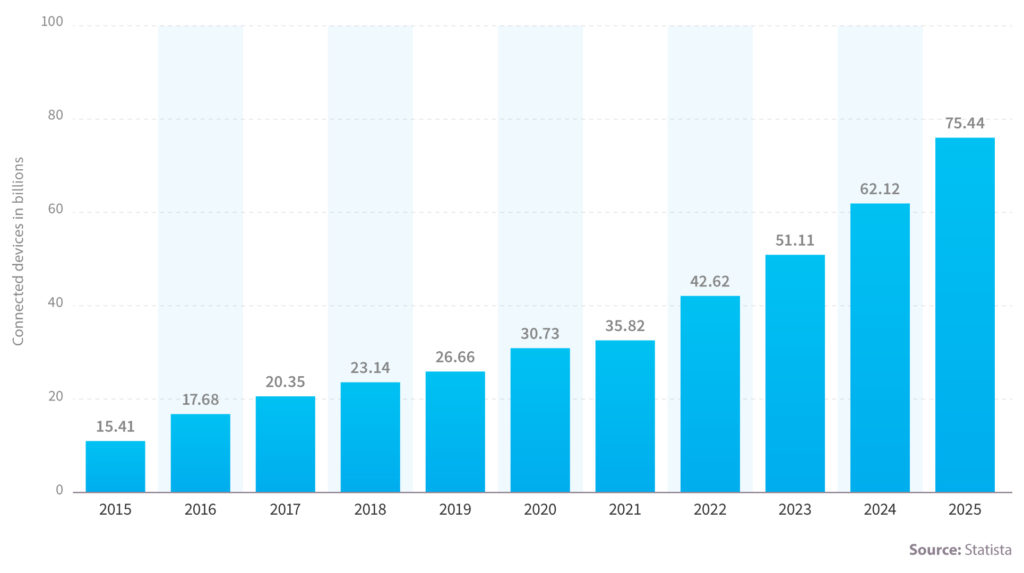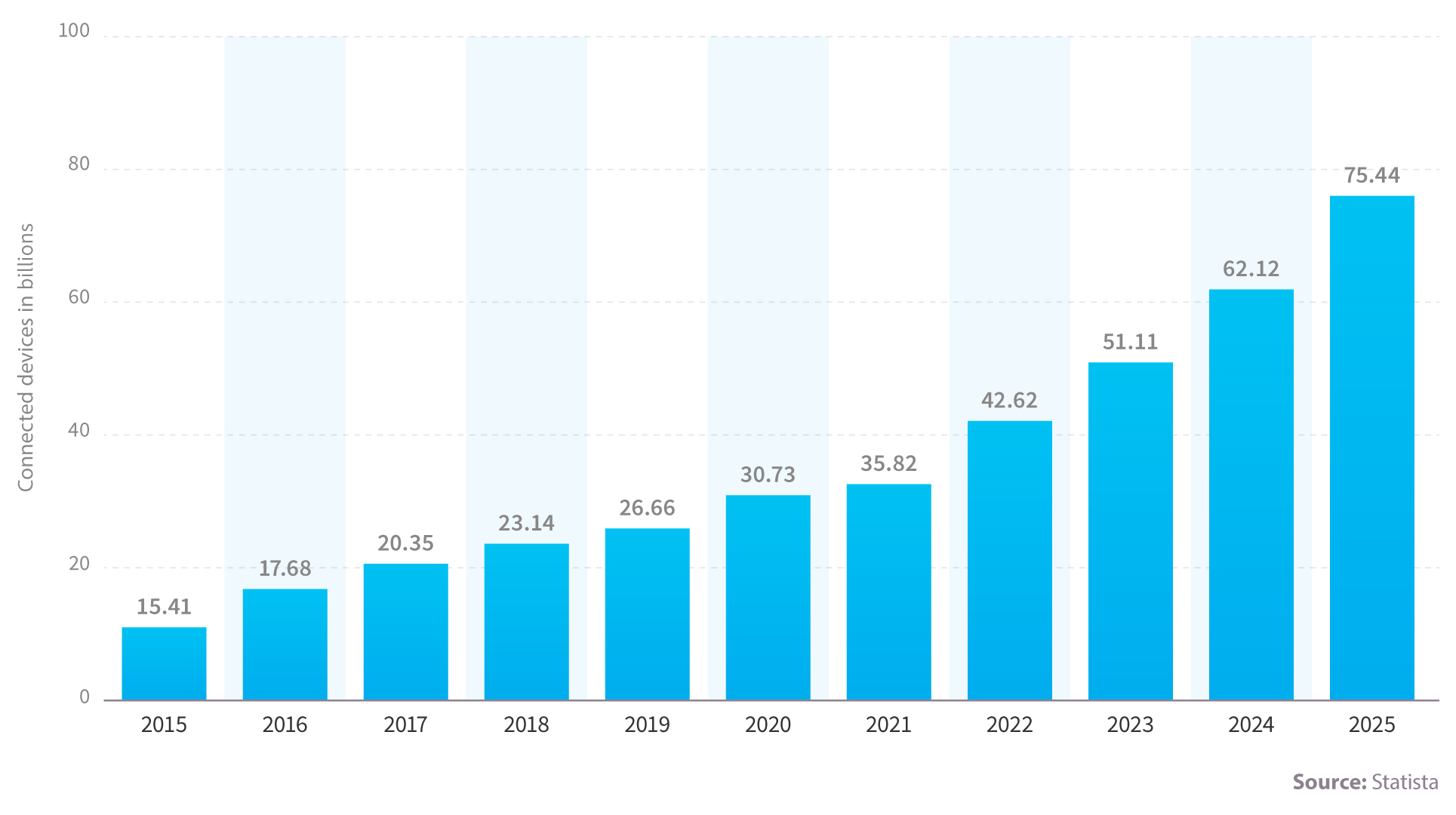 From manufacturing to healthcare, retail to smart homes, IoT usage continues to increase. Companies are using IoT devices to create additional value to mobile users, improve the way they work and the way they communicate. As the number of connected devices worldwide continues to increase, how and where IoT devices will benefit us will only grow.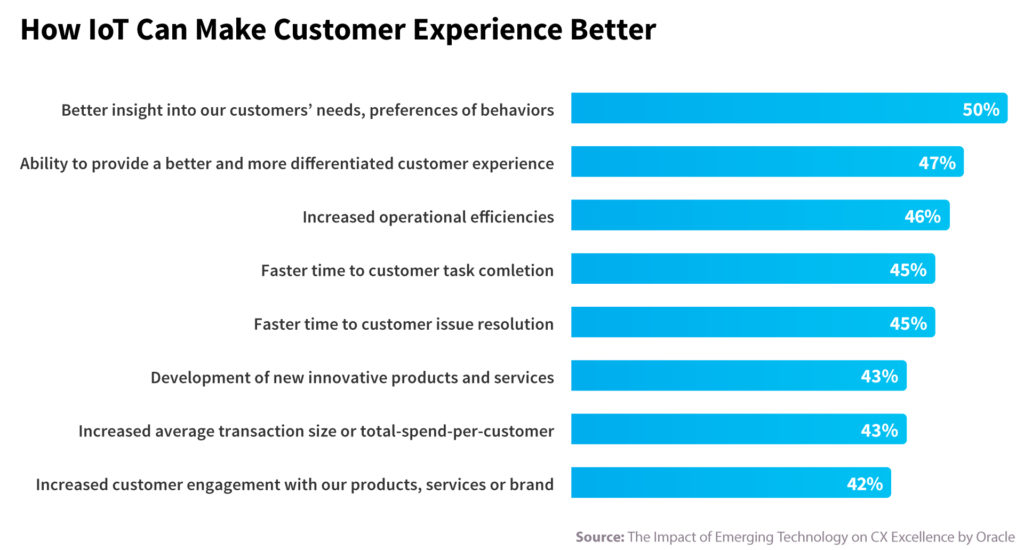 IoT is a multi-task tool that can empower your business all around. One of the crucial roles IoT play is creating a positive customer experience. It allows companies to understand their client's needs better and quickly develop innovative solutions to cover them, and a result get benefits for themselves.
M-commerce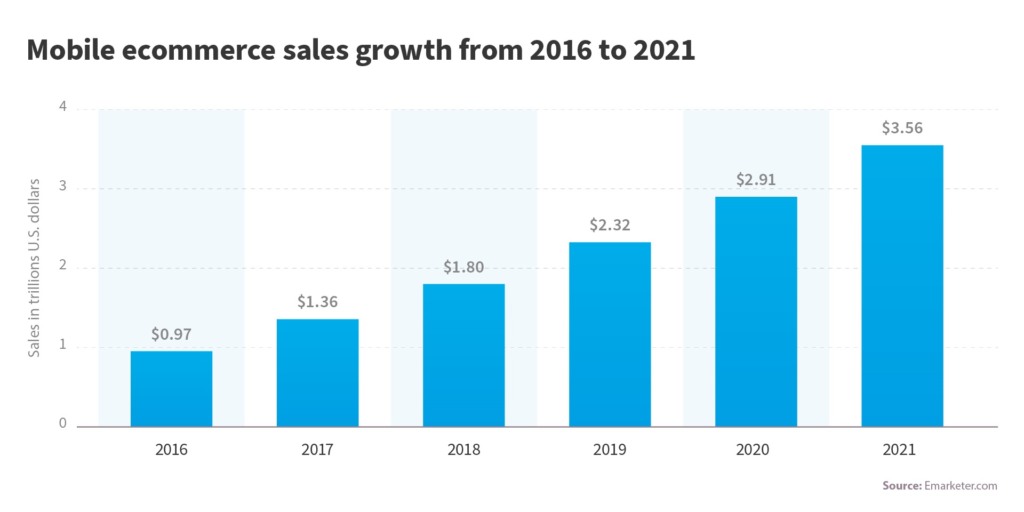 If we miss a mobile eCommerce It will be a big oversight. Nowadays, mobile sales are 67.2% of the total eCommerce market share. Compared to 2016, mobile eCommerce sales worldwide three times grew with $2.91 trillion. According to the Emarketer forecast, this figure will be $3.56 trillion in 2021. Every three dollars spent online is a transaction made via smartphone, purchasing on the internet.
"If your plans don't include mobile, your plans are not finished."

— Wendy Clark, former SVP at Coca-Cola and now CEO at DDB Worldwide
For many reasons, even mobile-first eCommerce sites will never become convenient for online shopping with mobile devices in terms of usability and experience as mobile apps. Moreover, mobile eCommerce apps provide many more advantages in customer retention and analytics than web analogs.
If your business is based on online sales, and you do not yet have a mobile application, you should think about it in 2020. According to an Oberlo survey, three out of four people prefer M-commerce services to traditional one, because they save their time.
Mobile Wallets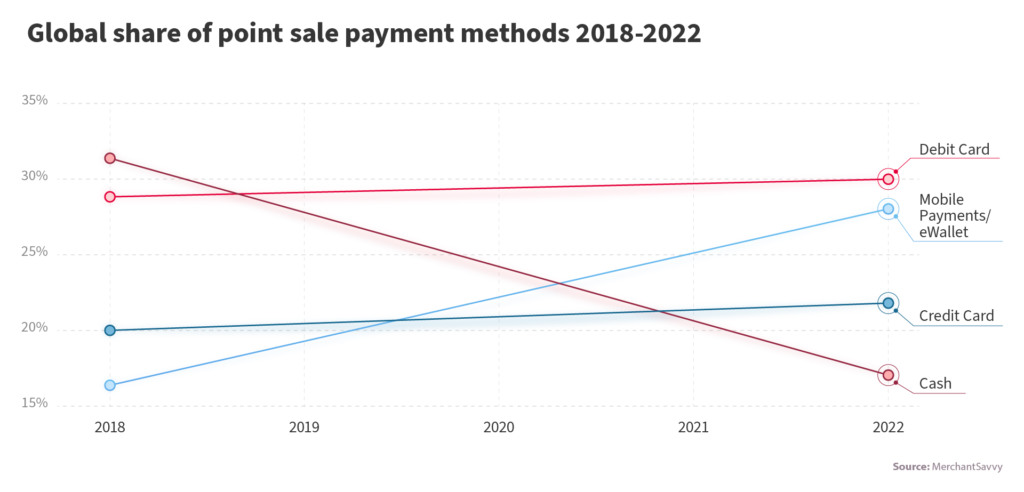 Integration with various payment systems such as Apple Pay, Google Pay, PayPal, Venmo, Samsung Pay, and others became an inseparable part and mandatory requirement in mobile app development. For many people, mobile payment is the primary way to spend their money. According to Statista, 64 million mobile wallets are in the US only, while the mobile wallets industry is most popular in China, India, South Korea, and Sweden. The United States is only sixth on this list. According to a Worldpay forecast, mobile payment will become the second most common payment method after debit cards in 2021.
Augmented and Virtual Reality
Virtual Reality (VR) is something we have heard and talked about for years, but it has only recently become more mainstream. Augmented Reality (AR) however is definitely more recent. VR for example is best known for its Oculus headsets and full 3D immersion.
AR, by contrast, has been popularized recently by games like Pokémon Go, Ingress, Snapchat and Instagram filters which combine the real world and virtual environments.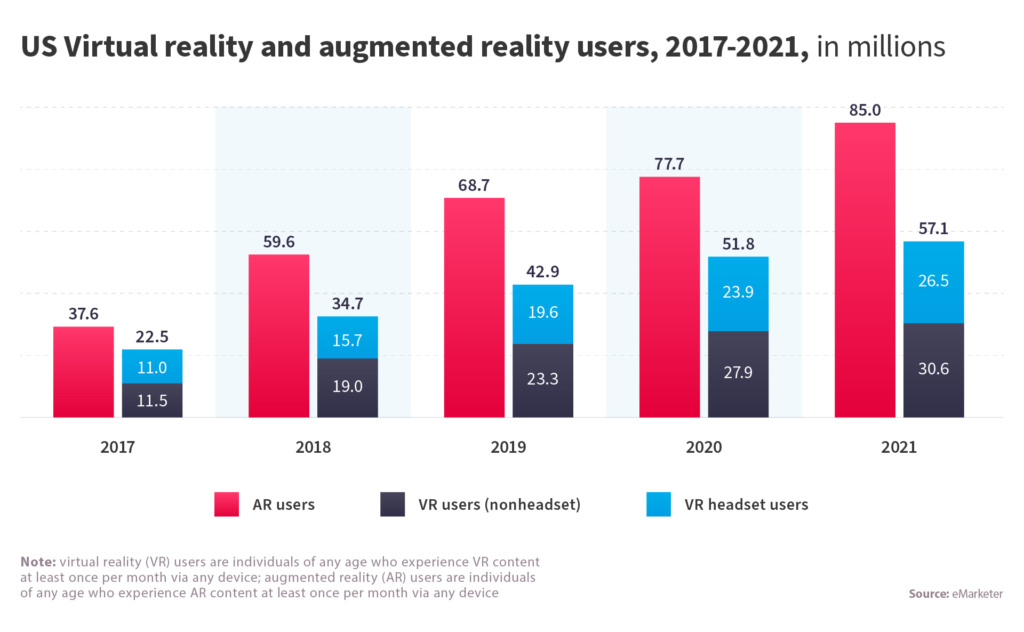 In both cases, gaming has been at the heart of their popularity but that is set to change in the coming months and years. We are now seeing AR/VR apps that can provide product demonstrations, provide customers with localized shopping guidance and even customized and personalized shopping experiences. The perfect example is the Ikea app, where you can see how new furniture will look like in your apartment, placing its 3D models before purchasing.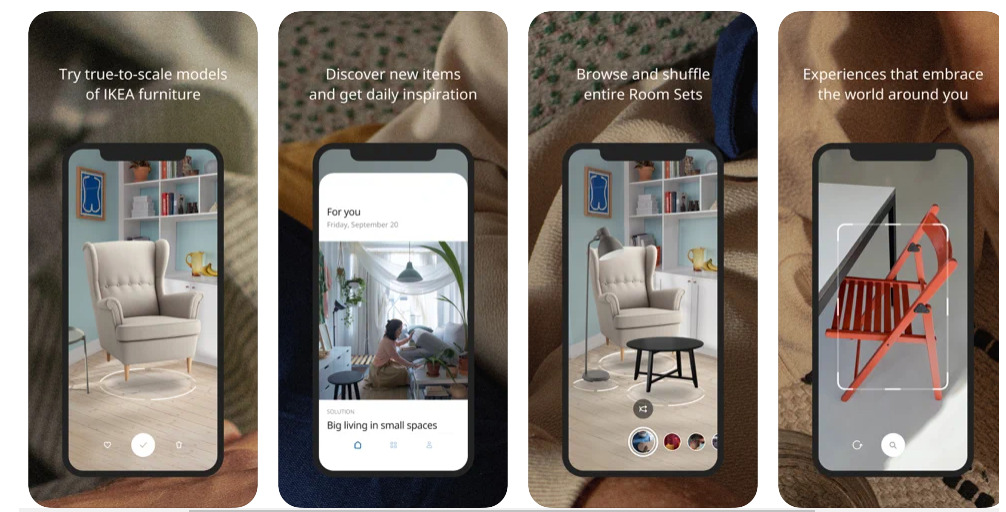 As technology continues to grow and improve, you can expect to see AR/VR helping drive customer/brand integration and also improve the overall customer experience. These technologies, primarily AR apps, also funded a vast application in the car manufacturing, transportation sector, Oil & Gas Industry. Read our post about the uses of Virtual and Augmented reality by industrial companies to learn more about this.
Rock-Solid App Security
Cybercrime is a serious problem, and it embraces not only large enterprise systems. It applies to everyone. Nowadays, people provide financial transactions and store and share sensitive data through mobile apps that put them under threat of cyber fraud actions.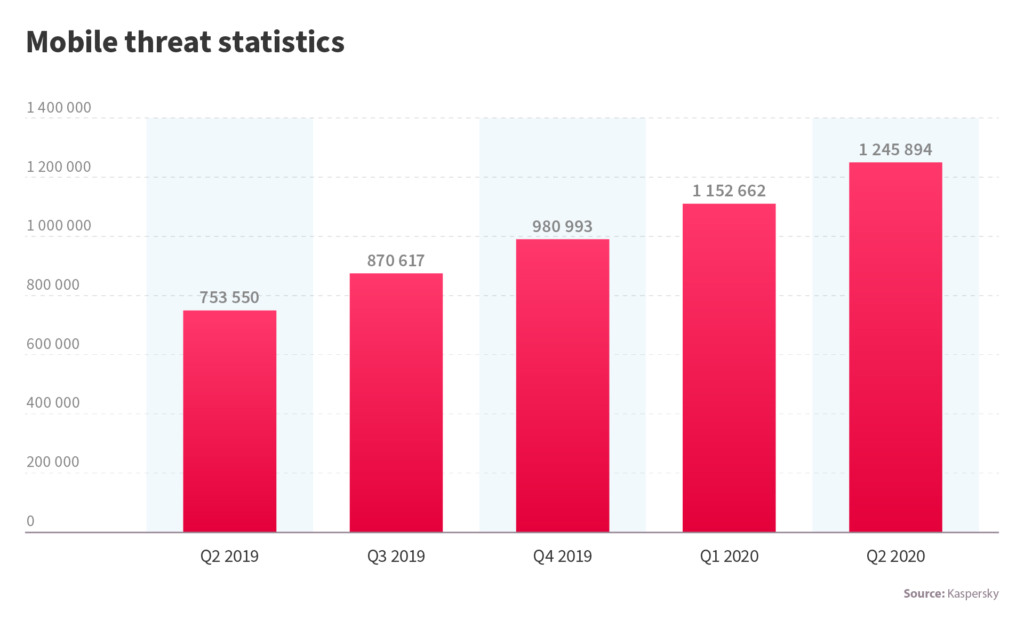 According to the Kaspersky report, the number of malware installers almost double compared to 2019. At the same time, the total number of attacks that targeted mobile devices is impressive 14,204,345 up to Q2 2020. It serves as a reason to develop cybersecurity measures in the mobile app industry. Mobile app development companies invent and implement more and more features to protect mobile users, such as two-factor authentication, link to Apple ID, etc.
Mobile devices in 2020 operate with a large amount of essential information: access to banking accounts and sensitive personal data. To save user data from malicious effect, mobile manufacturers and app development companies continuously invent new technologies and solutions such as fingertips and FaceID scanning that already became common in a few years. Given how significant mobile devices play in people's lives, solid-rock security in the mobile environment will be in trends 2021 and 2022 for sure.
Beacon Technology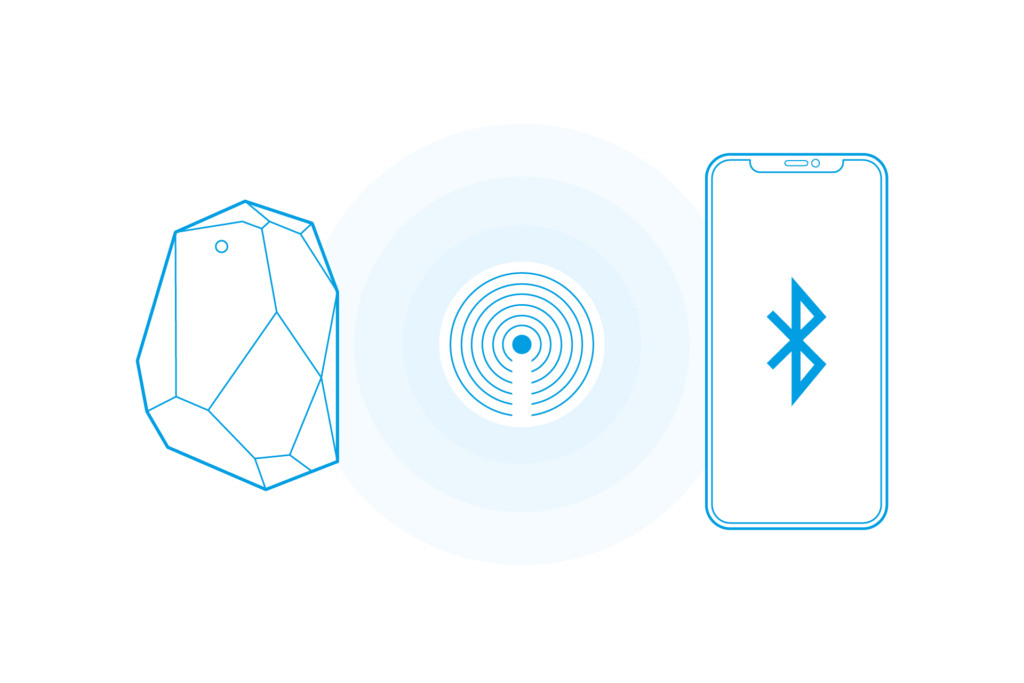 Presented in 2013 by Apple, beacon technology is relatively fresh, and not widespread yet. However, this situation will change soon. This year, Global Market Insights predicted that the beacon technology market is set to surpass $25 billion by 2024, while other resources predict the growth of $45,213.7 million by 2026.
In a few words, it's a wireless transmitter powered by low-energy bluetooth technology which spread signals to other smart devices in its radius. In 2017, Google launched its pilot Project Beacon, and it has all chances to become an instrument that disrupts advertising marketing. This technology helps marketers understand how their online efforts are linked to offline attribution and gather more useful data about customers' preferences. It provides people with more precise and valuable advertisements and enhances interaction with your target audience. If your business combines online and offline stores, you should eye on this technology.
Artificial Intelligence and Machine Learning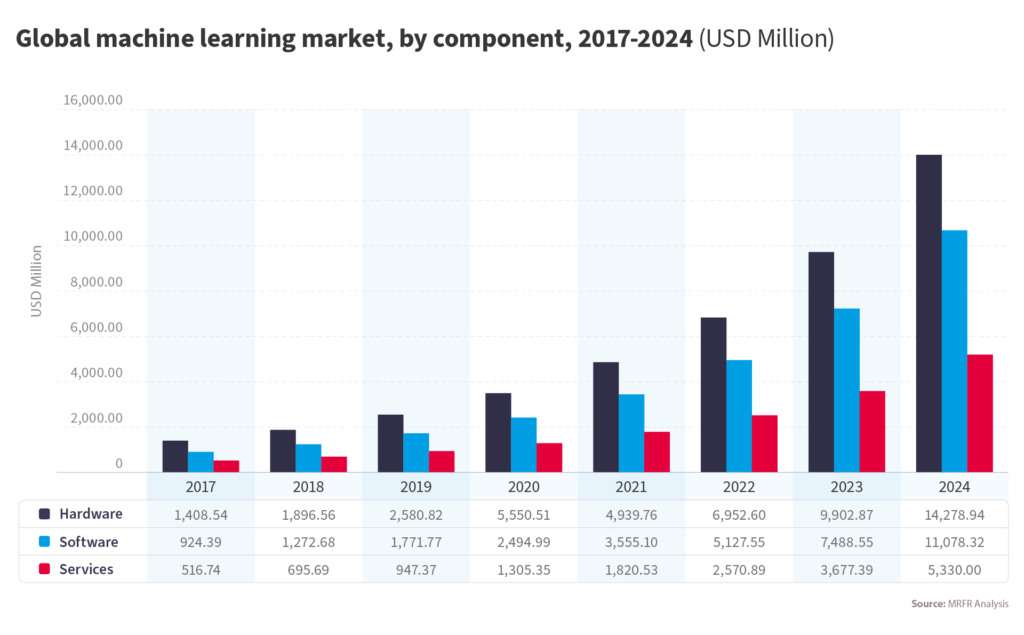 We've been talking about Artificial Intelligence (AI) for years now. Initially, it was with a sense of fear due to movies like The Terminator and others that postulated an eventual war between man and machine. While that is an extreme example, people and individuals have long feared AI and machines in terms of their jobs and employment.
According to Statista, AI software market revenue raises year by year, and will be $126 billion in 2025, AI we've come to realize is not evil, but is rather just another tool that we can use to improve our life. The advantage to AI is that it can learn and deal with complex situations without the need for human intervention. The mobile app industry already harnesses multiple AI capabilities. Automates app development process, voice recognition, machine learning predictive models, chatbots. and so on — all of these features are mainstream in 2020, and its demand will grow only.
Chatbots
Chatbots are a great example of how AI can be a benefit in the workplace. Support and service teams regularly deal with hundreds of inquiries daily. Sadly, many of these inquiries are very similar in nature which can be very tedious.
For Millennials, chatbots are a natural extension of texting. Millennials, having grown up with the Internet and responsive on-demand services, often cite calls as being overly intrusive, even presumptuous — thus their preference for texting.

— Joseph Vincze (Library Hi Tech News)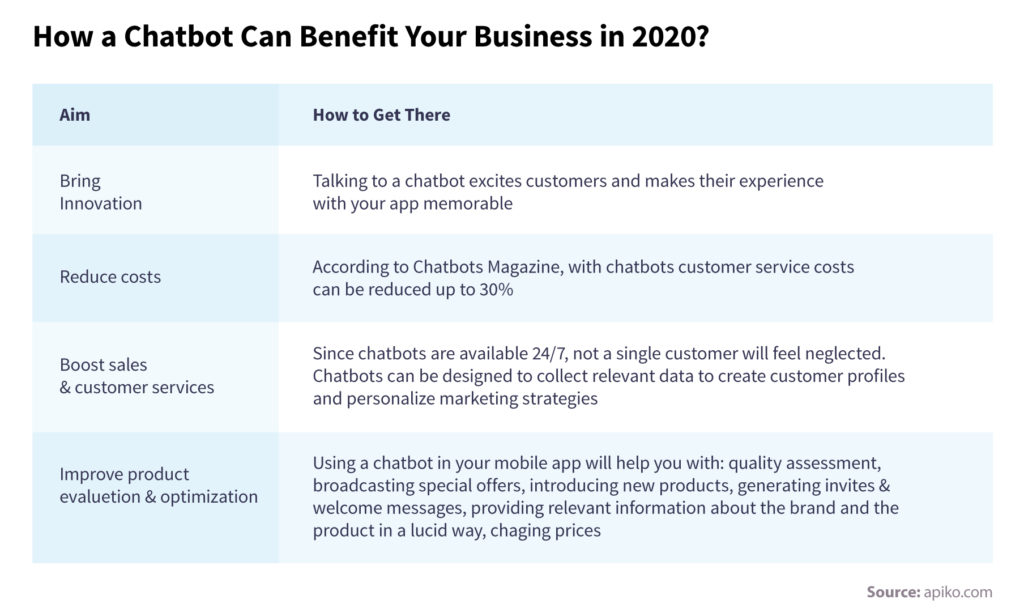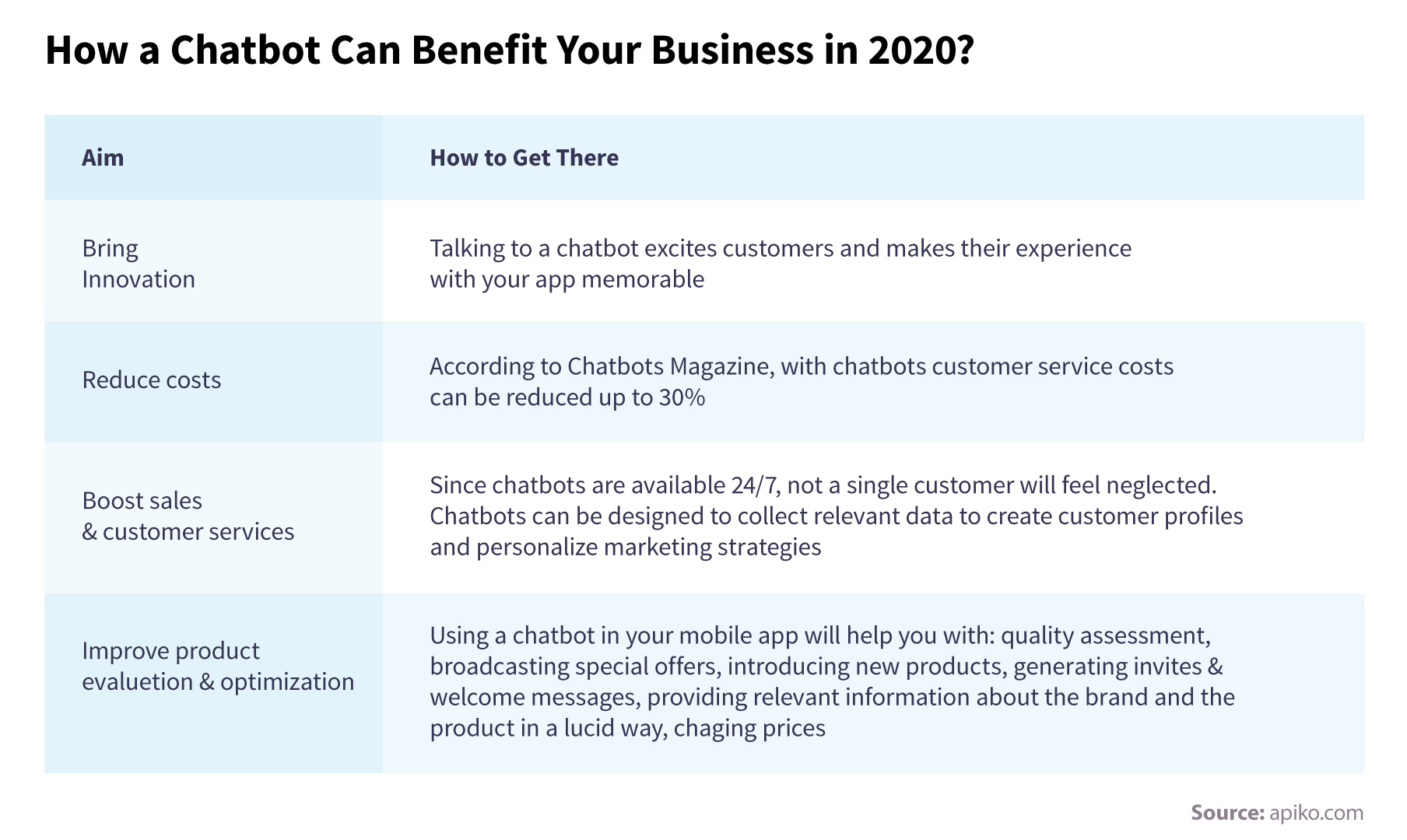 Chatbots don't get tired of hearing the same question over and over. By pairing chatbots up with company knowledge bases, they can provide consumers with useful and relevant information, freeing up human resources for more complex and critical tasks. In some cases, businesses provide chatbot support for free and charge the customers only when the human can address their issue. Other businesses created internal chatbots to automate and fasten internal procedures and processes. So the staff could have easy access to necessary information without scrolling millions of pages and getting access to sensitive information. Chatbots and their human partners are the perfect pairings and an example of how man and machine can work in synchronization.
Mobile Development for Wearable Devices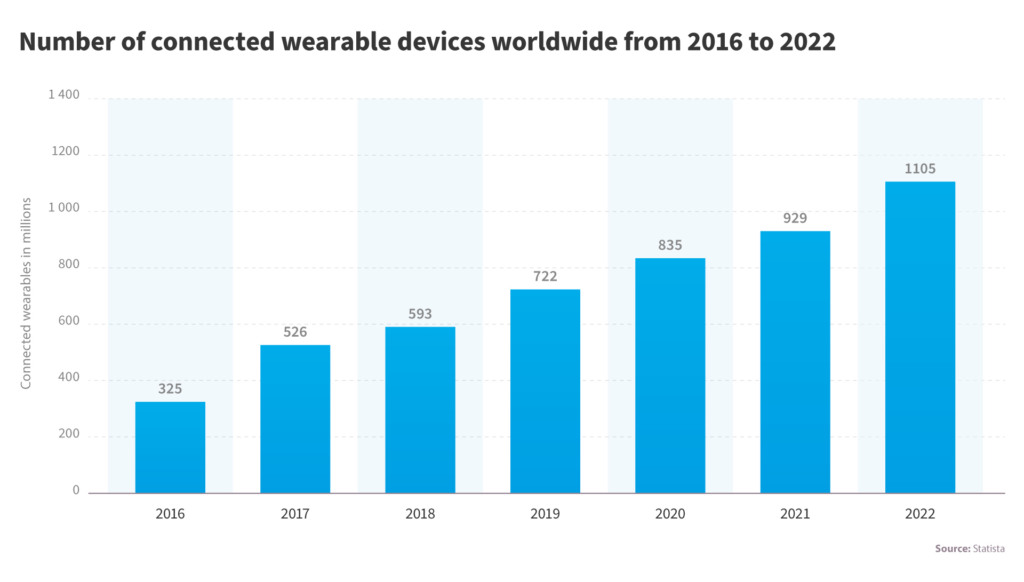 World numbers of wearable devices have increased almost three times for the last four years, and its tendency will rise only. Wearable devices such as fitness trackers, smartwatch, glasses, and headphones have become trending a few years ago and continue to conquer the world.
"In today's modern world, people are either asleep or connected."

— Janice H. Reinold, strategist at Rosetta Marketing
In addition to daily life, wearable devices found their application in healthcare, manufacturing, building, and other industries, substituting their wired analogs everywhere. The world of technological tools strives to remove wired connections where it's possible and profitable ultimately.
Another trend is synchronization and data sharing among multiple mobile apps that connect to one wearable device using different apps. The users don't have to wear several heart rate monitors for wellness apps, fitness, or telehealth applications. This enhances the app's functionality and helps avoid unnecessary competition between different device producers and software developers while significantly improving the user experience.
Cross-Platform Mobile App Development
One issue plaguing smartphone users however is the apps they use. Historically apps created for iOS devices would not work on Android and the same in reverse. This often forced customers to stay on a platform they might have wanted to leave simply for fear of losing the apps they had grown accustomed to.
Cross-platform mobile app development solves that problem. New mobile apps can be built on a single codebase that is accessible across different platforms. With this capability, users can transition between different operating systems without having to worry about losing access to their favorite apps and information. Smartphones are everywhere and only growing in popularity so having this capability is almost a requirement now. To learn more about the two most popular cross-platform technologies – check out our comparison of React Native and Flutter.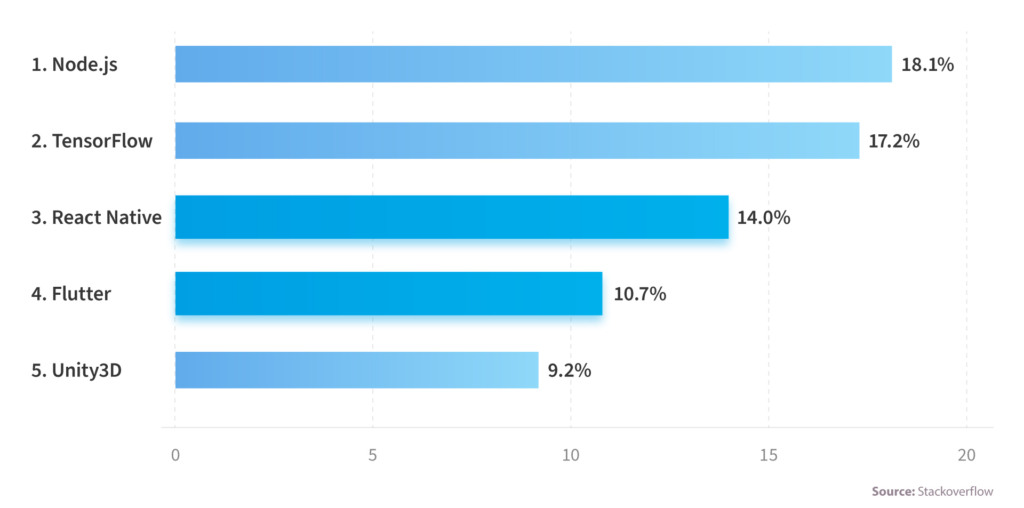 According to the Stackoverflow survey based on 65,000 interviews, React Native and Flutter are on the 3 and 4 places in the list the most demanded to learn frameworks, libraries, and tools. Compared with 2019, React Native stayed on its positions, while Flutter rose from 6 to 4 place in the chart.
5G
5G Global Map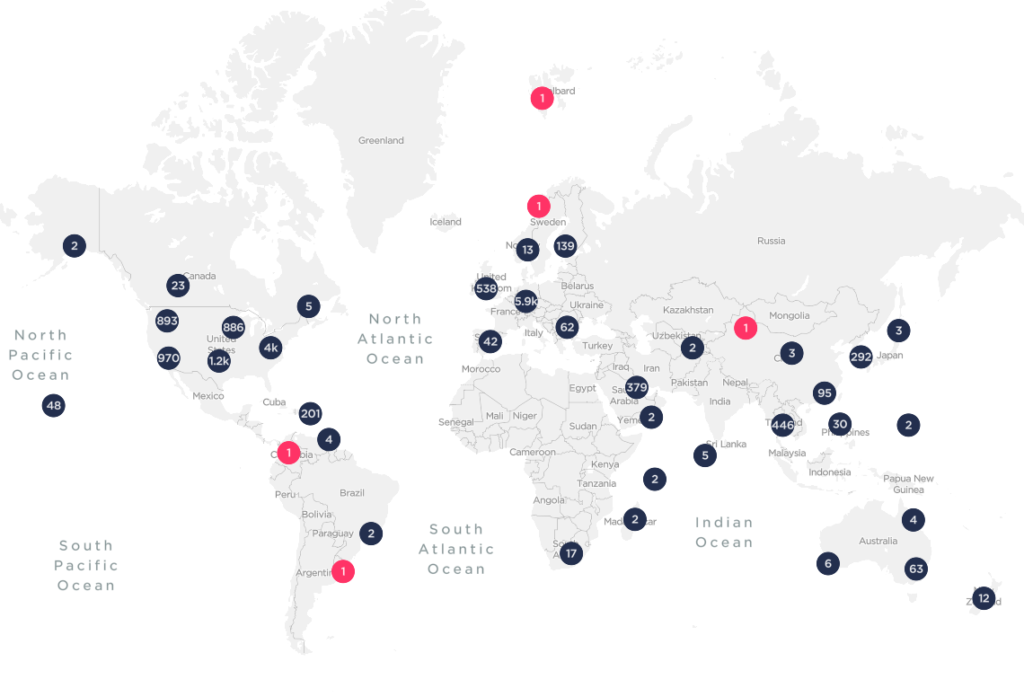 Source: OOKLA 5G MAP
Some of the technology we have long been talking about has been lagging behind. This includes things like smart cities and the long-awaited autonomous vehicle (aka self-driving car). One requirement for both is an increase in internet speeds and overall connectivity. 5G is the expected solution to this problem.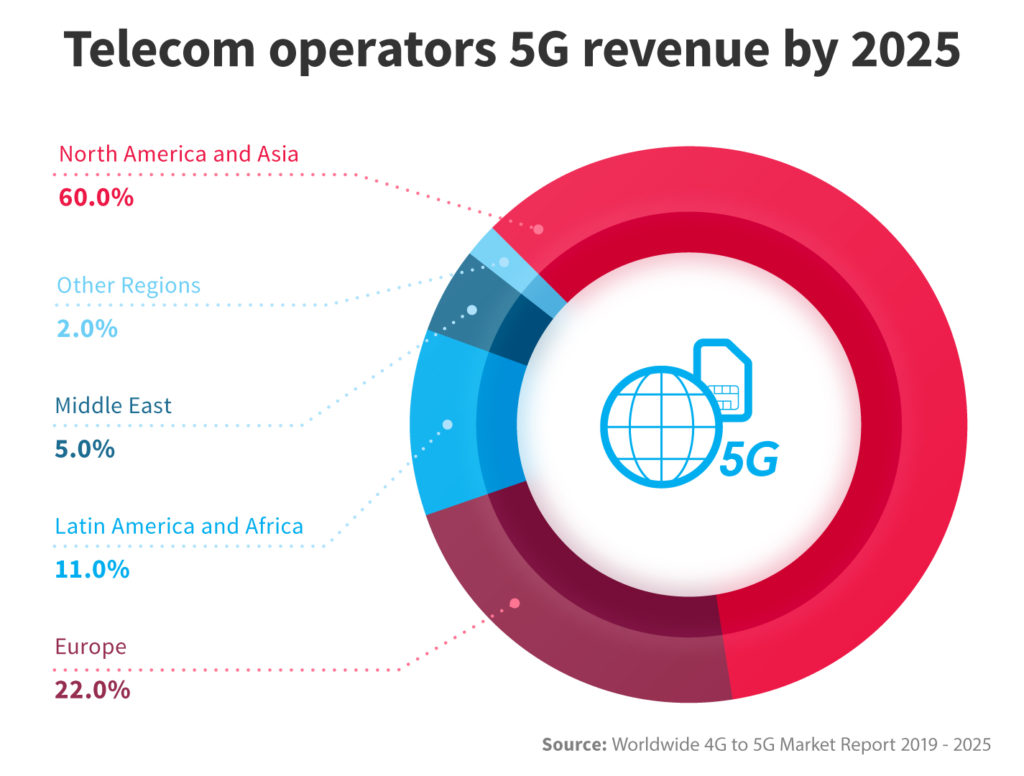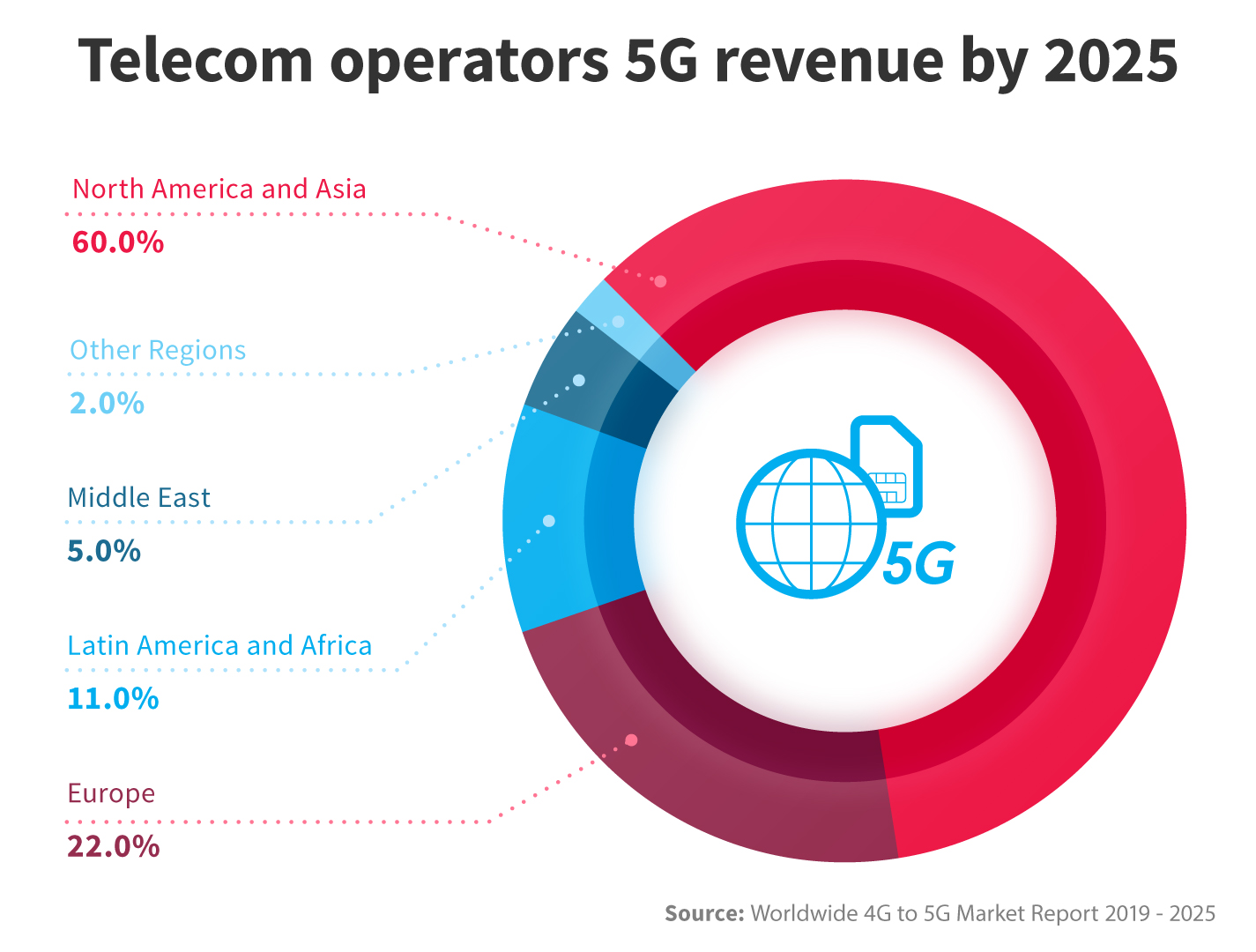 5G will not improve our ability to stream content and share video, but paired up with different sensors, will radically change the way we commute, live and work. 5G connected sensors for example would allow a vehicle to not only plan and map out a route accounting for associated traffic conditions but also track hazards along the route that could impact its passenger.
Conclusion
2020 is a year of change both socio-politically and technologically. Many trends and technologies that have been long-awaited are starting to finally make an impact on our companies and businesses. Some of this new tech will completely change the way that you live and businesses will help open up new markets that were previously inaccessible. Customers' expectations continue to grow and businesses now have to keep up with them by implementing more smart features and employing breakthrough technologies into mobile applications.
At NIX we understand technology and business. We know how to marry the two together in an ideal partnership that will help you succeed. If you are interested in innovation and being a leader, contact us for help.