Flutter vs React Native
blog
Technology is constantly changing and evolving. The internet itself can trace its evolution to the early 1990's but since its inception, the speed of progress continues to increase. More recently smartphones and mobile devices have seen similar growth. Companies today are required to have mobile apps to ensure that their consumers receive the services they must have.
One way that this function is realized by businesses is through the development of language used in creating apps. Two different languages that have grown in popularity are Flutter and React Native. 
UI and API
Creating cross-platform apps continues to grow in popularity, but when developing these types of mobile apps, it is essential to consider native components. To ensure that this support is correctly enabled, it is critical to have a correctly configured API. 
When comparing React Native and Flutter, there are a couple of areas where they are similar – for example, they both offer cross-platform support, but in many other areas they are polar opposites.
Flutter, for example, includes a host of libraries, but with React Native you will need to obtain these 3rd party libraries separately. Similarly, Flutter supports multithreading which is not an option with React Native. 
From a positive point of view, however, React Native is possibly the more dynamic framework with a powerful and flexible API for 2D and animation. Flutter has its own positives at play though and works with proprietary widget sets that enhance customization. In addition, it embeds a full set of widgets of material design and in Cupertino. Flutter also comes bundled with UI rendering components and offers a hyped and a reactive framework.
Developer Community
One key measurement when it comes to choosing the right development framework is the size of the community. Having a robust user network helps ensure that issues and concerns are addressed in a timely manner. In addition, a larger user community provides a forum for feature development and enhancements.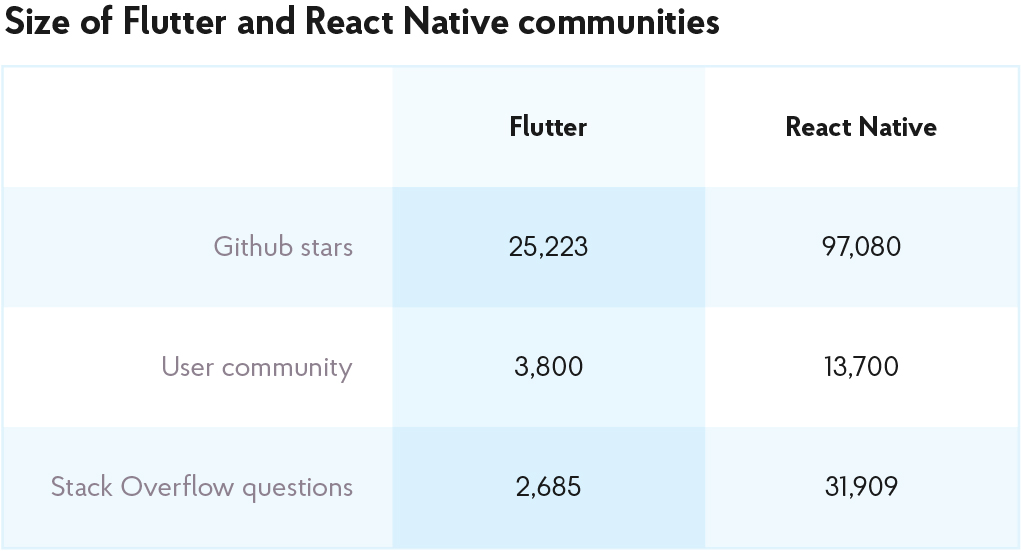 When comparing Flutter vs React Native, React is in the lead with the number of Github stars. React Native has over 97 thousand stars in comparison to Flutters 25 thousand. Similarly, the size of the user community for React Native is close to four times as large for React Native. Finally, React Native has almost 12 times the volume of stack overflow questions in comparison to Flutter, which truly demonstrates an engaged community.
One key point to note though is that React Native has been on the scene since 2015. By contrast, Flutter was only introduced by Google in I/O 2017. It has shown an astounding amount of growth in the short time that it has been on the scene, but while Flutter is growing in popularity, it does have an uphill battle to catch up and overtake React Native.
Development
Development between the two frameworks is an area where they both vary widely. Flutter offers a built-in navigator that helps to simplify the process for newer developers. By contrast, React Native is created for skilled developers and requires a certain level of knowledge. This does, however, lead to a reduced development timeframe which is a significant positive. Generally speaking, skilled developers praise the efficiency of development in React Native based on the availability of ready to use components. This speed of development could change over time as Flutter becomes more robust.
Code Reusability
When it comes to reusability this is an area where both React Native and Flutter bear a significant similarity. Both platforms allow reuse between different platforms and the web and in addition, Flutter can be further enhanced to support other native languages like Swift and Java.
Native Appearance
When it comes to native appearance, Flutter works without the use of additional APIs unlike React Native and in fact, the framework does all of the work to bridge the divide between the device and the codebase.
React Native offers JS code that is compiled to the native code, invoking objective-C and the Java API. This helps display native components in iOS and Android and also provides direct access to native functionality.
Performance
React Native has a significant fanbase of skilled developers and has been successfully used in projects from small to massive for organizations like Facebook, Instagram, Skype, and Walmart to name just a few. 
Now while this fanbase is a positive factor, many of these fans will acknowledge that creating hybrid applications in React Native is more difficult although the hot reload feature is impressive with its ability to make changes on the fly.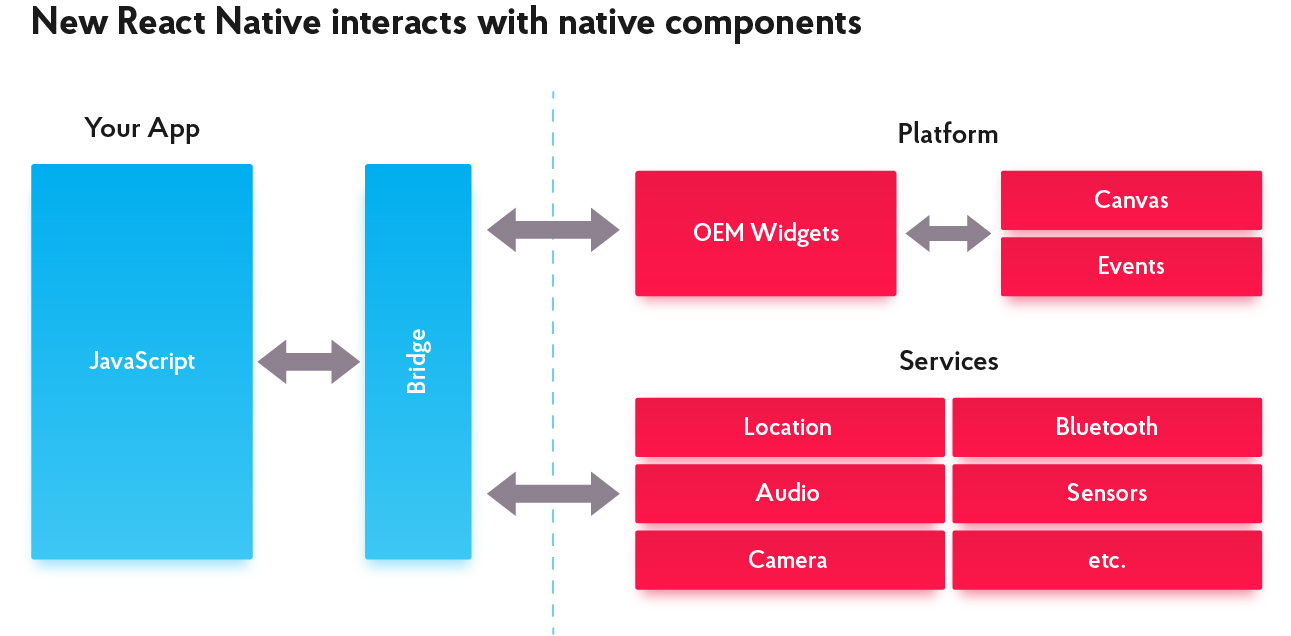 With Flutter, however, developers do not have those same limitations – the C++ engine helps to support the language flawlessly. In addition, Flutter can be leveraged easier due to the underlying Dart framework. This leads to smooth and fast apps thanks to FPS animation standards with its accompanying Skia graphics library.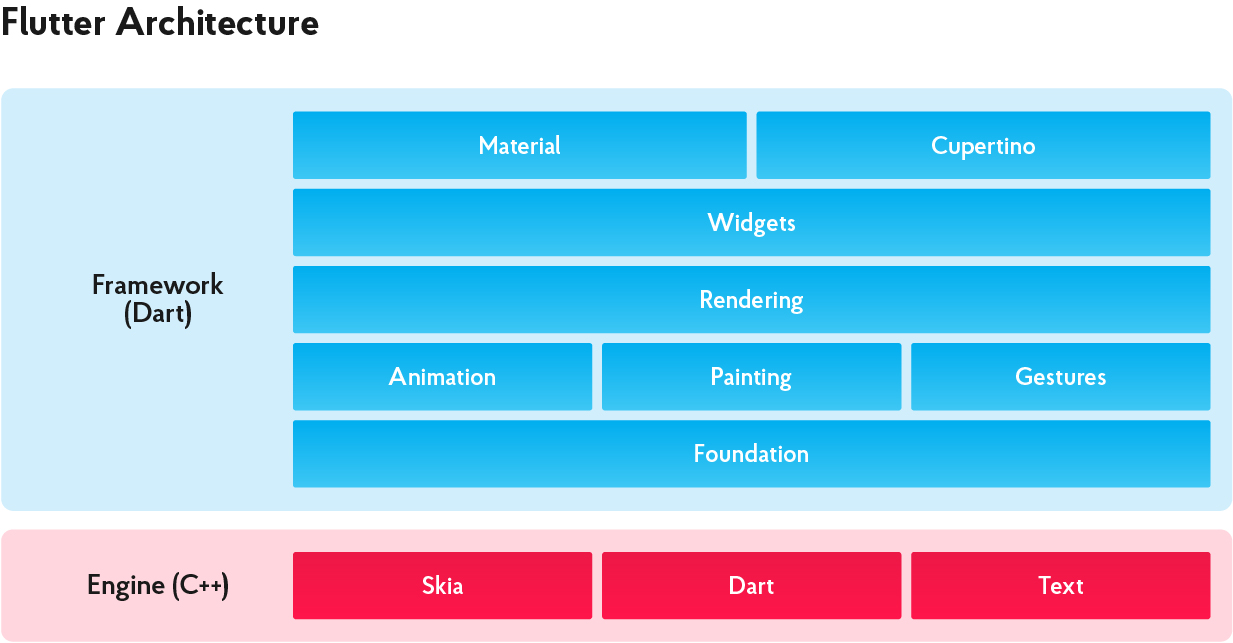 Flutter with a smaller but growing fanbase also has some fairly massive organizations in its back pocket when it comes to users with GoogleAds and the Hamilton Musical app figuring prominently on the list.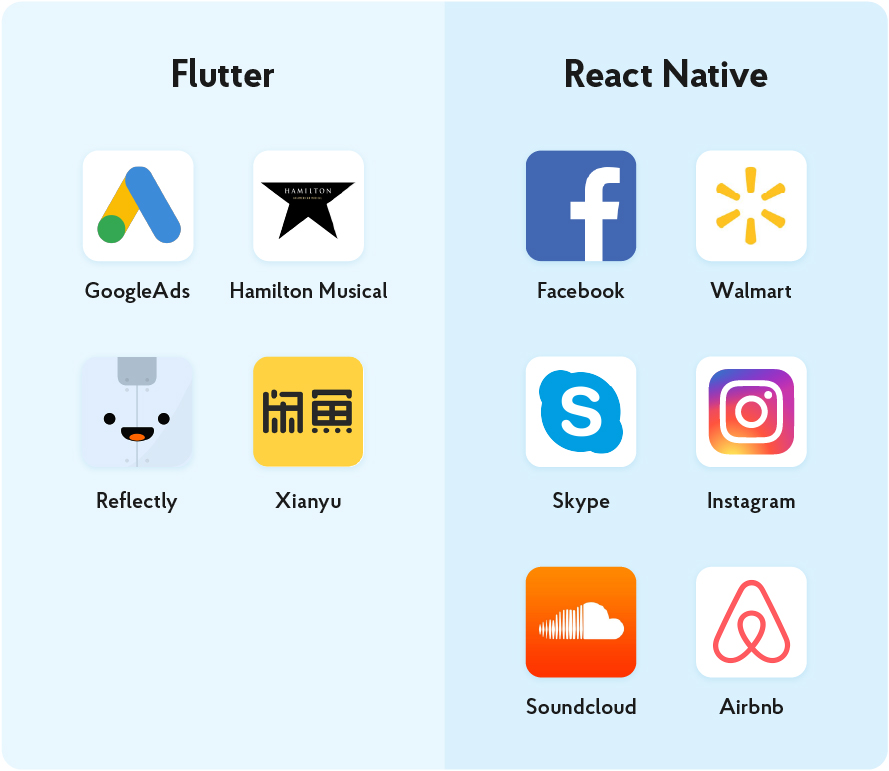 Documentation and Toolkit
This might be an area that React Native falls short. React Native with its larger community also has a dependency on that community for support. It does not have official documentation for iOS or Android at all. By contrast, Flutter has excellent documentation that can help developers solve issues.
Analysis & Results
As you can see, both of these frameworks have distinct plusses and minuses that can make choosing just one difficult. From the point of view of stability and features, at the current time React Native is a leader. However, Flutter is growing rapidly and it is not hard to envisage a time in which both frameworks could operate on an equal footing. In the short time that it has been available, Flutter has become a solid competitor to React Native.
Developers have a choice to make as native apps are still generally faster and more responsive than cross-platform ones like Flutter and React Native. In addition, they currently provide a better user experience also. 
However, as time progresses, this distinction might disappear. Both React and Flutter offer convenience and if an eventual clear winner is ever declared, a significant user community to help further the growth and development of the chosen framework.
Conclusion
Choosing the right framework is only a small piece of the puzzle. More importantly, is the selection of a partner that can help you bring your business vision to life. At NIX we have hundreds of developers skilled in both React Native and Flutter as well as native apps. We have helped build different apps for companies around the world and we can help you achieve your goals also. Contact us so that we can work with you on bringing your goals to life.