What is Learning Management System: LMS Functions and Features
blog
Within organizations today, having a means of tracking skills and knowledge is essential. This is where a Learning Management System or LMS comes into play. LMS platforms are not new. They've been around for many years already, with a market size estimated to be close to $8.76 billion in 2019. Since their implementation, enterprises have come to realize their benefit and it is expected that the market size for LMS products will be close to $38 billion by 2027.
Businesses of all sizes around the world have used learning management systems with their teams. However, LMS platforms are not only used in the corporate world. They're also very popular within the education sector, with coaches and training facilities, as well as with higher education institutions like colleges and universities. In addition to the private world, LMS platforms are also used within the public sector. Here, you can expect to see learning management systems being used in regional government offices as well as more international organizations like the United Nations.
Regardless of the business sector or function, LMS platforms are instrumental in onboarding new employees and upskilling existing staff where they help enrich and enhance the overall training experience. These systems can be software-based or in the cloud as a SaaS solution. An LMS can be defined as follows:
(L) Learning – used as a tool to deliver targeted training to employees, customers and partners
(M) Management – helps manage the training progress and course material
(S) System – unified location for all information and content
Within an LMS, the teams responsible for learning and development activities have all the tools they need to best track progress against goals.
An LMS has two parts that have different functions. The admin interface is where course material is created and managed. Here, the course administrator can add different learners, review course success, and more. The user interface is a lot more flexible and can generally be accessed by any web browser. This means that users can access an LMS from any device and are not restricted to a specific platform.
Learning management systems are used by private enterprises as well as government and educational institutions and help drive efficiency in learning. When considering an LMS system, some of the key LMS features that must be present include the following:
Ability to handle multiple users at the same time
Ability to offer reports and analysis for teachers and facilitators
Ability to offer features like gamification, learning badges, and certifications to encourage learners
Ability to automate test scores and integrate with other internal HR systems for performance management
Ability to build content within the system or upload content to the system
Ability to offer live classroom solutions to users with all applicable branding
Ability to access content on mobile devices
Content:
LMS Use Cases
With a learning management system, there are many different use cases that help to prove their worth.
Employees
Whether it is helping to onboard new employees or creating personalized training and improvement plans for existing employees, LMS systems are critical. Courses provided can run the gamut from work skills to more people-oriented soft skills, like diversity and harassment training.
An LMS helps onboard new employees faster, making sure they are effective within an organization on time. In addition, when job expectations change or the function changes entirely for technical reasons, an LMS can be used to retrain existing employees. This helps with employee retention and the overall customer experience.
Customers
Customer training is another useful use of a learning management system. By providing your clients with clear, simple, and easy-to-follow instructions on how best to use the product or service or new functions, you're more likely to reduce escalations and support requests. Also, training helps your clients understand new features and gain the knowledge and skills they need to most effectively use the product. This helps to drive customer retention into the business.
Sales and Partner Training
Salespeople need specific training that is different from others within the organization so that they can best explain to prospects how a product or service will meet their needs and requirements. With an LMS, salespeople and partner resellers can gain the unique knowledge they require, making sure they are best able to close the deal.
Remote and Distance Learning
COVID changed how people work and learn dramatically, making remote access a necessity for many. With an LMS the impact of this transformation can be minimized. Employees and students can still gain access to the same information as to their peers simply through a different digital medium.
Teachers and trainers can use the tools available through an LMS to create structured training plans that are targeted and focused on the unique learning goals of the individual. Through the use of reports, they can understand where training needs to be changed to better address deficiencies and gaps.
LMS Benefits
A learning management system features many benefits, which vary based on the point of view.
Employee Benefits
For an employee, an LMS provides a platform that is easily accessible, which provides a means of learning on the go. Employees also benefit from targeted, self-paced training that they can do over and over to gain the relevant skills they need to succeed at their job.
An LMS portal also provides employees with a place to gain complementary skills that can help make them more effective. This includes soft skills like time management, leadership and more.
Another employee benefit of an LMS is the accessibility it provides. Employees are not forced to attend a specific location to obtain training. With an LMS they have the flexibility to obtain training regardless of their location.
This freedom can help motivate employees and when paired with gamification elements, LMS platforms become even more powerful. In fact, with the ability to use a variety of different devices, including smartphones and tablets, learners can complete courses 45% faster than through traditional methods.

Employer Benefits
Business benefits to learning management systems are primarily focused on improved efficiencies and reduced costs. Using an LMS helps organizations speed up the onboarding for new employees, making them more useful faster. LMS platforms can combine information from multiple sources helping employers create a single, secure location for all corporate training.
The depth and breadth, of course, offerings available through learning management systems are unparalleled. Organizations around the world are taking advantage of a variety of different courses to help their employees become more skilled. Google for example has enrolled 80,000 of its employees in an HTML 5 course that is available through Udacity.
Employers can use LMS portals to save significant funds in training costs as they can reuse the training materials they've developed for their learning management systems over and over. If information needs to be updated, it is simple and easy to update it on the fly ensuring all attendees consistently get the most relevant information.
LMS features and benefits for employers also include the ability to create employee-specific progress reports. By tracking all knowledge and skills in a single platform, employers can understand how best to upskill employees. Also, using LMS platform tools can provide employers with knowledge about the best way to train employees, helping employees improve their overall success. By using an enterprise learning management system in this way, employers are better able to focus on employee development and retention.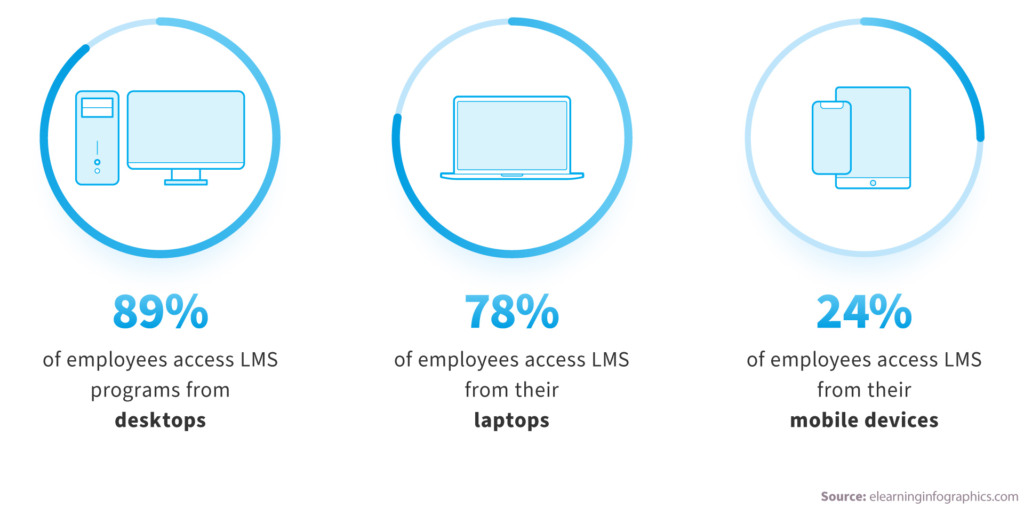 ROI of LMS
When considering a learning management system's features and benefits, return-on-investment or ROI is near the top of most enterprises' lists. When considering the ROI of an LMS, look at both the hard cost savings as well as the underlying revenue benefits.
Hard cost savings to consider include the reduction in costs for traveling to and from a facility for the learner. From a provider's point of view, you want to think about reduced costs for facilities, as well as the reduction in fees paid to instructors and educators. Finally, think about the cost of materials— learning management systems provide a centralized repository of knowledge, removing the need to print out training manuals and other documentation.
Revenue benefits are somewhat harder to quantify, but are just as real and need to be accounted for in any ROI calculation. Some revenue benefits to consider include the time saved based on improved learning methods. This timesaving leads directly to improved efficiency and productivity, including time spent doing work versus time in training. Another revenue benefit is overall customer loyalty, based on a more engaged and knowledgeable sales and support team that is better able to meet their needs.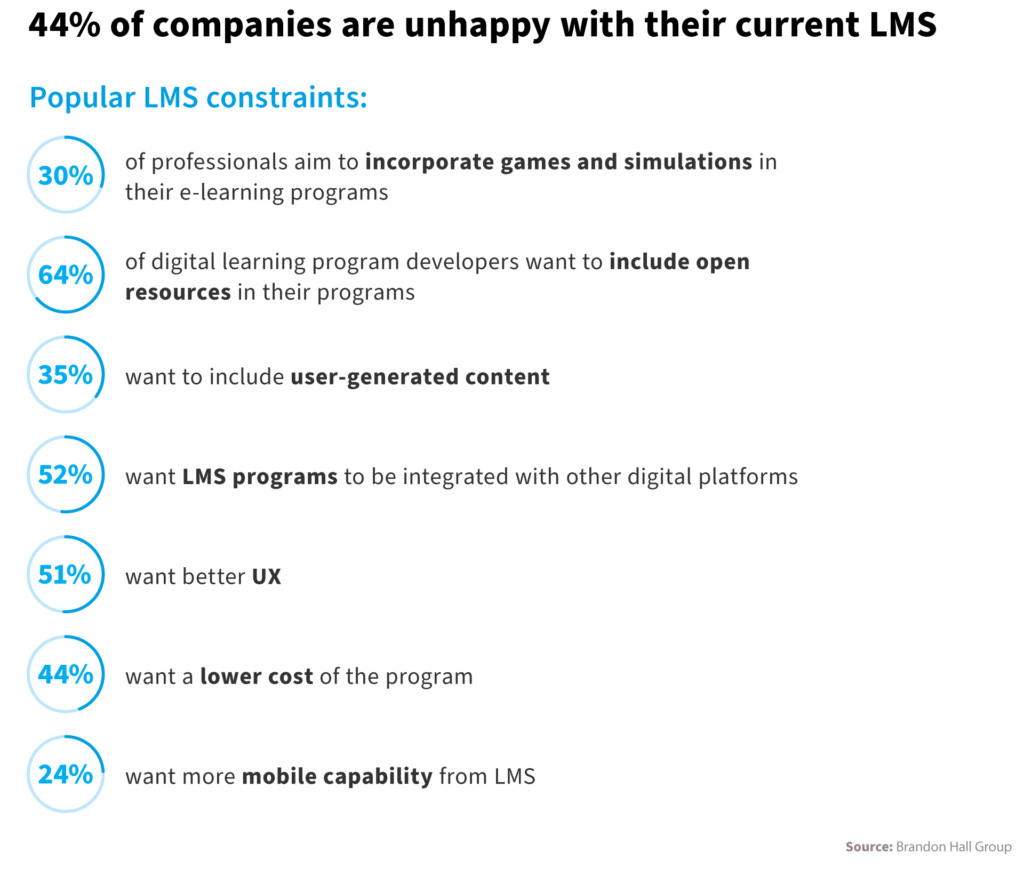 Summary
Selecting the right LMS solution for your needs can be a complicated process. When selecting the right solution, try to understand if an off-the-shelf solution will meet your needs or if a custom-built, bespoke solution is a better fit. Try to understand your specific use case to understand your requirements and then work backward to understand what functions your LMS needs to have for it to be successful.
Finding the right partner that can help you understand what you need for your business and your users can be extremely helpful. Your selected solution needs to not only meet your current needs but should also scale with you as your business grows.
At NIX, we understand how business and technology work together. Our team can work with you to understand your needs and requirements and help you build a solution that will meet your needs now and in the future. Contact us to find out how we can help you.