How to Write a Perfect Business Plan for a Mobile Application
blog
The mobile app industry is booming and growing year after year. With millions of apps offered by iOS and Android marketplaces, creating a successful mobile solution is becoming increasingly more challenging. According to HBR, entrepreneurs who write formal plans are 16% more likely to achieve viability than the otherwise identical non-planning entrepreneurs. However, just composing a mobile app business plan will not automatically guarantee you success. Still, it will help you avoid common mistakes and prevent some of the hidden pitfalls on your way. In this article, we will go over the importance of a business plan for a mobile app, discuss its structure, and learn how to check the viability of your idea.
Contents:
Why Is a Mobile Application Business Plan Important?
To create a successful mobile app, a startup business plan is a highly recommended artifact. Let's find out how exactly a business plan will help you start a mobile app business and what you will learn and obtain during the application business plan creation.

1. Understand the Ins and Outs of the Market
A business plan involves in-depth market research, competitor analysis, and target audience detection. The lack of knowledge about how the market functions, specificities of the mobile app industry, and competition can put your idea on the list of app failures. Even if you come up with a brilliant mobile application, if no one wants to buy, you will fail very quickly.
How to make sure there is room in the market for your idea? Start by examining your main competition and establishing whether your app has a competitive edge to win over customers. Also, research your potential user base to determine whether they want and can purchase your product.
2. Conduct Thorough Risk and Opportunities Assessment
Risk and opportunities management (ROM) is a vital point in every project. Professional and thorough ROM allows you to identify all the potential risks, calculate their likelihood and magnitude. Knowing the risks that might occur, their possibility, and consequences can help you mitigate or even altogether eliminate them. A mobile app business plan template always includes a risk assessment in some form (ROM or SWOT-analysis) and increases your chances of avoiding risks.
3. Develop a Monetization Strategy
There are a few monetization strategies that app development companies can choose. A monetization strategy will determine when and how your app will generate income and how quickly your investors will gain money from their investment. Suffice to say, the financial section is a crucial part of any business plan and should be taken very seriously.
4. Avoid Common Mistakes
Many startup business owners face a lot of obstacles on their way to success. However, having a blueprint of your future organization drastically reduces the possibility of making crucial mistakes. During the app development business plan creating phase, you will have to investigate your idea, learn the target audience and the intricacies of the market itself. Doing this extensive research will help you learn from your competitors, explore failure and success stories, and prepare for common issues and obstacles. 
5. Prove the Viability and Feasibility of Your Idea
A considerable part of a business plan is financial goals and projections. Calculating when and how your app will generate income will help you realize the actual feasibility of your application and estimate when your app will overcome the break-even point. Besides, to create a viable business plan for a mobile app, startups require a prototype or MVP. We will discuss MVPs in more detail further in the article and show you how they can prove or disprove the viability of your app idea.
6. Work Out the Goals and Benchmarks
Measuring the success of an idea is impossible without the concrete and clear KPIs, benchmarks, metrics, etc. Developing a business plan entails identifying the short-term and long-term goals and the metrics for measuring performance. Establish the most relevant KPIs for your app idea: active users in a given time, costs for user acquisition, ROI, retention and churn rates, etc. 
7. Attract Investors
The first thing your potential investors will want to see is a business plan. Moreover, the first paragraph of the plan should persuade them to keep on reading. Especially the financial part of the document should provide effective plans and strategies to convince them of your high ROI potential. A competent business plan and working MVP are the best tools to intrigue inventors and convince them that putting money in your business is the right move.
8. Attract Co-Founders
Sometimes getting funding from investors could be challenging, especially for new and unconventional ideas. At the same time, unconventional ideas are the ones that disrupt the market and create something new and exciting. If you cannot convince investors to support your project, your business plan may allure potential co-founders to become a part of your team.
9. Calculate the Right Time for the Release
There is so much that goes into project planning, and figuring out the perfect timing is one of such considerations. Imagine launching a travel app in January 2020! Timing is crucial, and identifying the right time, season, and location to launch your app is essential for your success. During the market analysis phase, you will have to research the industry's opportunities and find out when to release your app.
10. Check the Legal and Regulatory Challenges
The importance of pinning down the regulations and rules of your country is a vital part of any mobile app development project. Besides familiarizing yourself with data privacy laws like GDPR, learn the rules related to your industry. For example, in fintech, you need to explore the financial regulations of your location. This part plays a major role in the company establishment and might impact your chances of getting funding.
6 Components Your Mobile App Business Plan Template Should Include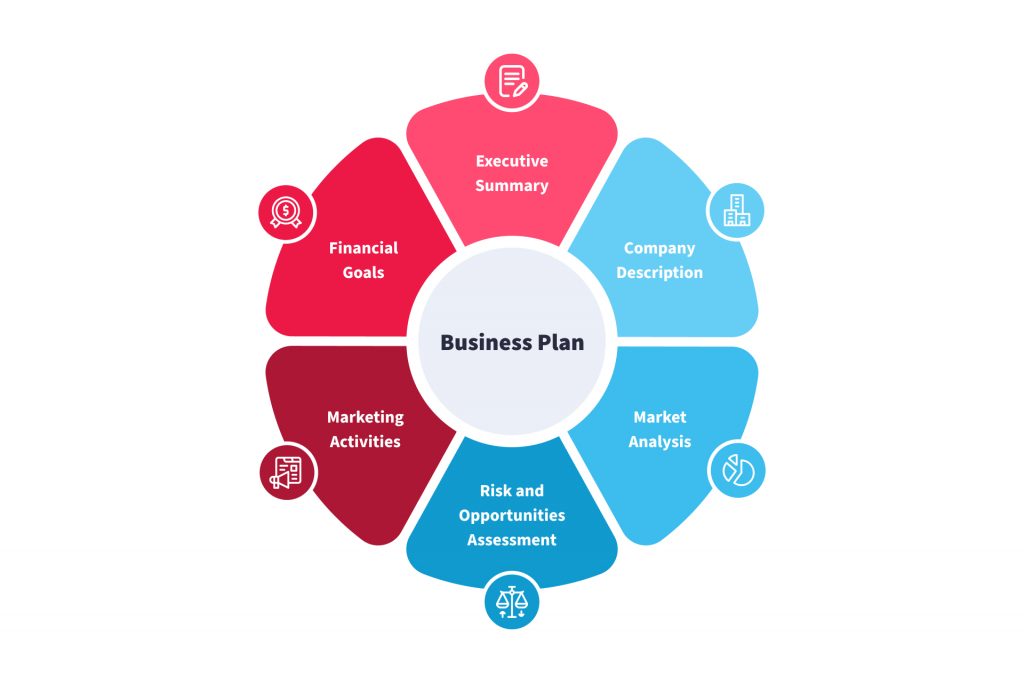 The importance of writing a business plan for a mobile app cannot be understated. A professional business plan is a blueprint you will be using for years and years to come, not to mention the investment potential you will gain from it. In this part, let's dive into the most imperative sections of a business plan and learn how to make a business plan for an app that will spike investors' interest.
Executive Summary
The executive summary is a relatively concise description of your application that includes the market situation, target audience, and product information. As this part is the opening section of the document, the most important thing is to make it stand out and grab readers' attention. Focus on the unique selling proposition and tell your potential investors about your company goals. Every sentence of the executive summary is there to convince the reader to keep on reading.
Company Description
Now when you have the attention of the potential investor, tell them about your company. Start with the history of your business and the type of the business model and structure. Follow up by describing your team, their experience, responsibilities, and accomplishments. Finally, go over your mission to convey the values and voice of the company.
Market Analysis
The market analysis includes the research of the current state of the target market as well as forecasts. In order to provide market forecasts, you need to identify influencing factors that drive the market. You can determine the factors based on extensive market research and analysis. The goal of market forecasts is to measure the spending potential as well as patterns that occur in this particular industry. As a result, you will understand your place in the market and develop business plans and strategies using actual data and not your assumptions.
This part also includes identifying your target audience and researching their needs, interests, requirements, pain points, etc., in order to come up with potential solutions. In the software development realm, the target audience is often referred to as user persona. Describe your persona: their occupation, gender, hobbies, challenges, interests, behavioral patterns, and more. The more you learn about your potential customers, the easier it will be to reach out to them.
Risk and Opportunities Assessment
A useful method of analyzing risks and opportunities is conducting a SWOT analysis. Write down the strengths, weaknesses, opportunities, and threats of your business. Prioritizing and assessing your risks will give you a chance to eliminate them and create a data-driven business strategy. Besides, knowing your limitations will help you navigate your strategies and convince potential investors that you are aware of your place on the market.
Marketing Activities
Use your previous target audience research to plan marketing strategies that will help attract them to your product. Identify the channels you will use to reach your users, such as email marketing, referral programs, SMM, etc. Finally, calculate the cost of user acquisition of various channels to decide which methods are the most cost-effective.
It is also recommended to create a landing page for your product to give users an idea of what it is about. Landing pages do not require a lot of funding or deep technical expertise and act as a perfect way of reaching out to your target audience.
A marketing strategy also entails a list of metrics you will apply to measure the success of your marketing campaigns. They could include conversion rates, app installs, click-through rates, and others. Make sure to set measurable, attainable, and specific KPIs to collect meaningful data for future marketing activities.
Financial Goals
The financial part of our mobile app business plan example consists of two parts: funding required and monetization strategy. The former includes the costs of running a company, such as utility bills, emergency costs, etc. This part should also entail the costs of app development.
The costs of developing a mobile application vary depending on the app complexity, several basic and custom features, platform choice, and location of the development company. Create a thorough cost breakdown of the entire development process, including the discovery phase, coding, testing, maintenance, hiring costs, salaries, etc.
The second part goes over the ROI estimates and describes your monetization strategy. Usually, investors expect three and five-year financial forecasts, including profit and loss, cash flow, valuation, etc. Depending on your app idea, you may use one or several monetization strategies to generate income:
In-app ads to keep your application free yet generating a stream of income.
Paid application is a strategy most suitable for iOS smartphones as iPhone owners are more willing to purchase apps.
In-app purchases allow users to try out a free version of the application and upgrade for more features.
Subscription, i.e., monthly or yearly fee users pay to get access to your application.
Financials is the pivotal point of any business application as it is where investors make their final decision. If you are unsure about the most suitable monetization strategy as well as app accurate development cost calculation, contact NIX United. Our team will help you compose a business plan for the mobile app concept that will increase your chances to get funding and help you foresee the most common pitfalls along the way.
Evaluate the Viability of Your Application Business Plan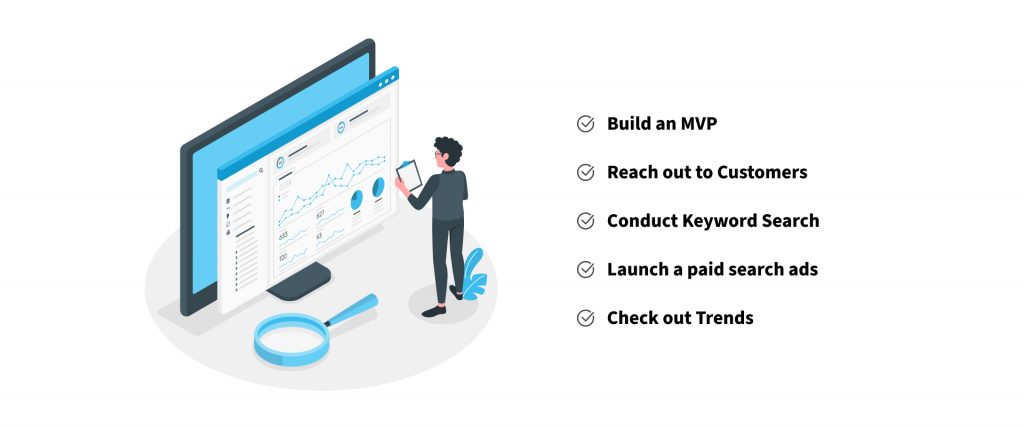 Learning how to write a business plan for an app is not enough to convince investors of the viability of your idea. They need actual proof that your idea works and has demand on the market. How can you prove something like that? Follow our four best practices that will evaluate the real potential of your application.
Build an MVP
MVP stands for Minimum Viable Product and works as a basic version of your app with only essential functional features. Creating an MVP will not require too much funding but will demonstrate how the app functions, UI elements, user flow, usability, and navigation. Your chances of persuading investors of the viability of your application will dramatically increase with a working MVP.
Reach out to Customers
Creating an MVP will help potential investors to visualize your idea and understand how it works. However, providing them with honest feedback from customers will make your offer even more enticing. Run tests, conduct surveys, and collect feedback from your users to learn what they have to say about your app. Real-life reviews with plans for improvements will make you stand out and help you get more attention from investors.
Conduct Keyword Search
There are many keyword search tools online, and you can utilize them to learn what your customers search for. Keyword analysis will help you analyze the relevance of your product idea and whether the demand is there. However, if your idea is brand-new and unique, you might not find many pointers here. You will have to create the demand among the potential audience before penetrating the market.
Launch a paid search ads
Google Ads is the perfect place to start as it gives you access to a large audience and allows you to set a budget to avoid overspending. The platform is very intuitive and navigates you through ad creation, target audience setup, and budget settings.
Just launch a quick paid search campaign and check if your value proposition has any traction with your target audience search queries. If your ads are not generating phone calls, sign-ups or even site visitors, there is probably something to be improved or reconsidered in your business idea. 
Check Out the Trends
Monitor the current mobile app trends on Google Play and App Store for both Android and iOS marketplaces. Catching and exploiting a trend could be very beneficial for your business and convince investors that supporting your business is the right way to go.
Consider NIX United Your Trusted Partner
NIX United is a software development company with deep expertise in native and cross-platform mobile application development services.
We will accompany you with every stage of the process, from strategy and planning to development and testing, including ongoing support and maintenance after launch. During our 27 years of operation, we have successfully built and launched more than 3,000 projects. Our team consists of 2,000+ professionals who use cutting-edge technologies to build advanced applications with a great level of performance.
Final Thoughts
Formulating your first mobile app business plan sample can be overwhelming and challenging. Hope our guide clarified how to plan an app, so now you can create a business plan and dive into creating your dream app.
The mobile app market is saturated and hard to penetrate, but NIX United is here to offer you help and mobile app development services. We will be happy to answer your questions and help you build your next great project!
FAQ
1. What is a Mobile App Business Plan?
A business plan is a blueprint for many years to come. A mobile app business plan contains information about your company, market research, target audience, risk analysis, and financial projections. Check out our article to see step-by-step instructions.
2. How do I Write a Business Plan for a Mobile App Idea?
Writing a business plan for a mobile application includes thorough research into the mobile app market, calculating the costs of development, as well as choosing the right monetization strategy. Besides that, work out marketing strategies and conduct a risk analysis to create a professional business plan.
3. What are the Steps to Building a Business Plan for Your Mobile App?
First, create a thorough company description and provide market research and forecast. Follow up by conducting risk assessment and planning out marketing activities for your product. Finally, deliver detailed financial goals, projections, and monetization strategy.