Managing a Food Delivery Website and Associated Apps
blog
Online food delivery platforms are exploding in popularity around the world. People need to eat, and they have preferences for meals that, at times, they are unable to satiate in person. This is where food delivery platforms come into the picture.
Customers are looking for fast delivery, and high-quality food and food delivery services have capitalized on this trend. There are many big players in food delivery out there. Companies like UberEats, SkipTheDishes, Grubhub, and others are well known and popular. However, opportunities exist for local and regional players to make not only a positive contribution and impact within this space but also a significant amount of money.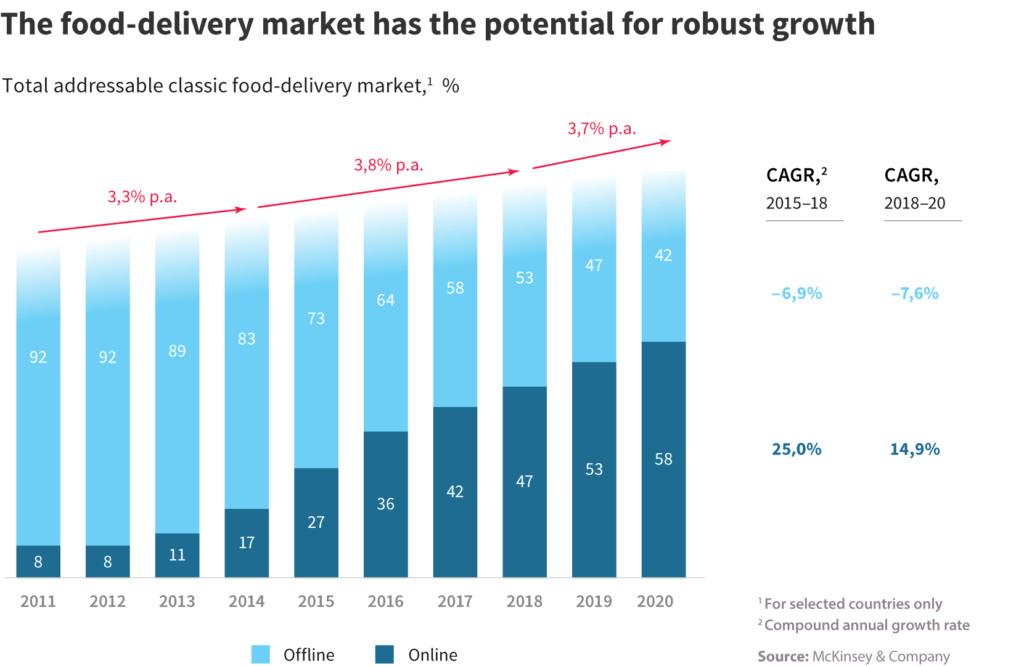 What is Food Delivery Software – Why is it Important?
Food delivery software is basically a portal or platform that acts as an interface between customers and restaurants. Customers interested in making a purchase need to register for an account on the chosen portal and then select a restaurant along with the dishes they want. They can then choose to pay for their order online through the portal or to the delivery person on receipt of the order.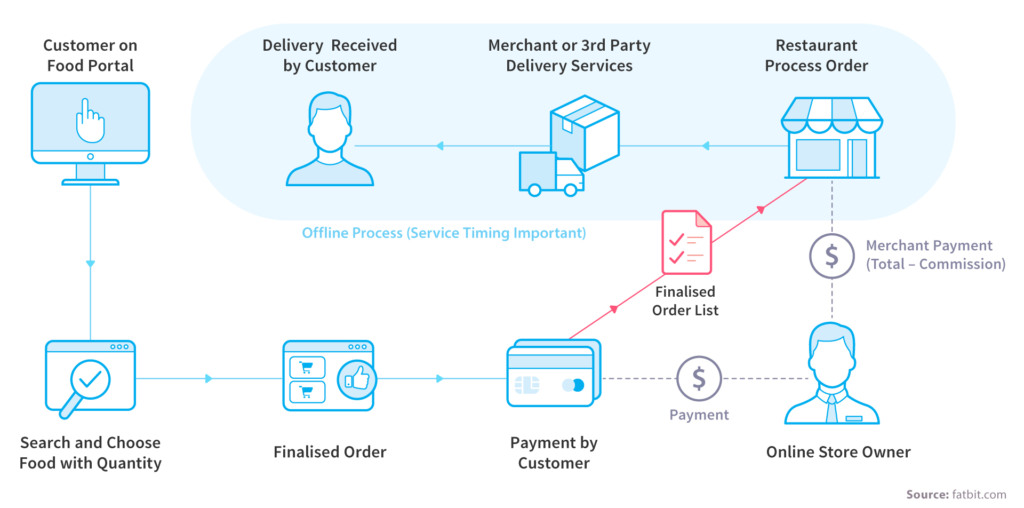 Some food delivery services use drivers, while in other cases, the portal is merely a means of placing an order with the restaurant, in which case the restaurant uses its own drivers. Restaurants pay food delivery websites a commission for facilitating the process, which is how they make their money. At times this can become complicated for a restaurant if they are using different food delivery services.
Problems To Consider
When thinking about creating a food delivery website, there are many different things to consider. To start with you, you need to look at the creation of an app as smartphones are only continuing to grow in popularity. Other areas of concern include the integration of the website with restaurant systems, how to manage all food delivery requests in one place, the capturing of payment information, and delivery logistics, to name just a few.
Do not try to navigate all of these challenges by yourself. Engage the help and assistance of a skilled outsourcer with experience in food delivery websites. They will understand the general business processes of food delivery and will have the technical expertise you are looking for. The right outsourcer can either update an existing site or create one from scratch in a timely manner.
Tips to Make Your Food Delivery Website Exceptional
1. Define Your Target Market
Like any business, the key to success is knowing who you are selling to. By having an understanding of what your target market is, their likes and dislikes, you can better tailor your offering. For example, in the restaurant business, if you're launching a Mexican restaurant, offering burgers on the menu does not make too much sense. While it might still get some sales, your target demographic will not be interested.
Similarly, from a website point of view, you need to ensure that your look and feel is user friendly with the right colors and animations. It is essential to understand that from the point of view of localization, what works in one city might not translate to another. You need to know the local demographic and what their preferences are to succeed.
2. Invest in a Custom Built Website
When thinking about how to manage a food delivery business, it is vital to realize that being available online is basically table-stakes for any business in today's world. Companies without a web presence will not be able to survive on simple word of mouth alone. With websites, you do have options in how they are created and built.
Many companies that are just starting out use already existing templates to get started. While templates are all well and good in the beginning, they are just the tip of the iceberg. If you want to have a unique and memorable presence online, it is essential to invest in the creation of a custom-built site. Custom sites do not have to be extremely expensive to be successful. By using a quality outsourcer that understands the market, they can build a high performing site in a matter of days. This is an investment that is worth making.
3. Develop a Mobile Application
Smartphone usage is increasing daily, so a mobile application is an absolute must for any food delivery website. A well designed mobile app will allow customers to use mobile features like location, further improving the personalization of the experience.
There are many different programming languages that can be used to create mobile applications. It is also essential to understand that Android and iOS are the two most popular operating systems for mobile smartphones. If you pick the wrong language when creating your mobile app, you might be forced to spend extra time creating the same app on the other platform. There are fortunately some mobile app frameworks that can alleviate this and will let you create an app that works on both of the different systems without extensive recoding.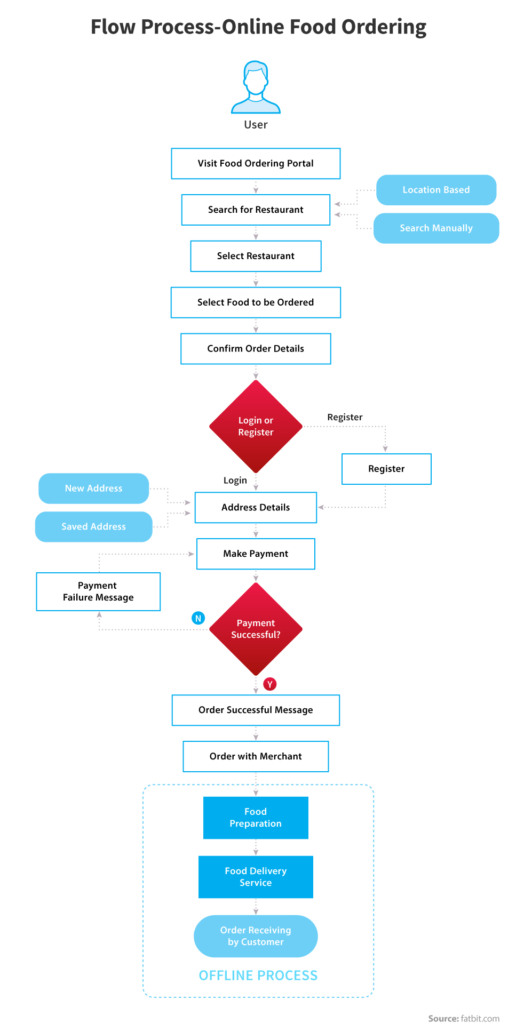 It is essential to gain the services of a skilled software developer when building a mobile app. There are many different areas where someone with knowledge can help ensure your design is optimized. Companies that have prior experience in the creation of apps for the food delivery market are particularly well suited. They can bring their practical and market expertise to the table and help design an app quickly and cost-effectively.
4. Think About SEO and App Store Optimization also
Search Engine Optimization or SEO is how sites like Google, Yahoo, and Bing understand and read websites. They pull up relevant keywords from the content of articles and the body of the site itself and, based on searches, present the websites with the most relevant results. If you want your site to show up in a web search, you need to consider your SEO strategy and plan.
App Store Optimization (ASO) also matters so you need to consider this factor too. If your mobile app does not get used because people cannot find it, you have wasted time, effort, and money you spent in its design. Well, designed apps are a great source of traffic, so you need to ensure that your app is utilized.
Once again, a good option is using expert talent versus trying to muddle through yourself. Expert designers and SEO/ASO specialists can ensure your site and app are visible and show up in search results.
5. Build a Database of Restaurants
This is a crucial requirement in building a food delivery website. Your list of restaurants to select from needs to be comprehensive and exhaustive for the area you are targeting. Make sure your database includes key features like:
Menu including any specials
Prices
Contact details
Hours of operation
Delivery areas
Building this database will require a sales team and a partnership plan for local establishments. You will need to negotiate commission structures that make sense so you can grow without impacting their bottom line too much.
Restaurants understand the value of being on multiple systems, so even if a restaurant is already on a service, there is no reason not to approach them. In fact, for restaurants worried about how to manage multiple food delivery systems this can be a selling point and differentiator of your offering and can help you stand out.
6. Start Small and Then Grow
Do not expect to take over the world on your first day. Pick a specific town or local neighborhood to target for your first foray. Ensure that you have a rock reliable product and service within that area before you consider expansion. Reputation matters, so take your time and get it right first, before looking to grow.
7. Customize Based on Local Requirements
Each city is different, and the expectations of its citizens vary widely also. Your website needs to accommodate these changes in personality through a different look and feel on your website or other unique customizations. In some cases, government regulations might change from one region to another, in which case you might need to have local payment options. Of course, as you continue to grow, you will also need to ensure that your site supports multiple currencies based on your location and your target market.
Conclusion
Building a food delivery service with a website and mobile app is a smart strategy to appeal to a large market of interested consumers. For restaurants, it is an additional revenue stream that they would not have otherwise been able to touch. With individual consumers, it is a way of sourcing food quickly and easily from their favorite places. People need to eat, and having a means of providing them with the food they are interested in immediately and efficiently is a great strategy.
However, when delivering meals, it is vital to invest in the right partner. At NIX, we can help you build a successful food delivery website quickly. We have done it before and know what works. You can read about the technical aspect of this case in our Medium account.
We understand the food delivery market and know how to help you compete and succeed. Our teams can cope with any technical challenge and can work with you to automate the ordering process. With our knowledge, we can help you improve the interactions between a buyer and the restaurant. Contact us to find out how we can help you build a successful Food Delivery Website.