The Pros and Cons of Flutter in Mobile Application Development
blog
When it comes to mobile applications, there are really only two platforms to consider. iOS for Apple devices and the Android platform for phones from Samsung, HTC, and others. For software developers coding applications for mobile devices, this can cause issues.
While the platforms are very similar in terms of form and function, the codebase is entirely different. This means that applications coded on one will not work on another. Fortunately, there are cross-platform development options available. Flutter is one of these, and it provides developers with a way of quickly and easily extending their expertise across both iOS and Android.
What is Flutter?
Flutter was introduced by Google as an open-source technology for coding and creating native apps for Android and iOS. Flutter is relatively new as it was only introduced in 2017 and fully launched in late 2018. However, there are already 50,000 Flutter apps available in the Play Store, and this number is increasing at an incremental rate. In fact, in the short time since Flutter's release, it has already been used by over two million developers. Flutter's popularity is easy to understand, and while half a million developers use Flutter monthly, the top five territories for Flutter developers are India, China, the US, Brazil, and the EU.
Flutter in Business
With Flutter, developers are able to build native-looking applications for both iOS and Android from a single code base. This capability has been realized by companies like Alibaba and Tencent already which use Flutter extensively.
Flutter has also been picked as the solution for Nubank for all app development. Nubank is the largest digital bank in the world outside of Asia. With over 20 million customers, they could easily see the benefit of unified app development. Aside from the cost savings of unifying internal teams, having an app with the same features available on iOS and Android at the same time is a significant benefit to support and operations teams.
The benefits of Flutter are something that the developers at NIX have even recognized. When it comes to developing applications, developers are not restricted to a single platform or operating system. In fact, statistics show that while the majority of developers use Windows (60%), the macOS (27%), and Linux OS (13%) both have respectable numbers. In addition, data shows that developers are not restricted to a specific company or organization.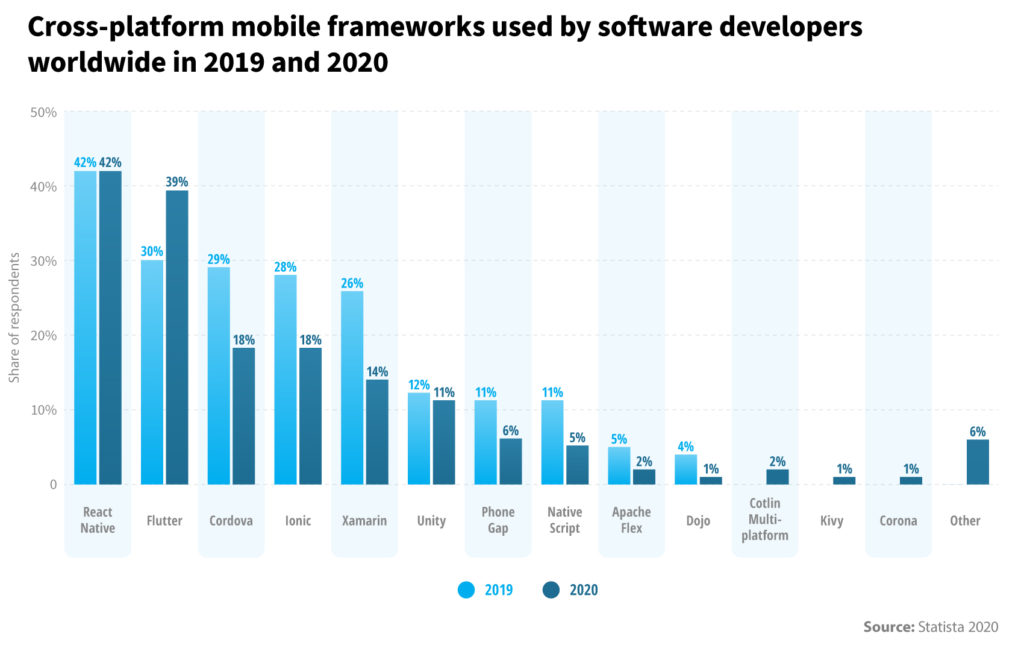 Flutter Spring 2020 Update
While Flutter is new, its creators are not sitting on their laurels. They are continually innovating and improving Flutter to make it a more useful and powerful tool for developers. Some key improvements that are worth calling out are as follows:
Branching model – Flutter will be changing the way they release versions. From April onwards, they will create a new branch at the beginning of each month as a beta release. During that month and the months following, they will work to stabilize this release and will promote it to the newest version quarterly.
Alignment with Dart – In a similar fashion, the Dart release process has also been changed. Now Dart offers a beta channel too, and the releases between Flutter and Dart will be aligned.
These two changes are expected to impact the stability of Flutter considerably and will also improve the process of delivering hotfixes making Flutter an even more enticing option.
Features and Pros of Flutter
Hot Reload
Hot reloading helps save time while developing by letting you see updates in real-time. This capability helps make developers significantly more efficient and productive. Also, the speed allows developers to experiment more, which enables them to iterate through versions at a faster pace.
Minimal Code
Flutter lets developers use Dart, which helps not only to speed up applications, it allows them to start faster also.
Access to Native Features
Flutter helps make developer's lives easier through its third-party integrations and native codebase. With Flutter, developers can access native features and even reuse languages.
Widgets
One of the most significant benefits of Flutter is how it uses ready-made widgets. This ensures that Flutter offers a consistent model for development and design. With Flutter, any object is a widget. This applies regardless of whether you are talking about a font, a button, or padding, and by combining widgets, you can customize the application radically. Flutter widgets follow both the Material Design and Apples Cupertino look, which is a huge advantage.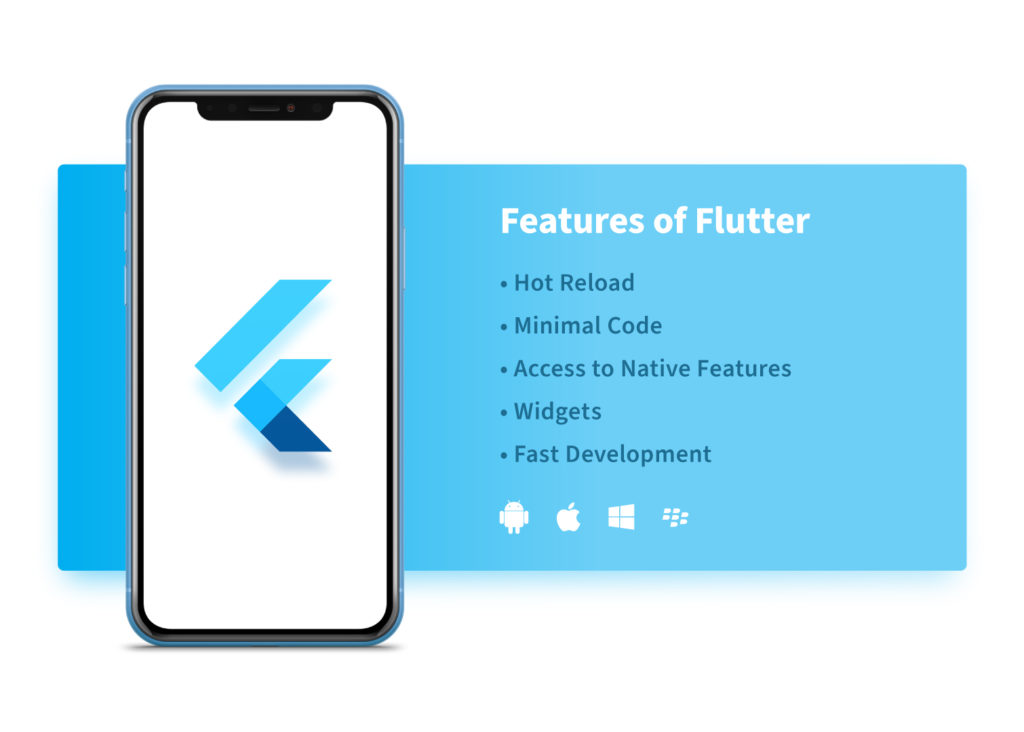 Easy to Use
Flutter does not require high-end equipment to work. It can be used on low-cost systems as quickly as the more powerful machines. Also, it can be learned quickly and does not require developers to have significant knowledge of coding in advance.
Support Services
Flutter is easy to use, and even people with limited programming knowledge have been successful with Flutter. Fortunately, Google has also created very detailed documents and videos to help people learn how to use Flutter quickly and easily. Flutter's ease of use has translated into a growing fanbase of developers and a very robust user community, which provides yet another channel of support.
Putting Your Best Foot Forward
Flutter lets developers put their best foot forward by creating and developing mobile applications native to iOS and Android. As a developer, this is a massive benefit as it enables you to save significant amounts of time and effort, ensuring your organization as a whole is more productive.
Flutter's Failings and Cons
While Flutter has a lot of benefits that businesses can take advantage of, there are some areas that it still needs work.
Third-Party Libraries
Flutter is a newer technology. As such, the volume of third-party libraries currently available for Flutter is limited. Third-party libraries help speed up development time significantly, so this is a definite downside to developing in Flutter.
File Sizes
Many, if not most of the apps developed through Flutter, are destined for mobile devices. These devices are restricted in the amount of space they have available. As such, Flutter's file sizes are a significant issue. For example, the creation of a hello world app in Flutter could account for 4.7MB to 6.7MB. The same app created in native Java is closer to 500KB.
Skills
While Flutter is easy to use and can be learned by non-programmers, it does require developers to learn Dart first. This adds an additional phase of learning, which can increase the time and money for any project.
Conclusion
As you can see, Flutter has a lot to recommend it, and its increasing popularity is a testament to that. For businesses looking to create and offer applications on both iOS and Android, Flutter is a great option. Flutter is particularly well suited to progressive web and instant apps as well as apps that communicate via Bluetooth. However, before you undertake a project, evaluate whether it is right to work on Flutter inhouse or through a partner.
Flutter, while simple to use, does require that developers know and understand Dart, which can add additional time to any project deployment. While Flutter is popular and growing more so daily, not that many developers have experience with it on a daily basis. This is why picking the right partner makes a difference.
At NIX, we have experience developing mobile software applications, and our team of developers can work with you to ensure that your project achieves your objectives. We understand not just the technology but can help you design the right product based on what you are trying to accomplish. Regardless of the complexity of your project, we have a team of experts capable of building you a suitable Flutter solution. In case you are not sure if Flutter is a good fit for the project, check out the React Native vs. Flutter comparison post.