How to Choose the Best eCommerce Platform for your Business in 2021
blog
eCommerce has continued to grow in scope and demand the world over. The transition from brick and mortar to an online shopping experience is one that large companies and startups around the world have adjusted to and consumers have increasingly embraced. While 2020 has definitely helped propel eCommerce forward, it is a change that was already well underway.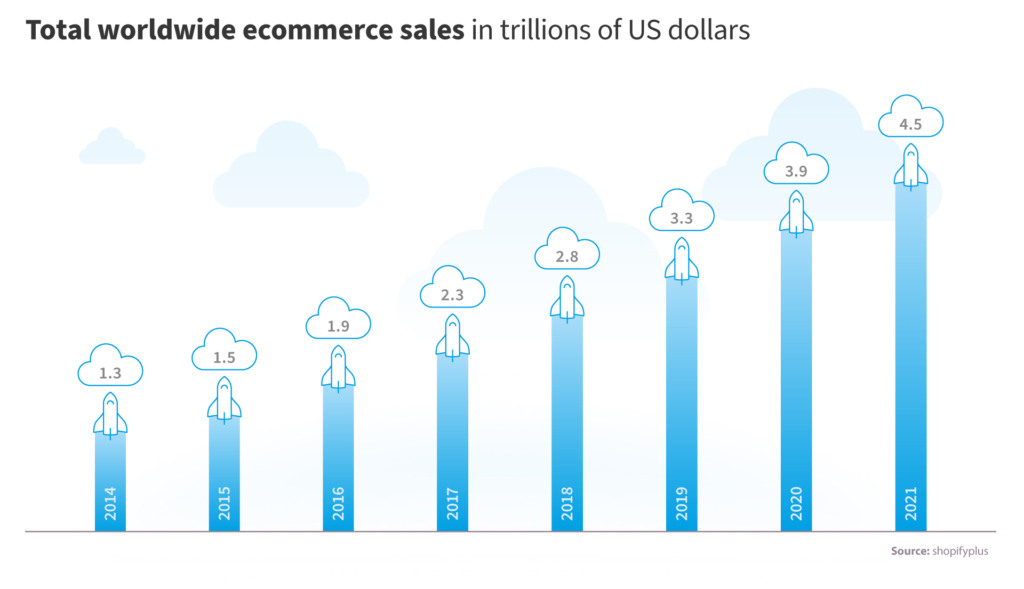 eCommerce software lets businesses quickly list products and services for sale online. With the increasing reach of the internet and tools like social media, consumers are no longer restricted to local shopping only. Now, customers can pick and choose the right solution for their requirements, regardless of where in the world it might be.

Historically eCommerce software required extensive in-house IT skills and resources along with expensive infrastructure and network bandwidth. Aside from the costs, the solutions were often not scalable. In addition, integrating them with other in-house systems could be a time consuming and complicated process.
This situation has been somewhat addressed by newer SaaS (Software As A Service) platforms that help to remove the complexity and pain from the process. These new platforms provide organizations (especially startups) with a unified view of a customer's journey across all stages of the life cycle and accommodate integrations into existing systems.
This provides two useful benefits to organizations:
It lets businesses ensure that customers get the right product regardless of where they are buying from. This includes complete inventory control so that consumers understand where a product can be purchased from.
It helps improve customer satisfaction and overall engagement throughout the organization while at the same time helping drive improvements in efficiency.
Content:
Picking the Right eCommerce CMS for Your Online Store
With the wealth of choice now available online both in B2B and B2C segments, choosing the right platform for your requirements can be a complicated task. When selecting the platform for you and your business there are several key things that need to be considered.
Single platform – are you able to use the platform for all inventory control along with order management, accounting and POS or do you need to use multiple platforms? The best eCommerce platform should give you the ability to manage not only the product but also the customer with a built-in CRM solution.
Customer-centric – understanding what customers want and need is only half the battle. Companies know that it is important for teams to have a complete picture across every channel a customer uses on all of their interactions and their overall experience. In addition to an understanding of the customer journey, the best CMS for eCommerce solutions also provides companies with the capability of creating unique and interesting web and mobile experiences that help the brand stand out.
Order management – the top enterprise eCommerce platforms are capable of letting customers order, track and return their purchases all within the same platform. This capability needs to extend across online and storefront to ensure that all departments have the same unified view of inventory across the enterprise.
Growth – the final requirement for an eCommerce platform, especially one that could be considered the best eCommerce platform for startups is an emphasis on growth and expansion. Companies want a solution that can not only grow with them but also expand to support multiple currencies and regions around the world without a requirement to recreate the wheel.
Before an eCommerce solution is selected, an organization needs to truly understand its goals. There are many different options in the market but not all of them are suitable so weeding out the ones that do not fit might help simplify the decision-making process.
As part of the search, consider the impact an eCommerce platform will have on your own internal operation and how it will integrate not only with other parts of the business but also with clients and vendors. Some areas to pay particular attention to are as follows:
Price
Like many things in life you get what you pay for and that same rule applies to the top enterprise eCommerce platforms. While there are some free and low-cost solutions available online, if you want a single comprehensive solution you should expect to pay for it.
Now, this cost does not have to be prohibitive. Some of the best eCommerce platforms for startups are quite competitively priced offering a good selection of features right out the gate.
For small businesses looking to dip their toe into eCommerce with most platforms, you should expect to pay a monthly fee and an additional processing fee as standard. The monthly fee can vary depending on if the site is hosted internally or with another organization so that cost should be accounted for also.
Another cost to consider is payment processing. While many platforms will offer PayPal, if your customers primarily use credit cards, you should expect to pay extra for this fee too.
Integrations
When picking the best eCommerce platform, you need to consider your whole environment. Having a stand-alone system is not nearly as effective as one that integrates with your existing tools. Think about marketing plugins to better attract customers or accounting plugins so you can track sales and revenue more accurately.
Ideally, the eCommerce platform you pick should help make the lives of you and your team easier while at the same time improving the overall customer experience.
SEO
While a shopping cart and a catalog are essential for eCommerce sites, do not neglect the importance of SEO. Search Engine Optimization (SEO) is how potential customers find you online and one of the best means of advertising yourself in an organic manner is through the use of content.
When talking about content, think about blogs and editorials. Reviews and editorials are a great SEO driver for a business so it is critical that the eCommerce platform you select supports these capabilities.
Mobile
Mobile is continuing to grow in terms of popularity and today the number of smartphones around the world is close to 4 billion. In many cases, people search for information first on mobile and this number is only going to continue to grow.
If your platform does not allow easy customization for mobile-friendly pages, you are missing out on a massive audience.

Customer Service
The growing importance of customer experience to businesses of all stripes cannot be discounted. Simply put, customer experience is key for retention and one of the best tools for increasing customer loyalty.
With brick and mortar stores, customer service was somewhat simpler as staff could physically interact with customers getting a better read on things like body language and overall stress levels. This is much harder with eCommerce businesses where everything is done online.
While navigating the pitfalls in this area is one task, with online businesses in general, other issues can also have an unforeseen impact. For example, if the server gets too many requests, then it could slow down to a crawl as it gets overloaded with traffic or even crash entirely disconnecting everyone. The ISP itself could have an issue outside of your control or any of a myriad of other issues.
In either case, how the customer is treated both during and after the transaction can have long term and lasting consequences on future business from that customer.
From your point of view, you need to ensure that the eCommerce platform you select offers service and support in the hours you need. If you have an issue you want to make sure that you can rectify it quickly so that you can get your customers shopping again.
Security
Security is key in any business and perhaps even more so in a business that accepts personal information like credit cards for payment. You need to ensure that the platform you select supports PCI (Payment Card Industry) standards and also HTTPS/SSL so that your customers feel comfortable shopping on the site.
Growth and Scalability
Consider what you get at the beginning and see if the platform offers more features as you grow in size and capability. You do not want to pay for features upfront that you do not need, but you want to make sure that these features will be there for you when you do need them.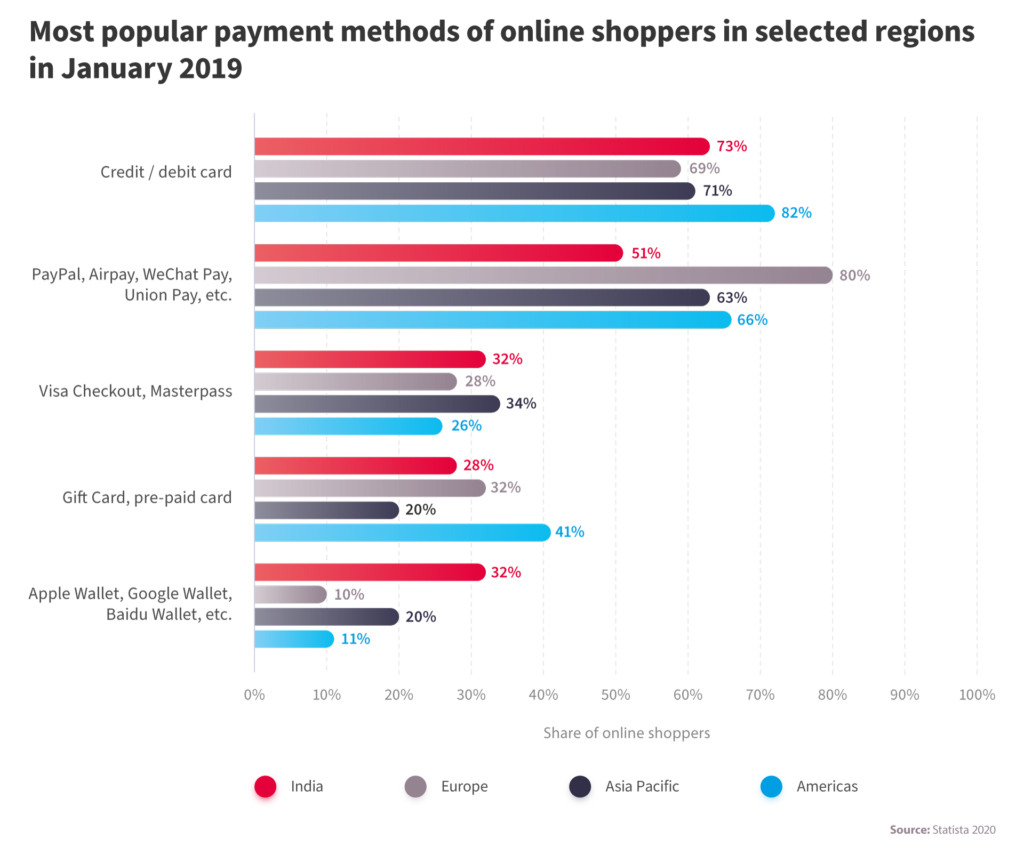 Top Enterprise eCommerce Platforms
For large enterprises, a more comprehensive solution is required when it comes to eCommerce platforms.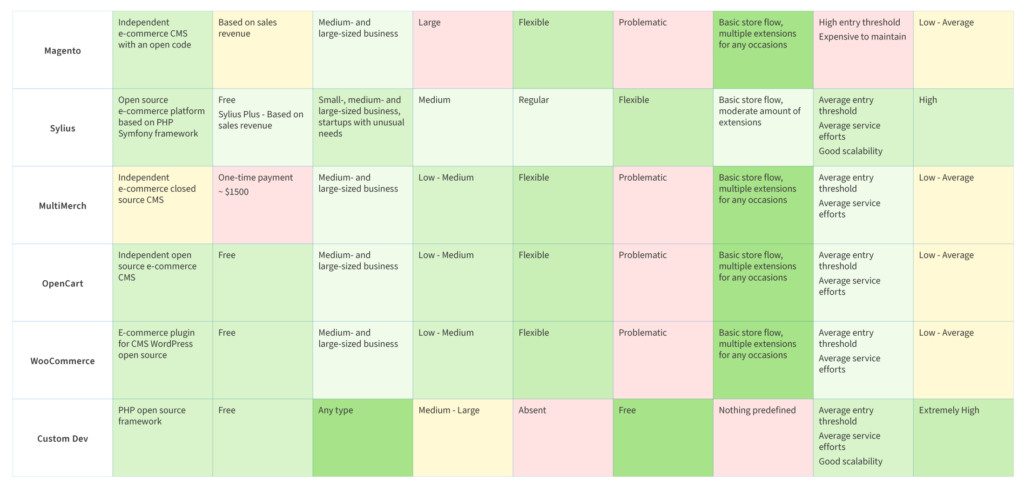 Custom eCommerce Solutions
Custom eCommerce platforms are ideal for organizations that are in highly regulated industries or ones that need to manage very complex workflows that interconnect across different systems. In this case, a simple out-of-the-box solution will not work so they need to build a solution from scratch that better suits their needs.
Custom solutions could be built in a variety of different languages based on a company's preference. In this case, finding an organization with specific skills, for example, in PHP, JS or Ruby is essential for success. When considering a custom build consider not only your product but also your customer. For example, if your clients prefer wire transfer or other alternative payment methods, a standard solution might not work so building your own solution could be the only option.
The pros to going the custom route include significantly more freedom in the overall design of the site. In addition, as you've built the site yourself, you don't need to pay any licensing fees for it and you own it completely.
However, a custom site can be extremely difficult to maintain with internal resources and custom solutions can be more expensive than readymade ones and require a longer development process. Partnerships with an external developer are the best option so that service and support is available throughout the lifecycle of the project.
If your organization does not require custom development but is an enterprise organization, there are some other options that you could consider. Two popular enterprise alternatives are:
Magento
Magento was purchased by Adobe in 2018 and is a solution used by some of the biggest companies online. Magento is a self-hosted solution so you'll need to have your own internal IT team capable of working on this solution for you or find a third-party contractor who will be able to perform the same role. It is an extremely powerful solution with lots of integrations available so professional web developers can create an extremely customized and personalized site.
With Magento, there is no dedicated support team. Instead, they have a large and growing community that can be counted on for help when needed. One important point to note is that with Magento, you will need to pay for hosting and security certificates separately so these costs should be accounted for prior to a decision being made.
BigCommerce
Another eCommerce platform for larger enterprises that has proven to be extremely popular is BigCommerce. This product was launched in 2009 and lets organizations onboard significantly faster than other competing products in the marketplace.
With BigCommerce, companies have access to 24/7 support. Another positive is that many of the integrations and apps that other eCommerce platforms charge extra for are included out the gate with BigCommerce. Added to that, BigCommerce also guarantees a 99.8% uptime which can be extremely important.
BigCommerce vs Magento
These are both popular choices for large enterprises working in B2B and B2C sectors, but Magento with its 250,000 clients definitely beats out BigCommerce and its 100,000 customers. That being said, the number of clients alone should not be the key factor in your decision about which platform is best.
Magento as an open-source solution requires internal resources with extensive knowledge and skills. If you do not have the time to devote to this, or are simply not interested in that level of customization, BigCommerce might be the better option for you. However, if you're more interested in creating a unique experience, BigCommerce is the second choice as while it is very robust, it does not have the same capabilities as Magento.
Best eCommerce Platform for Startups
Shopify
Shopify is quite possibly one of the most popular eCommerce solutions for small and medium businesses and startups. With Shopify the depth and quality of its app store helps it stand out from the competition letting companies pick and choose the features they want.
Shopify provides expert assistance to help you get your store and site up and running as quickly as possible, however if you're interested in customization, you should expect to pay more. The free themes and templates available to Shopify users are limited in scope.
Sylius
Sylius does not have the same quantity of apps available as Shopify, but it does offer all of the key requirements to get a site up and running as quickly as possible. With Sylius the secret is the templates that are available as that provides businesses with the capability of creating a customized design extremely easily. This is true not only for design, Sylius offers almost unlimited possibilities to customize the product's functionality. This places Sylius on a par with custom development.
WooCommerce
WooCommerce is a plugin that integrates directly with WordPress – one of the most popular CMS platforms on the planet which has helped propel WooCommerce to the top of the leaderboard when it comes to eCommerce solutions.
WooCommerce supports a drag and drop store setup and as its based on WordPress integrates with a massive quantity of different themes and plugins. With WooCommerce, creating a customized solution for your organization is extremely easy.
OpenCart
Another open-source solution, OpenCart is targeted towards the smaller organization in comparison to Magento. With OpenCart, you need to look after the hosting which can add an additional layer of expense, but the number of integrations available is quite large making it a definite option.
Picking the Right eCommerce Platform
When picking the best eCommerce platform for your organization consider your business needs carefully. The right solution for a startup might not work for a mid-sized or organization and will almost definitely not work for an enterprise business.
In each case, the use cases, the types of customers and perhaps even localization will all vary considerably. Added to that is the consideration of a SaaS solution or a self-hosted option. For help deciding which option is the best for you and your business, contact us. The NIX team has worked with businesses of all sizes on eCommerce projects.
Here are just a few relevant examples from our practice:
Our experienced team of developers, project managers and engineers can help you translate your business requirements so that the most cost-effective and useful solution is selected. We can help you build a solution that will work now and in the future as you continue to grow. Contact the NIX team to find out how we can help you with your eCommerce project.